10 Ways to Deal With Alpha Males in Relationships
The alpha male personality can be rather attractive, but you may encounter roadblocks with an alpha husband or boyfriend throughout a long-term relationship. The same traits that attracted you to your alpha partner may create frustration if you do not know how to handle them.
Learning how to deal with alpha males in relationships can help you develop a greater understanding of this personality type, as well as how to make the most of your relationship.
Who is an alpha male?
The first step in learning how to deal with an alpha male in a relationship is to recognize what is an alpha male.
So, what is the alpha male definition?
Typically, the alpha male is depicted as a top-ranking man within his social circle. He is competitive, and he dominates over other men. When compared to others in the social hierarchy, the alpha male is more powerful, wealthier, and better at winning over women.
The alpha male is in contrast to the beta male, who is seen as weaker and more submissive.
Some of what we know about alpha male qualities comes from animal research. For example, a study with chimpanzees found that male chimpanzees become highly competitive with each other when around female chimpanzees.
When around females, levels of the stress hormone cortisol increased among all chimpanzees in the study, but the alpha males in the group showed the highest increase in cortisol, suggesting that they become especially competitive in the presence of females.
Findings like these reinforce the stereotype of the dominant, competitive alpha male.
Is there a science behind alpha males? Watch this video to know more.
Related Reading: 

What Type of Woman Is an Alpha Male Attracted To: 20 Qualities
Eight characteristics of an alpha male
There are some key alpha male traits that can help you to identify if your man falls into this category:
Your partner comes across as fearless when he wants something. This means he dares to go after what he wants, even if it is challenging or would seem intimidating to others. He doesn't back down in the face of obstacles.

He shows excellent control over his emotions. He doesn't have any extreme emotional reactions, and to an extent, he may even seem detached or emotionally cold because of his lack of expression.

Your man enjoys a good challenge. This means that he will also prefer a partner who is mysterious and can

engage in intellectual conversation

. He will also want someone who can challenge him in turn.

He is always working toward some sort of goal.

The alpha male is driven by his desire for high achievement, so he will always have his sights on a goal, whether it is earning a promotion at work or accomplishing an athletic feat. He simply will not be satisfied with remaining average or staying complacent.

Not only he is driven himself, but he also pushes those around him to live up to their potential.

He enjoys being at the top of the food chain. Whether it is at work or in the gym, the alpha male wants to stand out as the leader.

Your man wants to be dominant or in charge.
Related Reading: 

5 Signs You are a Dominant Partner in a Controlling Relationship
10 ways to deal with alpha males in relationships
Alpha males and alpha females in relationships can be attractive and charming, as they come across as confident and will passionately pursue someone who interests them.
On the other hand, alpha male behavior in relationships can also present challenges, as the alpha personality can sometimes appear intimidating or even cold.
Fortunately, alpha male relationship psychology provides guidelines for how to cope when you love an alpha male. Consider the following advice:
1. Don't be offended
Don't be offended if your alpha male seems to always be encouraging you to do more, be more, or set higher goals.
This is one of the ways that alpha males in relationships show love. They don't mean to be rude or suggest that you aren't doing enough. They simply want you to be the best that you can be. As high achievers, alpha males in relationships also want their partners to do great things.
2. Keep the mystery alive
Mysteriousness is a key part of what makes alpha males fall in love.
How to be irresistible to an alpha male? Be mysterious.
This means that the alpha male will appreciate surprises, spontaneity, and independence from you. When you keep him on his toes, he stays interested. Otherwise, he may move on to something else.
Related Reading: 

15 Tips on How to Make Someone Fall in Love With You
3. Support his dreams
One of the best ways to win the heart of an alpha male is to support his dreams.
This personality type doesn't want a woman who will get him off track or deter him from his goals. Along the same lines, he will respect a woman with her own goals and vision because he doesn't want to set aside his life for his relationship.
Instead, he wants someone who will seamlessly fit into his life and pursue dreams of her own.
4. Deal with his moods
Dealing with alpha males in relationships may require you to accept behavior that comes across as arrogant, especially when your partner is in a bad mood or trying to prove his point.
This isn't something you should take personally. It is just the alpha expressing his confidence.
Related Reading: 

How to Deal With Mood Swings in a Relationship
5. Match his intelligence
If you want to know how to please an alpha male, you must be able to match his intelligence.
While the alpha male does like to be in charge, he wants a partner who can be his co-pilot. Take time to learn about the things that interest him, so you can keep up with his wit and assist him with his goals.
6. Accept perfectionism
Understand that being married to an alpha male will require you to accept a certain degree of perfectionism.
Again, do not take this personally.
The alpha husband holds others to a high standard, but this is because he also holds himself to high standards and expects the same of others. You might consider viewing this in a positive light. He simply wants you to be the best you can.
7. Take charge
The alpha male likes to be dominant, but one way to win an alpha male is to take charge from time to time.
Since an alpha male is so confident, he won't be put off by a strong, confident woman. He will find it attractive if you take charge from time to time and show your dominant side.
8. Get used to being direct
Alpha males in relationships aren't particularly emotional creatures, and they don't have time to pick up on hints or read between the lines. If you need something from them, state it directly. An alpha male will appreciate your confidence and assertiveness.
In the video below, Susan Winter talks about why it is important to have direct communication with your partner to assert your strong, confident side.
9. Don't be afraid to stand up for yourself
While the alpha male knows what he wants and isn't afraid to be dominant, he will appreciate a partner who can stand up to him. If you aren't getting what you need or you feel you're being bullied by your partner, by all means, hold him accountable.
There is a misconception that alpha men like weak, submissive women, but they will actually be attracted to a woman who can hold her ground.
10. Practice self-care:
If you are becoming frustrated with your alpha husband or boyfriend, take time for self-care. Meditate, exercise, or spend time doing something you enjoy. This can put you in a better mindset to deal with stress or conflict within the relationship.
11. Pursue your interests
Not only will having your interests keep your alpha male partner intrigued by you, but it also gives you your outlet.
If you feel your alpha partner always dominates conversations or takes the role of leader, it can be helpful to have your outlets or things you do just for you.
While the above tips help learn how to handle an alpha male in a relationship, remember that alpha male traits in relationships do not excuse abusive behavior.
For example, you should not allow the alpha male to manipulate you into giving him all the control or allowing him to make all the decisions. You deserve to stand up for yourself and have a say in the relationship.
An alpha male may throw tantrums or engage in verbal insults to get his way. You should never allow this behavior. An alpha male who respects you will allow you to have a voice and will not resort to emotionally abusive behavior to get his way.
Related Reading: 

7 Ways To Support Your Spouse's Passions
What do alpha males want in a relationship?
Alpha males in relationships need excitement and stimulation. This means that one of the key ways of how to keep an alpha male interested is to add variety and excitement to the relationship.
Be open to trying new things, setting new goals for yourself, and taking on new challenges. An alpha male will find this to be irresistible.
Related Reading: 

How to Keep a Guy Interested: 30 Ways to Get Him Hooked!
What makes alpha males fall in love?
The alpha male may not be particularly emotional, but you can count on him to be a dependable partner.
This is how he expresses love. You can expect him to rise to the challenge when things get tough, and he will support you in all of your goals.
Sometimes people have a misconception that alpha males in relationships are cheaters or need multiple women to be happy, but this isn't the case. When a woman captures an alpha male's attention with her drive, motivation, and intelligence, he will be devoted to her.
The alpha male finds loyalty to be very attractive. Because he is so direct, if a relationship doesn't work for him, he will end it instead of becoming unfaithful. He will expect you to be loyal as well.
The bottom line
A relationship with an alpha male can be quite rewarding. These men are dominant, confident, and loyal to their partners.
However, they may come across as arrogant or insensitive. Knowing how to deal with an alpha male in a relationship is important for keeping the peace. By not taking his behavior personally and committing to support him in his goals, you can keep the attention of your alpha male.
It is also helpful to pursue your interests, get comfortable with standing up for yourself, and challenge yourself to set and achieve new goals.
Ultimately, the alpha male in your life will appreciate you for being driven, witty, and engaging. You will reap the rewards of being in a relationship with such a loyal, intense partner.
Share this article on
Want to have a happier, healthier marriage?
If you feel disconnected or frustrated about the state of your marriage but want to avoid separation and/or divorce, the marriage.com course meant for married couples is an excellent resource to help you overcome the most challenging aspects of being married.
Learn More On This Topic
You May Also Like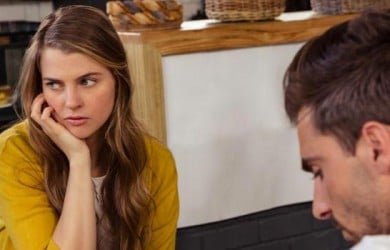 Popular Topics On Married Life