6 Tips on Surviving Stillbirth as a Couple and Prevent Marriage Meltdown
You hear those 7 dreaded words, "I'm sorry, I can't find the heartbeat".
At that moment, your future is shattered and you don't know if surviving stillbirth is even possible.
As you are thinking of surviving stillbirth, it is crucial to know that dealing with stillborn loss or resurrecting marriage after a stillbirth, takes time and patience.
Your pain may be raw and unimaginable as you wonder, how do I survive this?
If you deliver your baby in a hospital trained to support you, you may receive a memory box filled with special items to remember your baby filled with pictures, jewelry and poems and cards from the nurses who cared for you.
After spending months preparing for your new baby, you now prepare for a funeral.
You might feel lost and unsure of how to be with your partner as you start this new chapter of life. Stillbirths account for about 1% of all births, which seem so unlikely until it happens to you.
Also, watch this video on how a couple supported each other to keep their marriage together after being devastated with a stillbirth:
Below are 5 tips to facilitate surviving stillbirth, the first few months after losing your baby.
1. Mourn separately and together
Sometimes we have this idea that we should feel and express our feelings in the same way as our loved ones. We might even get mad if our partner doesn't seem to be as affected as us.
After a loss, many partners take turns cycling in and out of the different stages of grief so we often mourn in different ways.
Allow yourself to express your feelings in a way that feels right for you.
Share this with your partner and ask your partner how they are mourning or would like to mourn.
Remember, it is common for couples grieving after stillbirth, to face relationship breakdown after the baby dies, leaving couples disoriented and feeling like the grieving will never end.
For surviving stillbirth, it's ok to go to counseling alone and together as marriage after the death of a child mars the pictured parenthood.
It will take time and unbiased, gentle expert guidance to help you understand how grief affects relationships, and make incremental progress towards surviving stillbirth as a couple.
It's ok to feel angry and happy at the same time.
It's ok to be walking down this path together and separately at the same time.
Your feelings and grief are not linear. Be patient with yourself and with your partner. Trust that you can stay connected and grieve separately at the same time as you take small steps towards surviving stillbirth.
2. Exercise
Trying to get out of bed to exercise each day might seem impossible when you are coping with the loss of a baby and making little headway in the direction of surviving stillbirth.
In the beginning, it is, and it is still so important to push yourself a little bit to move each day.
Exercise is crucial because it activates the brain to begin the recovery process.
Exercise reduces inflammation, increases endorphins, and, most importantly, in the beginning, it acts as a distraction.
It allows you to focus on something other than the pain you feel in your heart.
Start with a small goal like walking for 5 or 10 minutes first thing in the morning and increase it when you are ready.
3. Check-in with your partner daily
It's really important to continue communicating with your partner as you both heal from the loss of your child. Surviving stillbirth is hard for couples both physically and emotionally.
Setting aside some time each day to check in with one another helps you open up and ensures that you are meeting your needs while still meeting some of your partner's needs. The check-in can be brief with a few questions to guide the conversation.
How was it today for you?
Is there something I can do for you?
What was a little easier today?
Was anything harder today?
What can I do for you tomorrow?
If you are having a hard time doing this try setting aside a specific time each day and start with one question.
4. Maintain some part of your previous routine
During the first few days and weeks, it may be hard to do anything. You might sleep all the time or not at all. You might feel like eating everything or nothing. You might feel like it's not worth it to get out of bed.
All of this is part of grieving and normal to experience after such a traumatic loss.
If you can get up each day and do one thing that you used to do it will help you slowly get into your new routine. This can be taking a shower, making a meal, writing a note, or texting with a friend.
At some point, as you try surviving stillbirth, you have to get up and move forward, and doing it little by little each day helps it be more bearable.
5. Find support from other parents who have lost a baby
You may have friends and family who are very supportive and helpful.
Unless they have lost a child, it is not the same support you will get from joining a group of parents who have experienced a stillbirth.
There are many different types of support groups.
Online, drop-in, and closed supports are just a few of the options available today. If you know someone who has experienced a stillbirth and reaches out when they are ready and seeks support, you must encourage them to seek counseling or support groups.
There are unique questions you might have that only a parent who has experienced a stillbirth or early infant loss will understand.
If you are unsure of where to find support for surviving stillbirth, contact your local hospital social worker or mental health organization for resources.
If either of these is not available you can search online or through different social media platforms.
6. Embrace the grief, it will ebb and flow
As you grapple with your new normal, be patient and kind with yourself and your partner.
Grief ebbs and flows differently for people.
You or your partner may feel helpless that you can't take the pain away. The pain doesn't ever go away completely but it does change.
Sometimes it's big and knocks you down, seemingly out of nowhere. Other times it's small, giving the tiniest sensation as your toes dig into the sand.
Embrace the grief and allow the feelings and thoughts to come when they are needed. Most importantly don't apologize for anything you feel right now. Your feelings are valid.
Know that even though the pain doesn't fully go away, you will also have moments of joy and happiness again.
Share this article on
Want to have a happier, healthier marriage?
If you feel disconnected or frustrated about the state of your marriage but want to avoid separation and/or divorce, the marriage.com course meant for married couples is an excellent resource to help you overcome the most challenging aspects of being married.
More On This Topic
You May Also Like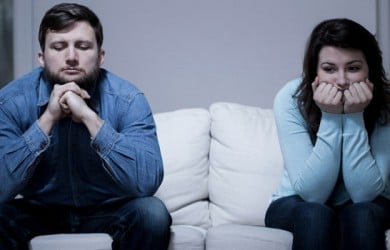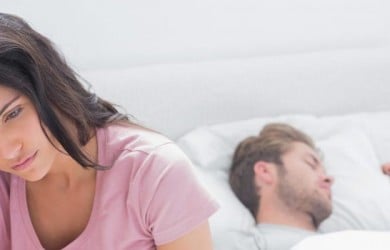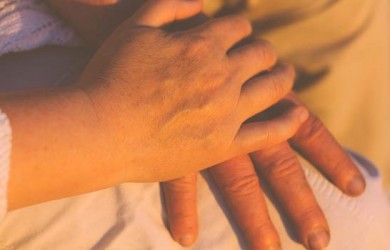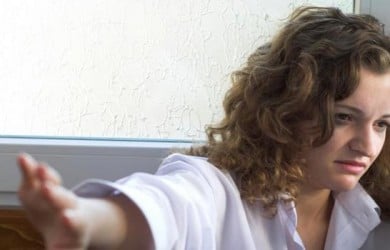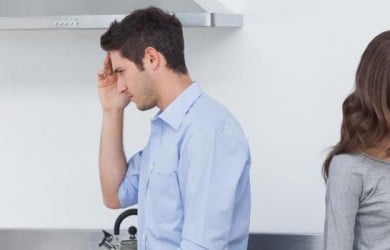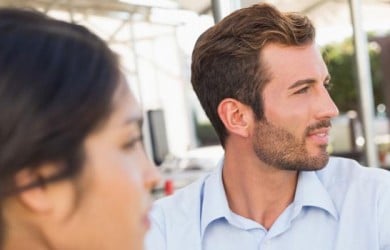 Popular Topics On Marriage Help