Signs of a Strained Relationship and Coping Strategies
Marriage is bliss, or so we are led to believe. In reality, no two people will always be in sync, especially if you live in the same house. Think about your siblings if you have any. Marriage is something like that, except they aren't blood-related to you.
Over time people change. The reason for the change is not that important. What matters is people do change, and it's a fact. There are cases where people change enough that they end up in a strained relationship.
What is a strained relationship? It's when the couple has too many problems that the stress takes over their entire lives.
Most couples in strained relationships fall apart in all aspects of their lives. It affects their health, career, and relationship with other people.
What does a strained relationship mean for the couple?
There are people who believe in one mate in a lifetime and would continue to stick to their partner through thick and thin. It is not necessarily a good or bad thing; after all, if you recall your wedding vows, both of you promised to do exactly that.
All marriages have good years and bad years. A lot of mature people understand that and are willing to weather the storm of a strained relationship. According to Life Strategist Renee Teller, she defines a strained relationship as when the problems from it destroy your personal life and career.
5 common causes of strained relationships
A strained relationship can have various reasons behind it, ranging from personal to professional discrepancies. Let's have a look at some common causes behind strained relationships.
1. Money
Love makes the world go round, but it's money that keeps you from being thrown off while it spins. If the couple is having financial problems, there is a chance that your relationship as a couple becomes problematic and strained.
Related Reading: 

5 Psychological Effects of Money on Relationships
2. Appreciation
People believe that when you are in a relationship, it should be the number one priority in the couple's lives. If there is a conflict between that idea and reality, It will result in a strained relationship.
3. Attitude
Everything is about attitude. Success in any real-world endeavor is heavily influenced by personal attitude. Long-term relationships are not an exception.
Related Reading: 

15 Tips on How to Change Your Bad Attitude in a Relationship
4. Trust
Trust, or rather the loss or lack of it in a relationship, can manifest in many ugly ways that can strain the relationship. Problems rooted in trust (or lack thereof) are both silly and damaging. It's like living in a house or cards, and you constantly turn on the fan.
Couples living in a strained relationship define their lives by the primary problem they have, whether it's money, attitude, or the lack of trust. It creates many case-to-case strained relationship definitions. However, it doesn't change the fact that problems in their relationship are negatively impacting their entire lives.
5. Difference in priorities
Partners prioritizing separate things in their lives can lead to conflict in their relationship. Regardless of their individual pursuits in life, a couple should work toward their combined livelihood as a team in order to keep the relationship strong and secure.
If any of the partners deviates entirely from what is expected of them, it can lead to a strained relationship.
Define a strained relationship and what makes it different from a healthy one
Every couple has problems.
There are even couples who have problems and arguments every day. Regardless of the frequency of the problems, it's not realistic to say there aren't any or never had been one. It is not what gives a strained relationship meaning.
A couple is only in the textbook definition of a strained relationship when their private problems spill over to other parts of their lives, regardless of the severity of the problem.
It depends on the people involved. People with high EQ and emotional fortitude are able to continue on with their careers and daily lives even when they are suffering from relationship problems. There are others who break down completely because of a simple trivial fight with their partner.
A couple with relationship problems doesn't necessarily mean they have a strained relationship, but a couple in a strained relationship definitely have underlying problems.
The problem itself is irrelevant. What matters the most is the emotional reaction of each partner. According to socialthinking.com, there is a wide range of reactions to how people cope with their problems.
A strained relationship happens when your reactions to the issues in your intimate life are creating new conflicts outside of the relationship.
It also doesn't matter if the cause is coming from the outside. For example, according to Renee Teller, the first cause of strained relationships is money. Financial difficulties are creating problems with your partner and those, in turn, are causing problems with your career, creating a vicious circle.
On the other hand, if the same financial difficulties are making the relationship problematic, but both you and your partner are not letting it affect other factors of your lives, (except those directly affected by money) then you don't have a strained relationship.
5 common signs of a strained relationship
A strained relationship can be difficult to navigate, as it can be hard to determine if there are underlying issues causing tension. However, there are some common signs that can indicate a relationship is struggling.
Here are five signs of a strained relationship to watch out for
1. Communication breakdowns
One of the most significant signs of a strained relationship is a breakdown in communication. When a relationship is struggling, it can be hard to communicate openly and honestly with one another.
Communication breakdowns can manifest in many ways, including avoiding difficult conversations, shutting down emotionally, or engaging in frequent arguments that go unresolved. This can result in overall strained family relationships.
Related Reading: 

20 Ways to Prevent Relationship Breakdowns
Here are some tips on improving your communication in the relationship:

2. Trust issues
Trust is a critical component of any healthy relationship, but it can be easily eroded when a relationship is strained. A lack of trust can take many forms, from feeling suspicious of your partner's actions to feeling like you can't rely on them when you need them.
When trust is broken, it can be challenging to repair the damage, and it can lead to ongoing feelings of insecurity and doubt.
3. Different values or goals
''Why does my relationship feel off?'' Maybe because you two are heading in opposite directions. This is one of the signs of disconnection in a relationship. In a few years, you might wonder why the relationship became strained at all.
Sometimes, a relationship can become strained because of fundamental differences in values or goals. For example, if one partner wants children and the other doesn't, it can be a significant point of tension in the relationship.
Similarly, if one partner values financial stability above all else while the other prioritizes adventure and experiences, it can be challenging to find common ground. These differences can lead to ongoing conflict and a sense of disconnect between partners.
4. Unresolved conflicts
All relationships experience conflicts from time to time, but if these conflicts are left unresolved, they can become a major source of strain. When conflicts go unresolved, they can fester and build up over time, leading to ongoing resentment and bitterness.
It's important to address conflicts head-on and work together to find a resolution that works for both partners.
5. Personal insecurities
Sometimes, a strained relationship can be caused by personal insecurities that one or both partners are experiencing. For example, if one partner is struggling with self-esteem issues, they may become overly needy or clingy, which can put a strain on the relationship.
Similarly, if one partner is feeling insecure about their career or personal life, they or may project those feelings onto the relationship, leading to ongoing tension.
Related Reading: 

10 Causes of Insecurities in a Relationship Not to Overlook
How to communicate in a strained relationship
Communicating in a strained relationship can be difficult, but there are a few strategies that can help. Start by being honest and direct about your feelings, and try to listen actively to your partner's perspective without interrupting or getting defensive.
Use "I" statements to express how you feel rather than blaming or criticizing your partner. It's also important to be patient and give each other space if needed, and to seek the help of a professional if you're struggling to communicate effectively on your own.
5 coping strategies for a strained relationship
The main issue with a strained relationship is they have the tendency of creating a domino effect and making the problem much more difficult to resolve. Like the vicious circle in the example above, it can create new problems of its own, and it would eventually surpass the limit for the majority of people.
It is why toxic situations such as a strained relationship need to be dealt with as soon as possible. Here are a few pieces of advice on how to pull yourself out of the rut.
1. Determine the root cause of the problem
How to mend a relationship? Find the problem.
The list from Renee Teller helps a lot. If the problem is coming from the outside such as money, relatives, or career. Attack the problem directly as a couple.
If the problem is related to attitude, trust, and other perceptions, then consider talking with a counselor or making a positive change in your life.
Related Reading: 

30 Common Relationship Problems and Solutions
2. Work together for a permanent resolution
A couple in a strained relationship should both help each other. It is especially true in this case because it directly affects both partners. Communicate and take it to step by step, and ask for assistance from friends, family, or licensed professionals.
There are also cases if the relationship itself is toxic, and the solution is to dissolve it. Every choice will have good and bad short-term effects. The right one is where things will be better in the long run, and the backlash is just secondary concern.
3. Clean up the mess
A strained relationship by definition is the source of other problems. Those offshoot problems need to be resolved on their own, or they can return and strain the relationship again.
Regardless if you still ended up together or split apart, make sure you deal with the other problems your strained relationship created in other parts of your life.
Stained relationships are one of the things in life that shouldn't be ignored. Some problems go away when you ignore them. (such as your neighbor's dog that howls all night making you lose sleep) You get used to them, and they become part of your background.
Life goes on. Strained relationships are not like that, you need to fix them right away, or they will consume your entire being.
4. Take some time away from the relationship
You might not realize this but you might be putting all your attention on the problematic part that is your relationship at the moment. It's crucial that you take some time for yourself and other things that are important to you.
This can include your hobbies, your friends and family or whatever makes you feel happy and content. Sometimes, giving space to each other can also be a solution a couple is looking for.
5. Set practical boundaries and expectations
Being realistic in a relationship is equally important. Set up healthy boundaries based on your mutual agreements and adhere to the rules.
Similarly, avoid setting or living up to expectations that are beyond your control or limits. Communicate openly and honestly about what works and what doesn't.
Related Reading: 

10 Sure Signs to Tackle Unrealistic Expectations in Relationships
Commonly asked questions
Fixing a strained relationship can be a challenging process, but it's not impossible. Here are some frequently asked questions about repairing and strengthening troubled relationships.
What is another word for a strained relationship?
A 'tensed relationship' can be another word for a strained relationship, which can similarly refer to a situation where there is underlying tension or conflict between two or more people. Other synonyms for the same term can include troubled, difficult, or stressful relationships.
How do you maintain a strained relationship?
Maintaining a strained relationship can be challenging, but communication, trust-building, and a willingness to work together to overcome challenges are key. It's also important to prioritize self-care and seek the help of a professional through couples therapy if needed to work through ongoing issues.
You'll get through this, just keep trying
A strained relationship can be challenging to navigate, but it's important to recognize the signs of trouble early on so you can take action to address the issues.
By focusing on open communication, trust-building, and conflict resolution, you can work together with your partner to build a stronger, healthier relationship. But most importantly, don't panic at the first symptom of tension and hopefully hold your fort.
Share this article on
Want to have a happier, healthier marriage?
If you feel disconnected or frustrated about the state of your marriage but want to avoid separation and/or divorce, the marriage.com course meant for married couples is an excellent resource to help you overcome the most challenging aspects of being married.
More On This Topic
You May Also Like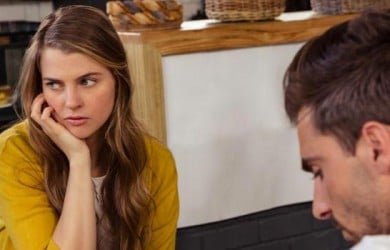 Popular Topics On Married Life