What Happens When Romance Dies in a Relationship?
Ever wondered why relationships don't work out? What happened to that happy couple who would spend their entire time showing love and affection to one another?
What could be the reason behind their breakup? Maybe they argued, maybe one forgot to put down the toilet seat and they fought, or maybe they lost their spark?
When romance dies in a relationship, there is nothing you can do to save it.
You lose your connection with one another, date night becomes less frequent, and there is a lack of communication. And what finally happens is a nasty break up, hurtful words are hurled at each other and in the end, all strings are cut off.
7 signs that your romance is dead in your relationship
What if you were able to notice these signs beforehand? You could prevent a nasty breakup from happening, you wouldn't have been able to prevent the breakup, but you could have at least ended it in a better way.
So how can you find out when romance dies in a relationship? Well, here are some signs that you might see.
1. Your partner stops being affectionate
If you and your partner are one of those couples who are always touching each other and are still affectionate, then you're bound to notice this immediately. You'll immediately notice something wrong when your partner won't hug you, hold your hands, or do anything cutesy with you.
2. Your partner doesn't care about your appearance
You may stop dressing to impress every day when you're in a relationship for a long time. However, sometimes you will dress up a bit for your partner. If that doesn't happen anymore, you don't care how you look in front of them anymore.
See how they're dressing up when going out with other people and then compare it with how they dress up when they're with you. If you see a big difference, it's probably because they no longer care about impressing you.
3. Romantic gestures seem forced
Again, if you're extremely touchy and lovey-dovey, you'll notice this right away- when romantic gestures seem forced.
People who are attracted to you will find ways of expressing their love and affection to you. However, if the gestures seem unnatural or something done out of obligation, then it means that they've stopped thinking about you that way.
4. Your sex life won't be that great anymore
You're bound to leave the honeymoon phase sooner or later; however, that doesn't mean you won't enjoy intimacy together. However, when romance has escaped your relationship, sex is the last thing you should expect.
If your partner is drastically less interested in sex than he used to be or has a less strong sex drive, you know he isn't interested anymore.
5. Your partner no longer invites you to their plans
There was a time when you'd tag along to every event or party your partner would go to. However, you'll notice how you're no longer being invited to those hangouts you were once always welcomed when romance dies in a relationship.
Your part may intentionally or subconsciously realize they no longer want you to tag along wherever they go. If they don't want you to participate in their plans, it may be time to reevaluate your relationship again.
6. Your partner's phone comes before you
Your partner might be sitting there with you, but if he is more interested in his phone, it is a clear indication that your partner isn't present in this relationship physically or mentally.
Someone romantically invested in the relationship will pay attention to what you have to say and engage in conversation. If they are not doing this, this can be how romance dies in a relationship.
7. Seeing other happy couples irritates you
When romance dies in a relationship, you may feel annoyed when you see other couples showing love and affection to one another. You don't look at such couples fondly, and you cannot relate to them at all.
Your irritation with the happy couple can be because you feel upset that your partner isn't showing you affection.
Related Read

: 

How to Deal With Mood Swings in a Relationship
How do relationships survive without romance?
Can a relationship without romance still survive?
The answer is a big YES. However, only some realize this. Most often, many couples get taken away by the thought of a fairytale relationship without realizing that, over time, there will be changes.
Romance fades, and sometimes, it becomes too much to handle and the couple eventually breaks up. So, how do some couples remain intact?
This is when a couple has to be mature throughout the relationship.
It's when they realize that a relationship doesn't just revolve around romance but also other things. Many things could keep a couple intact, even if the fire or romance had faded.
What keeps the relationship intact when romance dies?
Is there still a chance to save your love when romance dies in a relationship?
Why do other couples call it quits and others remain intact and strong even without romance? Is it possible to still be strong without romance?
You might be surprised that many things could keep your relationship intact, even if romance has faded.
This means romance is dead, but there is still hope. Here are ten reasons couples hold on and try to work things out.
1. Your love for each other
Romance, over time, can fade, but it's not too late. When love dies in a relationship or your respect for one another, it could break a couple apart.
If you know romance is fading, reassess your feelings for each other. If you still love each other, then that's a good sign.
You have to work hard to bring back the romance in your relationship, and yes, you can achieve that.
2. You still care for each other
A relationship can still work out if romance has faded. It's not the death of a relationship if you still love and care for each other.
When we say care, you still want to know if your partner had a hard time at work, if they need help with the household chores, or if they are experiencing sadness.
It's when you are there for your partner and still attempts to make this person feel better.
3. You have accepted your partner as a whole
When romance dies in a relationship, then you see a couple is still working it out and are making progress, then it's because they have accepted each other.
That, itself, is a beautiful thing for people who are in love. It's when you know you belong with each other and have accepted your partner, including their not-so-good side.
It's when you know you are in the right place with the chosen person, even if the romance has faded.
4. Being content in your relationship
When the romance is gone, but you know that you have a partner for life, would you let your relationship go to waste? This is exactly one reason some relationships are still intact, despite having less romance in their relationship.
Romance is amazing in a relationship, but for content couples, it's just one ingredient and will not ruin the years they've spent together.
5. Deep empathy
Once the romance relationship has faded, some couples break apart, but others don't. Why is this so?
It's because some couples are okay with a diminished romance. They understand each other to the extent that they know each other's challenges and would rather work things out rather than end the relationship or act negatively.
6. You own up to your duties as a partner
Some might think this doesn't belong or is unauthentic, but it's the opposite. When romance dies in a relationship, should you abandon your partner?
A person who knows their duty as a loving and respectful partner will not let one factor destroy their relationship or make them abandon their duties to their partner. This is a sign of maturity.
Speaking of maturity, do you know what mature love is? Lucy Benson, a self-improvement coach, explains what a healthy relationship looks like, along with the signs that you have a mature love.
7. Being comfortable with each other
Okay, romance has faded, but can you imagine your life without your partner? If you can't, it's because you have been comfortable with each other.
You already consider each other best friends, companions, and partners.
Related Read

: 

30 Signs You're Getting Too Comfortable In A Relationship
8. You depend on one another
When you hear the word dependency, it may sound like a toxic trait, but there is a good dependence, and that is when you know how to acknowledge your partner is good for you and vice versa.
You make each other better, and you have goals in life that you do together, and if that works, then even without romance, your relationship will be intact.
9. You still have ways to experience pleasure
"There's no romance in my relationship, but our lovemaking is still outstanding."
Is this possible? Turns out it can. This may happen when romance is just starting to fade. It's when you lack time for each other, but you can still give each other pleasure and you both know that.
Then this is the sign to work on your relationship romance again.
Related Read

: 

Ways to Increase Sexual Pleasure and Get down and Dirty with Your Partner
10. You value your family
Does love die when romance fades? It doesn't. There are many other factors to consider before you break away from a relationship you've fought hard to attain. This includes the family that you have built.
Romance dies in a relationship, and couples see it's happening to them. Instead of breaking apart, they work on other things, such as strengthening their family.
FAQ
Can a relationship work without romance?
Yes, a relationship can work out even without romance, but that doesn't mean we won't attempt to bring back that romance.
This is where couples therapy comes in. Partnered with the willingness to work things out, you can still bring back the romance in your relationship.
Why does romance die in relationships?
"Why is romance important in a relationship, and if it's vital, then why does it fade?"
Romance is vital at the start of every love story. It's where attraction and thrill get the best of us. Consider this as the first phase of your love story.
You always want to look your best and show your partner your good side, but then as your relationship moves forward, other things are taken into consideration, which fades romance.
These, along with being busy, having kids, and focusing on your priorities, contribute to changes in romance.
Is this a bad thing?
It depends. Some couples still need to establish a strong connection, maturity, and respect for each other so that when their romance fades, their relationship also ends.
There are couples who, despite knowing that romance dies in a relationship, can still flourish because of respect, love, and other aspects of their relationship.
Conclusion
If you see these signs, it is clear that your relationship has lost its spark and that you and your partner are no longer interested in the relationship.
You could try to sit and talk it out, go to counseling but make sure to do these things as soon as possible. The later you react, the more likely your relationship is bound to fall apart.
Share this article on
Want to have a happier, healthier marriage?
If you feel disconnected or frustrated about the state of your marriage but want to avoid separation and/or divorce, the marriage.com course meant for married couples is an excellent resource to help you overcome the most challenging aspects of being married.
More On This Topic
You May Also Like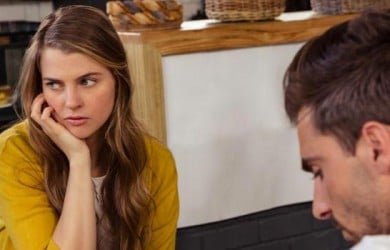 Popular Topics On Married Life