20 Reasons Why Ghosters Always Come Back
The "why ghosters always come back" is what's intriguing enough to grab the intended's attention. Otherwise, the sufficient time allowed to move on from the ghost means there wouldn't be a second thought given to this person.
Usually, when the ghoster sends the inevitable text as if nothing ever happened, there's no apology. The message doesn't explain where the ghoster has been or why they left.
It's almost like continuing a conversation that you were just in the middle of like nothing ever happened. There's no admission that the individual walked away without explanation, leaving you without closure.
The coming back is as baffling as the "open-ended" break-up. With ghosting, there's no official end, leaving the option to come and go if the person so chooses and if they're given permission.
"Why do guys come back after ghosting?"
"Why do women come back after ghosting?"
"What are you to say or how to respond to a ghoster who comes back?" Let's learn.
Before that, here is a research that talks about ghosting as a dissolution strategy in romantic relationships.
Why do ghosters come back?
Ghosters usually leave a relationship when it's in its prime. That's what's most confusing to their partner. There don't seem to be any reasons for the disappearing act, thus leaving the victim flabbergasted and unable to close the chapter.
Why do ghosters come back? It would appear the individual never officially ends the partnership leaving the option to come back as they choose. The relationship seems to almost serve as a hedge in case nothing better works out. That sounds harsh, but the behavior is unkind.
This video gives an overview of ghosting from the point of view of a ghoster.
How long before ghosters come back?
The suggestion for how long until a ghoster comes back is roughly within a six-month window. Remember, though, everyone is different, and not everyone will return. It depends on the ghoster.
The dynamics of your relationship and the ghoster's circumstances can change the duration that it takes for the ghoster to come back.
Does a ghoster regret their ghosting behavior?
If you ponder how the ghoster feels after ghosting someone, it will depend on the partnership circumstances and how the ghoster left it.
Some ghosters claim to feel terrible about the behavior but feel compelled to respond to the partnership's path in this way.
Still, If you look at it broadly, you could say that ghosting is generally deemed an "open-ended" break-up, with most individuals feeling that the door is always open.
That means there isn't an official ending, so there is nothing to regret. Check out this book which attempts to detail why men, in particular, lose interest and how to avoid getting ghosted.
Why ghosters come back and how to respond
After being ghosted for a few days, the feeling is that you'll never see the person again. As you deal with what you believe to be a break-up, facing questions like why people ghost you and wondering if there was something you might have done, suddenly the ghoster reappears.
Most partners are confused at the strange turn of events wondering why the ghoster returned. It's as illogical as their exit, especially considering the individual acts like things can start just where they left off, skipping a beat.
Psychologist Jennice Vilhauer, Ph.D., discusses what to do when you've been ghosted in her insightful podcast here. Plus, let's look at some of the reasons why ghosters always come back.
Related Reading: 

25 Best Ways to Make a Guy Regret Ghosting You
1. Regret has set in
Not all ghosters will feel a sense of regret. It is, in fact, rare but does happen with some partners. For these people, they realize that they made a mistake by ghosting someone, creating hurt for another person, and causing them to feel guilty.
They admit their selfishness and come with an apology. When trust is broken like it was by being ghosted in the first place, it can be challenging to forgive and offer a second chance. Still, that is an option in this scenario.
You can also offer forgiveness but choose to move on to a more healthy relationship.
2. They are jealous
If a boy or girl ghosted and came back, there is a chance she noticed you have moved into another relationship. Or perhaps there have been rumors of an interest in another person.
With many ghosters, the ghosting intention is to leave the door open until they find something better. If you move on first, it can hurt them, mainly if there are still feelings there.
This individual doesn't necessarily want you as a mate but doesn't want anyone else to have you. It's wise for you to pursue your other interests.
Related Reading: 

What Is Really Behind Jealousy in a Relationship
3. They miss you
One of the suggestions as to why ghosters always come back is that the individual starts to miss their companion. Sometimes the adage "you don't know what you have until it's gone" rings true for partners.
When the ghoster goes looking for something better, they realize the person they had was best suited for them. That conjures memories causing them to react by reaching out to you.
The issue for you is whether this will be a permanent return or they'll get cold feet again. Did they admit what they did and sincerely apologize? That will speak volumes.
4. There are presumptions and insecurities
In your confused state after being ghosted, you're likely pondering, "Do ghosters ever come back?" This ghoster, on the other hand, has seemingly developed a lack of self-esteem and diminished confidence.
The individual believes you hold little regard for them and wouldn't be bothered if they were to disappear. They perceived a lack of interest from you or felt rejected and found it necessary to move on by ghosting you.
As time passes, the ghoster senses you miss them, so they consider resuming the relationship. If you did reject them at one point, it's better to let the partnership pass to avoid any future hurt.
If the ghoster is having a lot of unfortunate misperceptions about your mindset, it's again better to let go since the two of you are not likely to ever be on the same page.
Related Reading: 

6 Key Tips to Stop Being Insecure in a Relationship
5. They don't find what transpired as wrong
One of the ideas concerning why ghosters always come back is people coming from varied "settings," if you will, or "environments." Some people could be naive to the fact that ghosting is a hurtful behavior doing so without the intention of causing pain.
They might believe that when they have a lot of things happening in their life, it's quite normal to ignore texts and calls regardless of the timespan.
Then all of a sudden, there will be a message acting like everything is great with you wholly bewildered. Plus, the ghoster will have no clue why you're so confused.
This situation requires an open dialog with a detailed explanation of how communication should work and why the behavior was inappropriate.
6. They know you will be readily available
Do ghosters come back? They often do if you have a reputation of being someone people can count on to be there when needed.
Perhaps, the same ghoster has done this to you a couple of times because you're so readily available, kind, and forgiving. It's time to let this person know you're moving on, or maybe doing some slight ghosting of your own might be somewhat apropos.
7. They are bored
A sound reason why ghosters always come back is boredom. The sad fact is the person most often walked away from your partnership because they felt in a rut but wouldn't communicate that with you.
Needless to say, while away, it was decidedly more boring alone. Unfortunately, a cycle can develop with this partner coming to feed their ego and leaving as they grow weary as long as you allow it. Don't allow it.
8. Rejection is a two-way street
It is sincerely possible the ghoster stepped away from you, leaving the relationship uncertain while testing the waters with another person of interest.
When the new partner rejected the ghoster, it was then decided to return to the partnership they left open for just that reason. You're safe, and a companion until another person of interest comes along. It's better for you also to reject this two-timer.
Related Reading: 

Why Rejection Hurts So Much & How to Deal It in the Right Way
9. They realize they want a commitment
When you finally achieve healing from what you consider a tough break-up, it can be destructive when the ghoster returns while trying to progress into a healthy pattern.
It's more confusing when they express a desire to explore a commitment and acknowledge the mistake of allowing their emotions to waver. Still, you must realize no one is perfect, especially regarding relationships.
When things grow serious, sometimes people get scared and make wrong moves. A second chance is warranted when they recognize the mistakes and show genuine regret.
Related Reading: 

Significance of Commitment in Relationships
10. They are interested in a hookup
The ghoster makes no excuses or bears no apologies; instead, it is straightforward that they merely hope for a sexual encounter with someone familiar.
It would be a sort of a friends-with-benefits arrangement and see where it might go from there. Hopefully, you will indeed have an excellent negative response to this.
Related Reading: 

Does He Like Me or Just Wants Sex Quiz
11. They are looking for a support system
A primary reason why ghosters always come back is the amount of support that a loving relationship can provide. If the two of you had a perfect thing going, which often is the case when ghosting happens, you were likely a unique support system for your partner.
Once the ghoster stepped away from the partnership, the struggles they were dealing with at the time are still plaguing them, but they have no one to turn to now.
When they come back, the sole purpose is to have someone to talk to. You can offer to listen if you want to be kind, but let the person know you have moved on in every other sense.
Related Reading: 

20 Steps to Becoming a Supportive Partner
12. They have an urgent requirement
Anytime a favor needs to be taken care of, you would go. That would be whether the ghoster needed errands handled, apartment sitting, or help with chores.
The individual comes suddenly calling because they can't find someone to attend an event with possibly, and they know they can count on you in a pinch.
13. Happy couples surround them
Perhaps the ghoster has returned because they continue to remember all that the two of you shared, along with examples of happy relationships around them. Maybe friends are getting engaged, couples are having babies, or family is asking about you.
That doesn't mean they still have feelings for you or won't do the same thing again; it's just them reminiscing. Unless you see sincerity and genuine effort in moving forward, it's better to stay in your healthy place.
14. They need attention
Sometimes there are feelings of neglect, and a need for attention is part of why ghosters always come back. When standing on their own without a continuous stream of affection or attention, a ghoster longs for what they had in the partnership.
That doesn't necessarily mean the person, but a relationship. It's essential to make that distinction and be cautious.
Related Reading: 

What Happens When There Is Lack of Attention in Relationship?
15. Ghosting can mirror narcissistic behavior
A narcissist thrives on power. A ghoster uses their power to put their mate in a position of inferiority.
When the individual attempts to return to the partnership, they're showing their superiority with the implication that they can come and go at will. This sort of behavior can be toxic and should be avoided.
Related Reading: 

10 Signs of a Narcissistic Collapse & Tips to Avoid the Trap
16. Curiosity is not the same as love
You shouldn't confuse a ghoster's curious nature with their desire to be in your life. The individual's wonder if they can get back with you is not the same thing as the desire to do so. Nor is it acknowledging what they did was hurtful and wrong.
To get a second chance, there needs to be a genuine hope to have a future with you, a commitment. If you don't get that instinct, avoiding further communication is crucial.
17. There's an ex in the mix
The ghoster has had another relationship and break-up since they walked away from you. Now the hope is that you can help make things better for them.
This would be a rebound situation because the ghoster was on the receiving end of the break-up this time. To this, you would, of course, say, "no."
18. They have matured
In some instances, why ghosters always come back is quite simply because people have the affinity to grow and change as time passes.
With that period of growth comes maturity and an acknowledgment of fault for things many people wish they could take back over the course of their life, make amends for.
And ghosters are no different. Does that mean they want to rekindle the relationship? Quite possibly. Or maybe not. But it's worth a conversation.
Related Reading: 

25 Signs of Emotional Maturity in a Relationship and How to Develop It
19. You might be missing them
In the same vein as them missing you, a ghoster can conclude that you may come to a point where you miss them if enough time passes. For some ghosters, they ensure that plenty of time goes by before they attempt to come back, so that might be the case.
This way, there will be no need for discussion over the ghosting "incident," and things can just pick up where they left off. Of course, you won't let the ghoster off that easily.
Communication is essential, with much discussion needed before any second chance can be considered. There needs to be a re-establishment of trust, which can't be accomplished without acknowledging wrong.
20. They are lonely
When the ghoster walked away, it could have been a spur-of-the-moment decision that sort of caught them off guard as well. Sometimes people get scared when things become a bit too real.
If the individual wasn't looking for another relationship or pursuing someone of interest, they might be spending a lot of time alone and perhaps becoming lonely.
That causes the ghoster to reach back out to you. While you feel confused, your partner is too. Maybe the relationship was moving just a bit too fast. Perhaps if you slow things down, no one will get scared and feel the need to run away.
Final Thoughts
None of the reasons why ghosters always come back will instantly repair the broken trust created by the behavior. Some excuses help to vindicate the individual, but much healing must occur if a new partnership is to be established.
Some of that will require developing good communication between the couple. Since this wasn't the case in the old relationship, it's wise to seek a couple's counselor's guidance to establish tools for a constructive communication style.
That is, if it's decided they want to reestablish their couplehood. In most of these ghosting scenarios, it's healthier to continue to heal and progress forward.
Share this article on
Want to have a happier, healthier marriage?
If you feel disconnected or frustrated about the state of your marriage but want to avoid separation and/or divorce, the marriage.com course meant for married couples is an excellent resource to help you overcome the most challenging aspects of being married.
More On This Topic
You May Also Like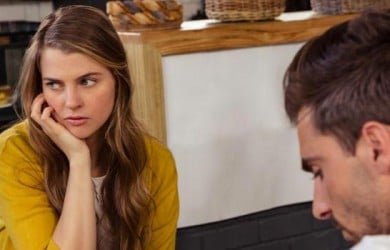 Popular Topics On Married Life