What Is Ghosting: Signs, Examples & Ways to Cope
'Ghosting' is one of the most commonly used recent dating terms. While ghosting isn't a brand new relationship trend, it has become increasingly common since the onset of online dating culture.
Popular dating apps have made meeting new people and ghosting old ones relatively easy. But, what is ghosting, and how do you tell if someone is just busy or has ghosted you? Additionally, what to do if someone is ghosting you?
If you're having difficulty figuring out if you've been ghosted, this article will help you figure out the frustrations of different types of ghosting.
What is ghosting?
Ghosting means cutting off contact with someone without giving any warning or explanation. Instead of breaking up with someone, a person who is ghosting leaves without considering the other person's feelings.
Ghosting after a serious relationship is highly confusing and frustrating. You're planning a future together one day, and they disappear on you the next.
Not only does a ghosting partner cut someone off, but they also avoid responding to the ghosted person's texts or calls for closure.
You may wonder, "how common is ghosting in non-romantic situations?" While ghosting isn't uncommon in different social and professional settings, it's more commonly used associated with romantic relationships.
It is often ideal to know why someone wants to discontinue a relationship. But, ghosters don't like to openly communicate and talk about ending the relationship.
Instead, a ghost would just disappear and leave you hanging. You won't get closure and may keep wondering if they're ever going to call you back or respond to your texts.
You can see what ghosting means when you feel a kind of rejection that shows you that the ghost wasn't feeling the sparks or wasn't ready to commit.
Understanding what is ghosting in dating can help save you from wasting your time and being confused. Some people don't feel comfortable telling you to your face that they don't want to continue dating you anymore.
Either they don't know how to communicate their feelings or are too busy to think about the consequences of their actions. Either way, disappearance tells you that they aren't interested in pursuing the relationship anymore.
How do you tell if someone is ghosting you
Now that you know what is ghosting, it is essential to understand if you are facing the situation before wondering how often do ghosters come back.
Should you automatically assume the worst when someone doesn't reply to your text or answer your calls for a few hours? Not really. Sometimes people don't respond to you because they're probably:
just preoccupied with work

going through a hard time

facing personal issues, they aren't comfortable talking about

hurt because of something you said or did

dealing with some sort of grief and loss
It'd be great if they had just told you what's happening and put your mind at ease. But, sometimes, people feel more comfortable ignoring you than conveying their real feelings directly.
If someone is unavailable due to any of those reasons mentioned above and gets back to you as soon as they get a hold of themselves, they aren't ghosting you.
Meanwhile, you keep wondering if they're just too busy! Because you can't believe that they'd leave you high and dry like that, the last time you talked, there was no indication of this happening.
After being on a few dates, sleeping together, and having a good time, it's heartbreaking to look out for 'you've been ghosted' signs. But, if that's what is happening, you need to see it for what it is. So, it can be sure you are being ghosted if someone:
is online but doesn't talk to you

doesn't reply to your text for days

stops picking up your calls

doesn't call you back

blocks you on social media
5 signs of ghosting
While it can get confusing to understand what does ghosting someone mean, some clear signs can tell you whether you are being ghosted or not. Watch out for them and evaluate your situation if any of these crop up in your relationship.
1. Constantly bailing on plans
If your partner constantly cancels plans, you can see it as an example of what is ghosting.
A ghoster will be reluctant to make plans or spend additional time with you. They will constantly cancel plans without providing you with a proper explanation or assurance of rescheduling the plan.
2. Unenthusiastic texting
An important aspect of modern-day communication is text messages, and hence learning what is ghosting in texting might be helpful for you.
If a person is not replying to your texts or taking too long to respond, they might be the ghosting meaning and example that you are looking for. It indicates a reluctance to communicate with you.
The person ghosting could also demonstrate what is ghosting by giving you one-word replies or sending emojis in response to your probing messages. They withhold their involvement and enthusiasm in their responses.
Related Reading: 

20 Tips on How to Not Be a Dry Texter
3. Stingy with details
What is ghosting someone can also be understood if you notice that someone is withholding sharing information about things that are personal to them.
Withholding information may indicate that they are no longer interested in forming a stronger bond with you or don't trust you anymore with details about their life and feelings.
4. Disinterested in the future
If a partner showcases a disinterest in making plans with you, you may have the answer to what does it mean to ghost someone.
Discussing plans implies that you are planning a future together. It could be short-term like a vacation together or long-term like children. A person who is ghosting you will be unenthusiastic about discussing plans as they possibly can't picture you in their future.
5. Social media distancing
In the age of social media, "what does ghosting mean" has different dimensions to it.
If your partner is ghosting you, they may slowly disengage themselves from your social media activities. They can initially start by not reacting to your posts and later unfollow you altogether.
Social media distancing indicates a desire to stay away from all aspects of your life. It can let you know they are not interested in your life or you.
What is an example of ghosting?
Some clear examples can help you figure out if you are being ghosted. These can help clarify some confusion about what does ghosting mean.
Watch out for these situations or situations that are similar to these:
I'm not comfortable saying 'I love you' at the moment.

I didn't see any of your messages or calls as I was busy.

I won't be able to meet you as I have other plans.

Oh, you were waiting for me? I was busy with work.

Why should things that you do bother me?

I don't feel comfortable sharing things that are personal to me.

I already have plans for the

holidays

.

My life is separate from yours.

I like to spend my free time with my friends.

Not talking for days is completely normal.
What to do if you're ghosted?
Ghosting leaves you clueless, confused and hurt. You often find it difficult to know how to tell if someone is ghosting you or caught up in other's things.
Fear, insecurities, and questions start to plague your mind. What if they've had an accident and are in a hospital right now? Maybe they've lost their phone. Did you do something to hurt them? Is it you who pushed them away?
Maybe they're swamped with work and will call you back as soon as possible. You keep checking your phone and get restless. Often when it comes to ghosting, you can't get answers to any of your questions, and there's no closure.
You may need to process the uncertainty, but the one person who could've given you clarity is ignoring your calls. It makes you feel helpless and broken. However, no matter how broken you feel, you need to deal with being ghosted and move on. Here's what to do when someone is ghosting you.
Related Reading: 

How to Deal With Being Ghosted in a Relationship
Accept that even though you deserve an explanation and closure, the person you were with doesn't have the courage or empathy to give you one. Remember that ghosting has nothing to do with the ghosted and everything to do with the ghoster.
Watch to learn more about the power of acceptance with help from Dylan Woo:

It is natural to wonder, "What to text a ghoster for closure?" You deserve an explanation so that you can get closure. But, since your ghoster won't give you one, take your control back and end the relationship with one last text.
Instead of trying to figure out how long before ghosters come back, focus your energy on accepting the truth of the situation.
Let them know that you're done waiting for them to call you back and wish they were upfront about their feelings. What to text a ghoster for closure should depend on what would aid you in getting closure and not focusing on, "why do ghosters come back?"
Then move on and be happy.
Stop texting them after that
Thinking of what to text to your ghoster? They were unable to deal with the discomfort of talking about their feelings or dealing with yours. This was cruel and immature on their part.
So, when you feel like texting them for the umpteenth time or wonder what to text after being ghosted, the answer is nothing.
At the risk of sounding like a broken record, let's repeat: Don't send them a long text or a voicemail, especially when you're drunk.
A text to a ghoster might feel good at the moment, but it will leave you feeling resentful because you'll still be left without an explanation even after looking that needy.
Sure, you'd love to know what exactly went wrong. But they won't give you an answer. So, refrain from drunk-texting or drunk-dialing and just accept that you've been ghosted and try to move on.
Don't let your heart close off
Be open to meeting new people and being vulnerable. Don't let the bad experience stop you from trusting others again. The right person is just around the corner. Someday you'll meet someone who's mature enough to deal with your emotions and build a healthy relationship.
Till then, focus on yourself and do what makes you happy. Do ghosters come back or not should not be what you focus on.
Don't stalk them on social media. Block the ghoster on your phone and social media. Try not to bring them up when you're with somebody new.
Try to stop yourself from thinking about how often do ghosters come back. Let the ghosts fade away and hope that they don't come back to haunt you.
Related Reading: 

How to let go of someone you love: 15 Ways
Final thoughts
After you understand what is ghosting, you might have reflected on the times you might have done that to someone.
While ghosting might not seem to be a big deal for ghosters, it can have long-lasting effects on the person who's being ghosted. So, if you're thinking of ghosting someone, do them a favor and let them know that your heart isn't in the relationship anymore.
If you're the one who's being ghosted, you must feel powerless, and your self-esteem might have taken a hit. Again, let me remind you that ghosting says a lot about the ghoster's communication skills and empathy but nothing about you.
But is ghosting all bad? Is there a situation where ghosting might be the ideal option? Well, if someone's stuck in an abusive and controlling relationship, removing themself from the situation and cutting off all sorts of communication with the abuser might be their only way out.
The same holds true for all similar situations where your physical or mental safety and wellbeing are at stake. In that case, ghosting someone is not only okay, it's also a healthy way to protect yourself.
Share this article on
Want to have a happier, healthier marriage?
If you feel disconnected or frustrated about the state of your marriage but want to avoid separation and/or divorce, the marriage.com course meant for married couples is an excellent resource to help you overcome the most challenging aspects of being married.
More On This Topic
You May Also Like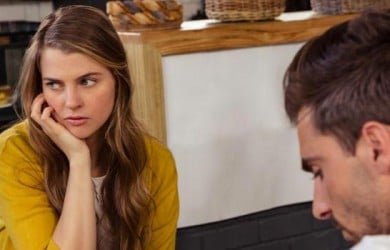 Popular Topics On Married Life