27 Mature Ways to Handle a Male Chauvinistic Husband
Many people in the dating world have run into their share of chauvinist partners. Some have gone on to marry the people.
That's generally due to the fact that it's become second nature to internalize the sexism promoted by society. Often when a significant other carries these views, the signs can slip past the radar.
With the male chauvinistic behavior encountered regularly, many don't notice it. It's especially true when you're dating or have married someone.
You want to believe the best in a partner, always giving the benefit of the doubt. Eventually, you need to call it what it is and find out how to handle a male chauvinist husband.
What is a male chauvinistic husband?
Let's understand the male chauvinist meaning first.
A male chauvinist husband is one who believes that men are in some way superior to women. The person has nothing to substantiate this feeling, no reliable evidence or proof.
But the spouse will do and say things indicating where he feels the mate's place is within the household and outside the home.
Behaviors that are okay for the husband are not so for their significant other. For instance, if he chooses to flirt at a party, that should be tolerated without jealousy, but the same is not true for his spouse.
To understand the chauvinistic meaning better and why some men behave this way, try reading this book titled Male Chauvinism! How it Works by Michael Korda.
What is the difference between male chauvinism and patriarchy?
Male Chauvinism vs. Patriarchy
Male chauvinism refers to an individual's belief in the superiority of men over women. It involves attitudes and behaviors that promote male dominance and the devaluation of women.
For example, a male chauvinistic person might believe that men are inherently more capable in leadership roles and should make decisions without input from women.
Patriarchy is a broader societal system where men hold most of the power and authority in various aspects of life, such as politics, economics, and social structures. It's not just about individual beliefs but deeply ingrained social norms.
For example, in a patriarchal society, laws and traditions might limit women's access to education and employment opportunities, reinforcing men's dominance.
Overall, male chauvinism is about individual attitudes of male superiority, while patriarchy is a systemic structure where men, as a group, hold more power and influence in society.
5 main characteristics of a male chauvinist husband
Some husbands carry stereotypical chauvinistic mindsets based on how they were raised and cultural influence. For them, there is always a need to hold the superior position with a fight to take the upper hand with all that he does.
Dealing with a male chauvinistic husband can be challenging and hurtful. Here are 5 main characteristics to help you recognize this behavior, allowing you to address the situation with empathy and understanding.
Dominance:

Male chauvinistic husbands tend to assert control and dominance in decision-making, often undermining their spouse's opinions or choices.

Belief in gender stereotypes:

They may hold traditional gender roles and believe that certain tasks or responsibilities should be exclusively handled by men or women, limiting your freedom to choose your roles in the relationship.

Lack of empathy:

Empathy towards your feelings and needs may be lacking, as they may prioritize their own desires and perspectives.

Dismissal of equality:

Male chauvinists may resist the idea of equal partnerships and may not fully support your personal and professional aspirations.

Insensitive comments:

They may make insensitive or derogatory remarks about women or belittle you, which can be emotionally distressing.
How do you know if a man is a chauvinist: 7 glaring signs
Certain men present their best selves when in the beginning stages of dating with little likelihood of showing characteristics of male chauvinistic behavior. Instead, they do so in subtle ways that are easy for partners to miss at first when caught up in the romance and excitement.
In some cases, a man might not even believe he's being chauvinistic but, instead, feel he's caring and protective, except they're not comfortable when a partner earns more than them.
Some red flags that a man might be leaning towards male chauvinist traits:
He

orders for you

without checking what you'd like

He wants to know about your

parenting aspirations

but not your career goals.

The first date is full of

pet names

like babe, honey, sweetie.

Referring to

ex's

starts a

name

–

calling

tirade.

He has a "

philosophy

" regarding

women

and decisions.

He frequently

dismisses your opinions

and decisions, showing a lack of respect for your thoughts and ideas.

He tries to

dictate who you can hang out with or see

, displaying an excessive need to control your social interactions.
11 signs you have a chauvinistic husband
When you consider what is male chauvinism, men don't always display the behavior upfront and center, especially if you're newly married. Once things have become familiar and comfortable, there's a feeling the guards can be let down and share more openly rather than the subtle hints he's been displaying.
How can you spot a male chauvinistic attitude before getting too far in the relationship? Here's some research to offer details on the subject. Let's look at some signs of a male chauvinist to be mindful of.
1. You're constantly interrupted in conversations
This is among the classic male chauvinist examples. You listen patiently to his conversation, but when it's your turn, he always finds a reason to interrupt as though your experiences and thoughts are irrelevant.
2. He's continually validating himself as a nice guy
If he is complaining that he's a nice guy and that many mates are not appreciative when they have a good thing that treats them well, that can be toxic. Continuing to announce it doesn't mean you're nice.
3. Periods are fodder for his humor
Using PMS as a reason women must be in bad humor is not funny and makes the guy look like a big horse's butt.
4. Earning more than him bothers him
While he supports your career, he places a great deal of importance on gender roles, so when he finds out you're earning more, it doesn't make him happy.
5. "Benevolent Sexists"
This male chauvinist example is a man who will rush to help, but their help comes across as more degrading to their partner than a genuine willingness to care for a problem.
6. Mansplaining
A very common one among the signs of a chauvinistic man!
Explaining things to a partner in a "mansplaining" context is simply another way of showing power and further degrading a mate, acting as though they can't comprehend logistics.
Check out this video on what is mansplaining and how it can be bad:

7. Compliments are reserved for looks
Instead of complimenting abilities with hobbies, interests, skills, or even careers, the chauvinist will concentrate on the way you look.
8. He doesn't like your male friends
He could be jealous, but it's most often sexist in that he's afraid that you'll chat with one of your friends or that one of them will steal you away from him.
9. He has a set of ideas concerning what denotes a real woman
If you want children, he will find that you're the epitome of a real woman. If you have friends who choose not to get married, they don't fall under the category.
10. If you want to discuss females' role in society today, he has no interest
There's no desire on his part to discuss feminism or issues being faced by women in society today.
11. He seeks financial control
He insists on controlling the finances, making it difficult for you to have any financial independence.
27 ways to handle a male chauvinistic husband
When trying to discern how to deal with a male chauvinist husband, challenging a chauvinist's beliefs and behavior can sometimes make the person anxious.
But have a discussion about improvements they could make to help you figure out how to deal with a male chauvinist. The attached podcasts will give you pointers on dealing with male chauvinism.
1. Discuss your feelings openly and vulnerably
The first step in how to handle a male chauvinist husband is discussing your feelings openly. If your mate asks how your day was, give an account instead of saying fine. Respond, but then listen and hold a decent conversation.
2. Avoid interruptions
One thing to work on when it comes to male chauvinist meaning is the fact they interrupt their mate in the middle of their sharing a story. It's essential to express how this makes you feel and try to get the behavior to stop.
It's demeaning and degrading and shows little respect for your experiences and good news.
3. Let him know he doesn't need to solve all your problems
Generally, when sharing issues with a spouse, whether it be crises at work, friends, or family problems, mates just want a shoulder. Still, often a spouse is ready to come up with solutions in an effort to show support.
These usually go above and beyond the call when all that is really needed is an understanding ear. However, if someone is ugly to the mate, it should be okay for a husband to be rude back.
4. Ask him to help when you genuinely could use it
Mates have a tough time finding how to handle a male chauvinist husband who "rescues" them from chores that are too challenging and where they might hurt themselves.
That's often not the case and can end up making the partner feel degraded. There are plenty of chores that can use extra hands, like ones she isn't fond of; perhaps if you have a dialogue, the pattern will switch.
5. Ask him to be kind to your friends
Whether male or female, there needs to be a mutual understanding about your spouse's friends, especially if you have trust in your mate. These are her friends, and you want to fit in with them for that reason.
6. If something exciting happens in his life, he should share that
A partner should not be kept in the outside loop despite a husband's feeling of superiority. He needs to share the positive moments and the negative, especially in a marriage.
7. Compliments outside of superficial
Make sure your chauvinist husband realizes you need compliments that don't rest on looks but, instead, accomplishments. It might not relate to your career, but there are plenty of other kudos you can receive, like interests or hobbies.
8. Encourage your husband to write his grievances before having a conflict
When finding out how to handle a male chauvinist husband, you'll notice conflicts can often be volatile. Encouraging him to write down why he's upset might diffuse some of what's bothering them.
9. Decisions should be mutual
If you're out to dinner and your spouse specifically asks you to order for them, that's one thing. Still, when you take that upon yourself, it's clearly the male chauvinistic definition.
Unless a partner asks you to make household decisions solely, they should all be mutual. If he orders, you can make your order when he's through. There'll just be a lot of food.
10. Limit the kind of energy he brings home
The method for how to handle a male chauvinist husband is to have them excuse themselves for some quiet reprieve until the mood passes. No one needs to be exposed to the attitude or stress associated with irritability.
11. Let him acknowledge an attribute or accomplishment about you in public
It might be a challenge for a male chauvinist, but being one of your loyalists for one night shouldn't break him. It might be hard hearing people gushing over you, but it's one evening, and he's trying to improve.
12. No imbalances in household labor
The mental work behind all that goes into operating a household is generally thrust on one person and is typically not recognized or appreciated. It's essential to ensure that the male chauvinist carries his share of the load so it doesn't become overwhelming.
There needs to be an even balance with you being able to rely on him when it counts as a source of support.
13. Family squabbles
Often, in cases of disputes with family or friends, a male chauvinist will point out what you could have done differently. Speak with your husband and voice how vital his being on your side is; you want to be on the same page.
14. The benefit of the doubt
While a male chauvinist might have doubts over what you're telling them, you must express to them the need for them to always give you the benefit of the doubt.
That's challenging for someone like this who is very set in behavior and personality, but now that you're married, these are your methods for how to handle a male chauvinist husband.
15. Deep breaths and walking away
You might both need to do this when frustration sets in, and it will. Dealing with a male chauvinist is challenging. There might be times you attempt to ignore the behavior, and other times it's constantly in your face making that an impossibility.
That's when you choose to take a few deep breaths and go off into either another room or even leave to get some space.
16. Try to let go of unreasonable expectations
It's easy to believe you can entirely change someone; that's not possible. People will try to make personal improvements. It is possible to have open communication to develop reasonable ways to make the partnership somewhat better and reduce male chauvinism to a degree.
Each of you needs to work towards that healthy outcome. It's important to remember; that you love your husband even on days you don't like him so much.
17. Say no to sexist behavior
If you had a sexist experience at work, don't allow your husband to stand up for the guy by giving him the benefit of the doubt.
He must help you work through the problem and talk as much as you need to resolve the issue or go to more extraordinary lengths to bring a solution.
18. Work toward developing a united front
Positivity is harder for men. It's a challenge to know how to handle a male chauvinist husband when they stereotypically find fault with everything and determine that it won't work or will prove a poor experience.
Try not to let yourself fall into the trap. Work with your partner in developing a united front so a solution can be found to satisfy everyone.
19. Teach him to use "I" terms with confrontation
When confronting, the male chauvinist tends to use "you" statements which come across as attacking and blaming. Instead, it's critical to express how you feel by using "I" ideas and why you feel the way you do.
20. No flirting for anyone
Typically, male chauvinists tend to have one set of rules for themselves and another set for their significant other. That need not be tolerated between a married couple.
For instance, a man can't be out flirting under any circumstance with the same rules applying for his spouse. And any other specific guidelines he's established for himself should carry over.
21. No more undermining your concerns or thoughts
Male chauvinists easily diminish their mate's perspective when their goal is to reach a fast resolution for an issue they're dealing with. Even if you genuinely find her perception absurd, that judgment should remain with you.
We all have differing views and opinions, they won't all coincide or work with the scenario at hand, but that doesn't mean there was a conscious effort put into that viewpoint.
22. If you need time alone, ensure that he recognizes this
Sometimes there's no reason behind the need; we all need some personal space even when we're married. You each must have independent time away from each other. It can also help you refocus on new methods for how to handle male chauvinist husbands.
23. Ignore the behavior sometimes
Sometimes, straight up, ignoring the male chauvinistic behavior when it's happening around you is the best thing you can do to avoid it progressing or potential conflict. Just simply let it go right over your head.
24. Discuss when boundaries are crossed
When your male chauvinist husband tends to cross over boundaries you've set since before you were married, a discussion needs to be had so this stops. When boundaries are broken, that's a sign of disrespect and one reason why someone would need to walk away.
25. Counseling
Another method for how to handle a male chauvinist husband is to reach out to a couples counselor. A professional can work with the chauvinist to get them to recognize their behavior and attempt to guide them towards a more healthy path.
26. Encourage self-reflection
Encouraging self-reflection in your husband is about helping him take a closer look at his beliefs, attitudes, and actions, especially when it comes to gender roles and equality. Here's how you can do it:
Imagine a scenario where your husband makes a comment or behaves in a chauvinistic way.
Instead of reacting with anger, you might say something like, "I've noticed that sometimes we have different views on certain matters, and it's important to me that we understand each other better. Can we talk about why we feel this way and see if we can find some common ground?"
27. Educate
Education is a powerful tool for challenging chauvinistic beliefs and promoting understanding. Here's how you can educate your husband:
You could start by sharing articles, books, or documentaries that explore the importance of gender equality and debunk common stereotypes. For example, you might recommend a book that offers a fresh perspective on how men and women can thrive as equals in relationships and society.
Commonly asked questions
Dealing with a male chauvinist husband can be tough, but it's important to seek clarity and solutions. Here are answers to some common questions about this challenging situation.
Can a marriage with a male chauvinist husband be salvaged?
Yes, with effort and open communication, marriages with male chauvinists can be improved. Seek couples counseling, set boundaries, and work together for change.
What if my husband denies being a male chauvinist?
It's common for some to deny it. Start with gentle conversations, provide examples, and encourage self-reflection. His awareness may grow over time.
How does a male chauvinist behave?
A male chauvinist often exhibits domineering behavior, stereotypes gender roles, lacks empathy, and may make derogatory comments about women. Recognizing these signs is crucial.
What does chauvinist mean in love?
In love, a chauvinist may exhibit controlling, disrespectful, or dismissive behavior, undermining the equality and mutual respect essential for a healthy relationship.
Can a male chauvinist husband change his behavior?
Yes, change is possible. Encourage self-reflection, educate, and be patient. Seek professional help if needed to support this transformation in your relationship.
Coming out of the chauvinistic streak
Male chauvinism is a skewed view that men are superior to women in every context. It's their opinion the ideal woman should marry and run the household.
These sexist behaviors can be subtle at the beginning of a relationship, even into marriage. Once a mate notices the tendencies, it's vital to look for constructive ways with the spouse to reduce the behavior.
Couples counseling is an excellent first step to help the chauvinist recognize their issue and find healthy ways to reduce the behavior.
Share this article on
Want to have a happier, healthier marriage?
If you feel disconnected or frustrated about the state of your marriage but want to avoid separation and/or divorce, the marriage.com course meant for married couples is an excellent resource to help you overcome the most challenging aspects of being married.
Learn More On This Topic
You May Also Like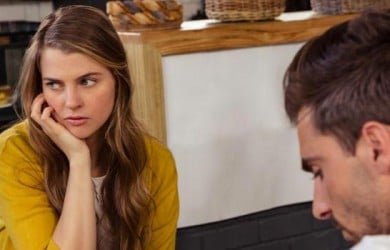 Popular Topics On Married Life