6 Effective Ways You Can Stop Your Husband from Drinking
Getting an alcoholic husband to stop drinking is not a day's job, as it requires lots of time, effort, and patience to make it work. It is commonly presumed that an addict will only stop when they want to, not necessarily how much you impose it on them. However, you can do your bit to help them curb their addictive behaviors.
If your husband drinks and you are not comfortable with it, considering the risks associated with it and how it could affect your family, you need to try to stop him. You need to look for ways on how to stop your husband from drinking.
As his partner, you would suffer more of the consequences, and it could leave you mentally, physically, and financially broken.
Does my husband have an alcohol addiction?
Do you think, "My husband is an alcoholic?"
Is your husband drinking more than he used to or doing things that make you feel uncomfortable because of his alcohol use? If you answered yes to either of these questions, then it may be time for you and your husband to seek help for his alcohol addiction.
Here are signs that may indicate that your husband has a drinking problem:
Has he cut back the amount of time he drinks per week?

Does he drink every night of the week?

Is he getting drunk on occasions when he is not supposed to?

Does his drinking cause problems in your relationship or family?
If so, it may be time to get professional assistance or get in touch with a relationship therapist for him to overcome his alcohol addiction. If your answers to these questions are yes, then you are likely in need of intervention services to help him overcome his alcoholism.
How to deal with a husband who drinks too much
So, how to get your husband to stop drinking? Below are some effective tips on how to help an alcoholic husband stop drinking:
1. Communication is the key thing
The first thing you need to do to stop your husband from drinking is to communicate with your partner and point it out, including how it is affecting you and your lives together. If you never talk about it, your partner may never know how disturbed and concerned you are by it.
The idea is to make them aware of what is going on and how uncomfortable you are, also including how much you would love them to quit drinking. This conversation should also make them understand the point where the concern is coming from, which is for their sake, your sake, and the family's sake.
When thinking about how to deal with an alcoholic husband, an intervention could also be an option if a simple conversation between you two would not work.
This could also be a great time to let them talk about what they think could be the underlying cause of their drinking.
2. Tell them about the disorders
Once you both have sat down to have the conversation, the next step is to let them know the disorders associated with drinking.
This includes craving alcohol, consistently drinking more than intended, drinking regardless of health or relationship problems, having withdrawal symptoms when not drinking, and failing to meet responsibilities due to drinking.
You could also include the associated health risks, some of which are pancreatitis, liver disease, cancer, osteoporosis, ulcers, gastrointestinal problems, brain damage, and malnourishment. All of these could take a toll on his health and also affect your finances as a family.
Related Reading: 

What Is Intimacy Disorder and How to Overcome This Condition
3. Ask your close ones for help
It's not easy to deal with an alcoholic husband. What to do to help him when he is not ready to listen to you? To stop your husband from drinking, ask your close friends and family to intervene.
One of the best ways to help your husband is by seeking support from loved ones. You could ask other family members and friends to come to your aid; be open and let them know what is happening if you trust them enough.
Also, if you know someone who used to be an alcoholic, they could help by telling you how they got over theirs, their approach, and what you can do to help your husband.
If the person is someone close to your husband, you could get them to talk to him directly about it to make the process easier, since it is coming from someone who used to be in the same shoes.
4. Avoid codependency
Codependency is simply enabling your partner's addiction, due to your behavior towards the situation. Codependency is associated with making excuses for their behaviors or finding a way to get them out of bad situations.
If you truly want to help your drinking husband and stop your husband from drinking, you will have to make them face the consequences of their actions so that they understand the effect of drinking and work towards giving up on it.
Dealing with an alcoholic husband's emotional abuse is not the way to lead a healthy life. Sometimes getting a divorce from an alcoholic husband is the only way out.
In some cases, alcohol addiction gets so bad that there is no other way than to leave the alcoholic partner. If you have an alcoholic husband, when to leave and how to leave are some questions that you will need to figure out.
Related Reading: 

What Causes Codependency And How to Deal with It
5. Make them realize the care of loved ones
At some point, your husband could feel left out or judged. This is why it is important to remind them of how much their loved ones truly care about them and would also want to see changes. Talk to loved ones to also express their concerns and quit being judgemental.
6. Support and motivate them
It could get tiring for you at some point but no matter what, always try to support and motivate your partner throughout this journey.
If your spouse is alcoholic or your wife or husband is drinking too much, go with them to their meetings and recovery support group to show that you are indeed with them on this journey.
What do I do if my husband won't stop drinking?
How is he responding to your concerns about his drinking? His response to your concerns may suggest that he is in denial about his alcohol use. Such a situation is tough to tackle when you want to stop your husband from drinking.
If this is the case, you may want to consider hiring a drug and alcohol counselor for your husband so that he can receive the appropriate treatment he needs to overcome his alcohol addiction.
If he has responded to the concerns you have expressed about his past drinking behavior by lashing out at you, you may need to enlist the help of friends and family so that you can convince him to enter treatment for his alcoholism and thus, stop your husband from drinking.
How can alcohol destroy a marriage?
Life with an alcoholic husband or wife can be painful. When someone has a drinking problem, it can have a devastating effect on their personal and professional life.
Some people who drink excessively may not be able to hold down a job and end up being poor or even homeless.
Others can become violent when drunk and may hurt other people or animals around them.
Some may even start abusing other substances, such as drugs, which may end up having a serious impact on their health.
Drinking too much can also lead to various health problems, including liver disease and heart disease. It can also lead to a deterioration of marital relationships. Many people who drink heavily may develop an alcohol dependency that makes it impossible for them to stop drinking on their own.
Takeaway
Take care of yourself!
While this is going on, remember to take care of yourself and your children, as you need to be safe and healthy in order to help your partner effectively.
Alcoholism affects more than just the person who is drinking; it also affects their partner, their children, and other family members, friends, and co-workers.
Unless the person stops drinking, the lives of those around them will be severely disrupted. It is extremely important to get help as soon as possible if you notice the signs of alcoholism in someone you love.
Share this article on
Want to have a happier, healthier marriage?
If you feel disconnected or frustrated about the state of your marriage but want to avoid separation and/or divorce, the marriage.com course meant for married couples is an excellent resource to help you overcome the most challenging aspects of being married.
More On This Topic
You May Also Like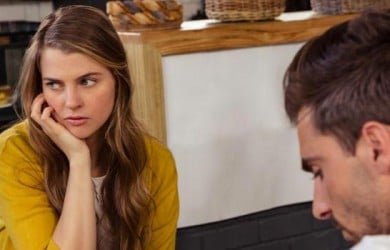 Popular Topics On Married Life