What Is an Intimacy Disorder and How to Recover From it
Intimacy is a crucial component of a healthy relationship. It creates a deep connection between partners, both emotionally and physically. Intimacy can include acts of love, affection, trust, vulnerability, and mutual understanding. It helps to foster a sense of security, intimacy, and closeness, which can strengthen the bond between partners.
If there is no intimacy in a relationship, the connection between partners may weaken or deteriorate. The lack of emotional or physical closeness may lead to feelings of loneliness, frustration, or even resentment. Communication and efforts to build intimacy are essential for maintaining a healthy relationship.
What is an intimacy disorder?
In a relationship, intimacy makes a lot of difference. When two individuals are deeply involved, they tend to have trust in each other and share their thoughts, feelings, desires, and concerns. They feel emotionally safe when they're with each other. So, what is intimacy disorder?
There are some people who find it quite difficult to share their feelings with their partner. This fear often is not only restricted to emotions, but also with getting physical.
This is called intimacy disorder or can also be termed as an intimacy anxiety disorder.
In such a situation, the individual fears to have come too close to people and especially the one they love. They can't get involved with them physically or emotionally with them.
If this continues, then surely it can put the relationship on the edge and can sabotage it. Let's understand more about intimacy disorder, its symptoms, and possible treatments.
What are signs of intimacy Disorder?
It is important to understand the symptoms of intimacy disorder so that treatment can be taken at the right time to avoid any future problems.
Listed below are some of the common intimacy disorder symptoms that will help you identify if you're suffering from this order or not. If so, do look read below to find out all possible treatments.
1. Fear of long-term commitment
When you get into a long-term relationship, you're expected to share all your personal feelings, thoughts, and get physical with each other. However, the common issue that people suffering from intimacy disorder face is they are unable to be socially, physically or sexually involved with someone.
So, they prefer keeping a distance from a long-term relationship as much as possible.
Whenever they see they're getting too engaged with someone, they get cold feet and find a way out of such a relationship.
2. Can't share emotional or personal thoughts or feelings
As mentioned above, people with intimacy disorder find it hard to share their personal thoughts and feelings with anyone around them. In case they're in a steady relationship, they would hold back their thoughts and feelings and would refuse to share that with their partner.
They believe that it's quite personal and sharing these thoughts would expose them to destroying the image they've put forth. In extreme cases, they would refuse to have any physical relationships with their lover.
3. Uneasiness while expressing affection
People with progressive intimacy disorder do keep a distance from anything that is considered a sign of intimacy, like showing affection and love to the partner. Foremost, they keep a distance from social gathering as that's where most of the personal thoughts and experiences are exchanged.
They feel out of space in such gatherings. Later, they avoid expressing their love for their partner. They would be quite formal or avoid public display of affection as much as they can. In case they have to, it will be quite an awkward situation for them.
Related Reading: 

13 Easy Ways to Show Your Affection in a Relationship
4. Discussion of relationship issues
No relationship is gloomy throughout its lifetime. There comes a time when it hits rock bottom or goes through troubled times. The solution at such times is to seek the advice of an expert, a counselor or close friend or relatives.
However, people suffering from intimacy disorder would refuse to share their relationship problems with anyone. They would keep this to themselves and even may try to find a solution themselves. This isn't advised though.
5. Issue with trust
People with intimacy disorder can have their own struggle when it comes to trusting their partner. Since there is a lack of intimacy on multiple levels from one partner, it builds a wall of emotional distrust between a couple. Both people can feel frustrated and helpless in such a situation.
Trust is one of the basic requirements to form a strong and healthy relationship. It goes without saying how lack of trust can affect a couple over time.
What causes an intimacy disorder?
Intimacy disorder is a term used to describe a wide range of issues that can impact an individual's ability to form and maintain intimate relationships. These issues can arise from a variety of different factors, including:
1. Trauma
One of the most common causes of intimacy disorders is past trauma. Trauma can take many forms, including physical or sexual abuse, neglect, or witnessing violence. Traumatic experiences can make it difficult for individuals to trust others, feel safe in relationships, and establish healthy boundaries.
This can lead to difficulty with intimacy and vulnerability, and may result in avoidance of relationships altogether.
Related Reading: 

How to Heal From Relationship Trauma
2. Attachment issues
Attachment theory suggests that the way we attach to our primary caregivers in childhood influences our ability to form relationships later in life.
If an individual had insecure attachment in childhood, meaning they didn't feel safe, secure, or loved by their caregiver, they may struggle to form healthy attachments later in life. This can lead to difficulty with emotional intimacy and fear of abandonment.
To know more about the attachment theory, watch this video:

3. Mental health issues
Mental health issues such as depression, anxiety, and post-traumatic stress disorder (PTSD) can also contribute to being afraid of intimacy. These conditions can impact an individual's ability to regulate emotions, communicate effectively, and form close relationships.
They may also experience fear of intimacy and have difficulty opening up to others.
4. Substance abuse
Substance abuse can impact an individual's ability to form and maintain intimate relationships. Drugs and alcohol can create a sense of disconnection and isolation, making it difficult to form meaningful connections with others.
Substance abuse can also lead to reckless behavior that damages relationships, further complicating an individual's ability to form healthy attachments.
5. Negative relationship experiences
Negative relationship experiences, such as infidelity or abusive relationships, can also contribute to intimacy disorders. These experiences can lead to fear of vulnerability and a lack of trust in others. Individuals may also develop negative beliefs about themselves, their worthiness, and their ability to form healthy relationships.
Related Reading: 

Negative Experiences of the Past can Affect Your Relationship
5 ways to heal and recover from intimacy disorder?
If the intimacy avoidance disorder is not addressed at the right time it can destroy the existing relationship and can break both hearts beyond repair. So, the best way is to seek advice from an expert and find a solution to the problem at the earliest.
Apart from that, there are some measurements you can also take, which are listed below.
1. Accept uncertainty
The reason people suffering from intimacy disorder avoid being in a relationship is because they fear that one day it will turn sour. Well, this is life.
Relationships do go through tough times. They're put to the test every now and then. This is the truth of life. Besides, no one knows what the future holds for us.
While looking for intimacy disorder treatment, accept the uncertainty as the ultimate truth and cherish the present day. Thinking of the future or what might go wrong puts you in a bad situation because you let go of the present.
2. A peek into the past
There is always a reason behind the intimacy disorder. What was yours? Though you don't want to look back into your past and discover things you always wanted to forget, it would be great if you could just do it for once.
Find out the source for intimacy disorder and try to address it. It would be good for you and your partner that you actually bury your bad memories deep in the past and move forward.
3. Time taking process
Nothing will turn gloomy overnight. It is going to be a tough walk and if you're willing to get over your intimacy disorder, then you must understand that it's a time taking process.
So, give yourself enough time to heal and get over it. Don't rush into things when it comes to treatment. Take one step at a time and you will find yourself in a better place.
4. Practice self-compassion
Charity begins at home. Before you make your first step towards a better life, start with self-compassion. Love yourself. You must look into the good things you have, appreciate the kind of person you are and cherish your presence. Once you've achieved this, things will get easy for you.
Intimacy disorder is challenging in a relationship but it's not something you can't overcome. These steps should be able to help you navigate you out of intimacy anxiety disorder.
5. Seek therapy
Book a session with a professional dealing with issues similar to your and open up to them. This is one the most trusted ways to recover from intimacy disorder. Based on your experiences, they will curate a treatment plan to suit your requirements.
Seeking couples therapy can have multifold benefits for those in pursuit of relationship support. It can help you strengthen your bond by accepting your shortcomings and working on them thoughtfully.
Some questions to consider
Intimacy disorders can impact an individual's ability to form and maintain close relationships. Here are some frequently asked questions about intimacy disorders and their causes, symptoms, and treatment options.
How do I know if I am developing an intimacy disorder?
There's no specific intimacy disorder test to answer this question. If you are struggling to form close relationships or experiencing fear of intimacy, difficulty trusting others, and a lack of emotional connection, you may be developing an intimacy disorder. Professional help can assist in evaluating and addressing these issues.
What does a lack of intimacy look like?
A lack of intimacy can manifest in various ways, including feeling emotionally distant from others, avoiding physical touch or affection, having difficulty expressing emotions or vulnerability, and struggling to form close and meaningful relationships.
Just find the right support!
intimacy disorders can significantly impact an individual's ability to form and maintain close relationships. These issues can stem from past trauma, attachment issues, mental health conditions, substance abuse, and negative relationship experiences.
Recognizing the signs of an intimacy disorder and seeking professional help is essential for addressing these issues and building healthy relationships. With therapy and other forms of support, individuals with intimacy disorders can learn to overcome their fears and build meaningful connections, leading to greater happiness and fulfillment in life.
Share this article on
Want to have a happier, healthier marriage?
If you feel disconnected or frustrated about the state of your marriage but want to avoid separation and/or divorce, the marriage.com course meant for married couples is an excellent resource to help you overcome the most challenging aspects of being married.
Learn More On This Topic
You May Also Like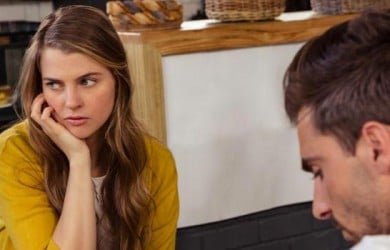 Popular Topics On Married Life