Giving Up and Divorcing Your Alcoholic Husband
It's almost midnight and you're waiting for your husband to come home. After a few more hours, he does but you smell the overpowering scent of alcohol all over him, he's drunk – again.
Alcoholism is a very common problem today especially among married couples. An alarming rise to alcoholism gave way to an increase in divorce application for the same cause.
Divorce is never easy but it's twice as hard if you are divorcing an alcoholic. If you think that you have done everything to save your marriage and the only option is to file for divorce, then you should be physically, mentally, financially, and emotionally ready for it.
Living with an alcoholic husband
If you are married to an alcoholic, then you are very much aware of the serious problems that alcohol abuse has with your marriage and family.
In fact, this may have already caused you stress, financial problems, your children are being affected, and for some even depression.
Living with an alcoholic husband is and will never be easy but the good thing here is that there are ways in which one spouse can present this as evidence so it can be considered as a ground to divorcing an alcoholic spouse.
Effects of alcoholism in the family
"My husband is an alcoholic", this isn't a surprise for some. In fact, it's a common dilemma today where families, marriages, and children are affected because of alcoholism.
Being married to an alcoholic spouse puts you in a very hard situation especially when you already have children. The effects of having an alcoholic husband aren't things that should be ignored as they can escalate into a more serious problem.
Here are some of the most common effects of having an alcoholic spouse:
Stress
Dealing with an alcoholic spouse is very stressful. Not only will you deal with your spouse going home drunk but you have to take care of him and deal with what he would do.
Seeing your kids witnessing this everyday isn't really the ideal family that we would want to have.
Communication problem
If you are in a situation where you are living with your alcoholic spouse, chances are, you have already exhausted everything in your power to talk to this person and still you are stuck with the same problem.
Lack of communication, commitment and the drive to change will only make the situation worse.
Being irresponsible
Most people who have a problem with alcoholism will also be irresponsible in many ways. As a spouse and parent, putting alcohol as your priority will make a person financially and emotionally unavailable for this spouse and children.
Violence
Sadly, being with a person who suffers from alcoholism also means putting yourself and your children in danger.
There are many people who become violent in the influence of alcohol and this will put you and your kids at greater risk. This is also the most common reason why divorcing an alcoholic is the best option for some.
Family connection
Everyone wants to have a happy family but sometimes, divorcing an alcoholic spouse is the best thing you can do especially if you see that your family is falling apart because of alcohol abuse.
When you see that your connection as husband and wife is no longer being governed by love and respect, when you see that your spouse is no longer being a good example and a parent for your children, then it's time to make a decision.
How to help an alcoholic husband – giving another chance
Most of the time, divorcing an alcoholic husband isn't the first choice of married couples. As a part of being husband and wife, it's still our duty to extend the help that we can offer to fix the marriage.
Before you decide in leaving an alcoholic you must first try your best on how to help an alcoholic husband.
Try to talk to your spouse
Everything starts with communication. Talk to your spouse because everything starts with the willingness to communicate.
If there is a problem with your relationship that is causing your spouse to turn to alcohol, then it's time to address the issue.
Offer help and ask what he needs
If there's willingness, there's a way to defeat alcoholism. Have certain goals in life – go for small and realistic goals that you can achieve.
Work together
Be a supportive spouse. Nagging or pressuring your spouse into changing immediately will not work. Support him through treatment. Seek professional help if needed. It takes time but with a loving and supporting spouse – any goal can be achieved.
Tips on divorcing an alcoholic husband
If you come to the point where you have tried everything and you see that there is no way to fix your marriage, then you should get all the tips on divorcing an alcoholic husband.
This is important as different divorce situations require a thorough approach for each one.
The family's safety
Divorcing an alcoholic is very challenging because a person who is already dependent on alcohol will be more susceptible to other substance abuse and this may lead to aggression.
Alcohol can turn a reasonable man violent and this can greatly affect your family's safety. Seek help and get a protection order if needed.
Find a good lawyer
A good lawyer will help you with the divorce process and specifically in providing understanding about divorce and your state's laws about alcoholism and the grounds that you can file for divorce.
Gather all needed evidence
If you want to divorce an alcoholic, you need to gather all the evidence that you need to support the claim.
Different states have different laws that we have to follow as well as supporting our claim especially when fighting for the custody of the children involved.
Life after divorcing an alcoholic
Your life after divorcing an alcoholic is also as important as the process of divorce itself. It's a tough new start for you and the children but this decision is the best thing that you could have done for yourself and your kids.
Life will present new challenges but as long as you have what it takes to survive then you'll have a good start.
Divorcing an alcoholic also means giving up on your vows and the person you used to love but this decision is necessary especially when the well- being of your family is at stake.
As long as you know that you've tried your best, then you shouldn't feel guilty for removing this person from your life.
Share this article on
Want to have a happier, healthier marriage?
If you feel disconnected or frustrated about the state of your marriage but want to avoid separation and/or divorce, the marriage.com course meant for married couples is an excellent resource to help you overcome the most challenging aspects of being married.
Learn More On This Topic
You May Also Like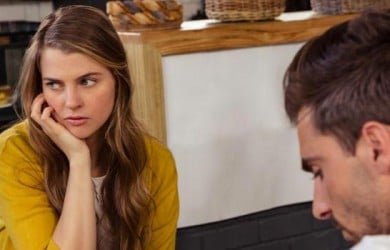 Popular Topics On Married Life