How to Stop Your Husband from Yelling at You: 6 Effective Ways
Nobody likes to be yelled at.
It's disrespectful and honestly puts you in an awkward position. Things take a different turn when there are things like yelling and screaming in relationships.
It's quite embarrassing for both, mostly who's at the receiving end. However, yelling back isn't the best solution.
There are various ways to deal with when your husband yells at you.
Listed below are some of the reasons that answer the question, "why the husband yells at me" and also provides possible ways of dealing with him.
Why do husbands yell at their wives?
There are endless reasons why someone gets irritated so quickly.
There could be work stress or the stress to be perfect and a better person, sometimes, even the stress of the competitive world may make a person lose their anger quickly and burst out in anger.
Midst all of these, listed below are some of the common and valid reasons why husbands yell at their wives and lose their temper so quickly.
1. Stress
A person in stress goes through a lot of things. They often fail to comprehend the result of their actions. They find it hard to control their emotions and often burst out in anger at any given point of time.
Others find it embarrassing and inhumane, but the person going through stress is helpless.
2. Physical change
Happiness and sadness are also related to mental and chemical changes in the host's body.
So, if a husband is yells at his wife, then he might be going through some chemical change in the body.
Either his testosterone is low or he hasn't got enough sleep because of which his mental health is affected.
3. Lack of purpose
A husband goes through tremendous pressure from society and family, which mostly goes unnoticed.
They've got the responsibility of the family and must fulfill their wishes.
In such a case, when a husband is trying to match up with the unrealistic masculine image of society, he would find himself buried under a lot of stress.
This can also leave him irritated and end up yelling at his wife.
How to stop your husband from yelling at you
'How to deal with yelling husband?' is what most wives look for nowadays.
This is due to the inability of the husband to cope up with the increasing stress regularly.
Below mentioned are some of the best ways that you can follow when your husband yells at you.
1. Stay calm
When your husband is yelling at you, you don't have to yell at him to make this worse.
Staying calm is the foremost solution you must adhere to if you want to keep things under control and would like him to calm down. Answering his yelling with your yelling will make this blow out of proportion. So, stay calm.
2. Look at the possible options to deal with the situation
There ought to be some possible options that would cool your husband down.
Of course, yelling at your spouse is not the best thing to do, but that doesn't mean that there is no way out.
Think of the possible ways to deal with the situation as you know your husband better than anyone else.
3. Analyze the situation
Things are not always as they seem.
Sometimes, there are deep meanings to it as well. If you're looking for ways on how to stop your husband from yelling at you, analyze the situation.
There might be something that has triggered his irritation, hence the yelling. You've got to find out what triggered this situation. Once you've figured it out, you can take care of it next time.
Taking the root cause out will lead you to a conflict-free, happy life.
4. Don't just agree with everything he says
When your husband yells at you, he probably will blame you for many things.
The most common solution one can ever think of to calm down the yeller is to agree with whatever they're saying.
Well, this isn't the best solution ever.
By agreeing to his blames, you're telling him he is right and giving him a reason to yell at you more. So, just don't answer his blame and try to calm him down.
5. Try to calm him down
When your husband is yelling, he has probably forgotten the situation and place he is yelling you at.
To save yourself from embarrassment, try to make him understand the place you're in.
Bring him back to reality. This will calm him down for the time being. Later, you can discuss the situation calmly and sort things out.
Also watch:
6. Draw a line
How to stop your husband from yelling at you? Draw a line.
It's understandable to yell or get irritated at the time, but don't let your husband make a habit of it.
The moment he finds out that you're okay and can manage it properly, he might make it a habit. So, draw the line and let him know that you wouldn't tolerate such behavior all the time.
Yelling is not the solution
There are many reasons why a guy may end up yelling at you, but that does not mean that you must be understanding about it at all times.
If the yelling is bothering you and the cause of stress for you, you can take steps to ensure that your partner knows about the harm that his actions are causing you.
By communicating things clearly and drawing strict boundaries you can ensure that your relationship is more stable and healthy.
Share this article on
Want to have a happier, healthier marriage?
If you feel disconnected or frustrated about the state of your marriage but want to avoid separation and/or divorce, the marriage.com course meant for married couples is an excellent resource to help you overcome the most challenging aspects of being married.
Learn More On This Topic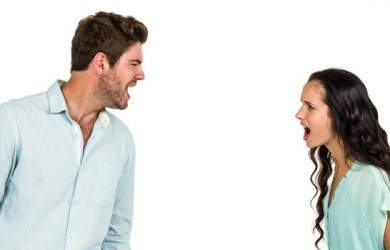 You May Also Like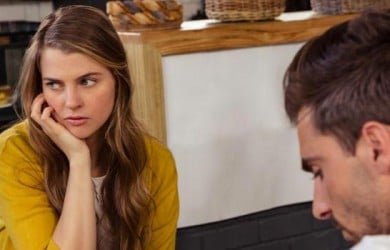 Popular Topics On Married Life