Top 7 Things Boys Want in a Meaningful Relationship
Communication is the key to any successful relationship. However, many men tend to shy away from sharing what they are looking for in a relationship. So if you are wondering what boys want from their partner, you are not the only one.
For a relationship to survive and thrive, knowing 'what things guys want in a relationship' can be useful.
To help you form better relationships, here are the top 7 things guys want in a relationship.
1. Acceptance and praise
Men like compliments as much as anyone. What things do guys want to hear? It depends on what they appreciate most about themselves.
When you praise him about something, notice his reaction, and take note when he flashed his biggest smile.
Try different things such as their looks, their effort around you or the house, their humor, or accomplishments.
Remember, how you see him will affect how he sees himself, so praise often and well.
What boys want is for you to recognize the things they like about themselves the most that maybe no one else can see. Stand out by giving unique compliments.
2. Support for their dreams
We are all afraid of failure, and it can prevent us from taking action. Dreaming and following our dreams becomes easier when we have support from people important to us.
Hence, this is one of the things a man wants in a relationship that is going to last.
What boys want in a true partnership is believing in each other and supporting each other's hopes and dreams.
Do you know what they wanted to be when they were kids? ' Have you asked what they want to achieve in life if they are to be truly accomplished? '
What is on their bucket list?
If you are not sure where your guy wants your support, take time to inquire about his dreams. Believing in their dream and in their capacity to achieve it is what boys want in a relationship.
3. Respect
What boys want above all? Among the many things guys want, respect holds a special place.
Feeling respected by you can significantly affect their self-confidence and perception of you. We like people who like us. In the same way, we tend to respect and honor people who respect us.
Be careful, though; what men find respectful and disrespectful varies, and this is an important conversation to have. Knowing what they deem disrespectful can help you avoid those landmines.
4. Time for friends and hobbies
We all need space in relationships for our hobbies, our friends, and to be with ourselves alone. How much time and what for is different for everyone.
This depends on the relationship as well. If we feel we don't have enough space in a relationship, we want it even more.
Be that as it may, men need space and time to commit to things that are only theirs.
When they have this, they look forward to coming back to you so much more. How you balance that space will have an immense impact on their satisfaction with the relationship and desire to stay in it.
What boys want to stay with you is the option to choose separateness when they need it. They can't look forward to closeness if they don't feel it is their choice.
5. Emotional nurturing connection
What do guys like to talk about? It is hard to say. Some say that they are not as talkative as girls, and they tend to share less with their friends compared to their female counterparts.
They are taught from a young age, not to show weakness or vulnerability. Stanford professor Judy Chu writes in her book When Boys Become Boys that it is indeed culture rather than nature which is responsible for this.

Feeling safe and vulnerable doesn't come easy to them, although they crave emotional connection too.
Emotional intimacy is important to men, just as much as to women. Perhaps, if possible, even more. Girls have their friends they talk to about almost anything, while men tend to do this more with their partner.
For this to happen, you need to be careful about how you approach sensitive topics and to be patient when he is opening up emotionally.
When he shows emotional vulnerability, check what he would need most at that time. How you react at that moment will be crucial if you want him to open up more.
Being nurturing and patient will improve the trust he has in you and become more willing to open up and share.
Watch this video to know what boys want from a relationship coach and dating expert:

6. Passion and physical intimacy
Can you imagine being in a relationship in which there is no attraction or passion? You might start questioning if you are sexy or pretty enough. The same goes for men.
They enjoy being with someone who is playful and who invests in sexual intimacy. At the beginning of the relationship, this comes more naturally and easily, but over time you need to put some effort into it.
Talk to him about it and understand what he would like and appreciate.
Research has suggested that the level of communication among couples affect the link between relationship and sexual satisfaction.
Furthermore, physical intimacy is more than just sexual attractiveness. Men want hugs, cuddles, and kisses too. Through the day approach him and find a physical way of showing you care for him.
As humans, we communicate nonverbally too.
Another study by Syracuse University showed that with more physical affection, conflict resolution was easier. Find your unique language of love that includes the body aspect too.
7. Partnership and security
What does partnership mean for you? Do you know what it means for him? When considering someone for their partner, men need someone who will be able to stand by them in hardships.
This doesn't mean someone strong all the time, rather someone who can pick up when they are tired and exhausted. Taking turns in being the pillar, you might say.
Having a partner means being able to lean on them for understanding and support. If you are mindful, you will be able to recognize when he needs this and take over the wheel.
He will be infinitely grateful, feel understood, and safe with you and return the favor too.
What do guys really want in a woman or a man for that matter?
Although there isn't a single answer to what boys want, you could say they look for someone who can be a true partner to them.
What boys want is an independent partner who could be happy being single, but chooses the relationship with him.
They look for someone who can take care of themselves, who is playful, fun, warm and nurturing, and strong when needed.
They don't mind if you are vulnerable at times or sad and withdrawn, as long as there is strength and fun in the package too. They will give you space if you provide the same to them.
What boys want is to connect with someone emotionally, physically, and intellectually.
Share this article on
Want to have a happier, healthier marriage?
If you feel disconnected or frustrated about the state of your marriage but want to avoid separation and/or divorce, the marriage.com course meant for married couples is an excellent resource to help you overcome the most challenging aspects of being married.
More On This Topic
You May Also Like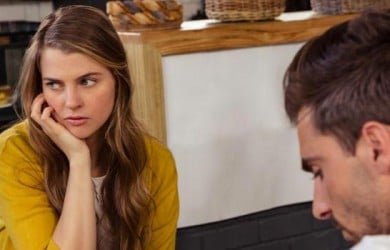 Popular Topics On Married Life