5 Types of Eye Contact Attraction
They say that the eyes are the windows of the soul. It is where you see if a person is sincere or not. No wonder we want to have eye contact whenever deep emotions are involved.
The eyes never lie. It's the best way for us to tell a message with utmost honesty and sincerity. One look into your lover's eyes and you'll see if you share the same feelings for each other.
But have you heard about the types of eye contact attraction?
It is where you can gauge if someone is attracted to you or not and there are different types of eye contact in attraction.
Each one has meaning and will help you with what to do next.
What does strong eye contact mean?
A gaze can convey thousands of words and can sometimes tell emotions better than actions.
Do you remember when you broke your grandmother's vase, and she looked at you? How about the time when your interviewer looked at you blankly after you answered her question?
Someone can look at you, and you get what they mean. That's how powerful a gaze is. There are different types of eye contact attraction and other feelings as well.
Strong eye contact could mean:
1. Get someone's attention
This would work in a meeting, interview, or conversation. You want your audience to listen as you convey your message and for them to believe you. Eye contact can help convince others as you tell a story or sell something.
Related Reading: 

What Happens When There Is Lack of Attention in Relationship?
2. Express attraction
When you're attracted to someone and talk to them, you want to look them in the eyes, but did you know that if you make eye contact with your crush, the attraction could become obvious?
3. Intensify arousal
When having foreplay, the intense eye contact between man and woman makes arousal more intense? The gaze from your partner can intensify the feeling of wanting to be with them and satisfy all the carnal cravings that you are feeling.
4. Show love and affection
Romantic eye contact with your partner is a beautiful way to show your love and affection. Eye contact between a man and woman can be a message more meaningful than words.
So, what does strong eye contact mean?
It could mean many things, but one thing is for sure, your gaze speaks more than words and will convey whatever emotion or intention you have.
Does eye contact always mean attraction?
Eye contact is important, especially in communication. It's good to know the types of eye contact in communication so that you can respond accordingly.
"Okay, that makes sense, but does eye contact mean attraction?"
Many people may think that eye contact and attraction are deeply connected, and they are not wrong.
Eye contact in love psychology study talks about being more effective in communication. Without uttering a single word, a person may convey a message of attraction and love.
That's why we often call it love at first sight. However, eye contact may also convey different meanings other than attraction.
A gaze can convey any type of emotion. It could show fear, confusion, anger, resentment, sadness, love, lust, and attraction.
5 types of eye contact attraction
Have you ever wondered about someone's eye contact, body language, and attraction?
Could it be attraction, love, or just pure lust? How can we tell them apart and what are the signs of attraction eye contact?
With this in mind, here are the five types of eye contact attraction and what they mean.
1. Quick glances
This is the most common eye contact when you like someone. Among the types of eye contact attraction, this one looks the cutest.
It's like seeing someone you have a crush on and then you can't help but glance at them. The fun part is when the person you like catches you glancing.
What would you do when you see someone glancing at you? Will you approach, smile back, or avoid?
There are also what we call unconscious glances. This happens accidentally, usually when a person is looking for something, engaged in deep thoughts, or just observing. They may not even be aware that they are looking at you.
2. The second-glance
With the different levels of eye contact, this one mainly focuses on physical attraction.
If a person makes a second glance, it means that you've caught their attention. You may have stared at each other for a while, and then subconsciously, that person wants to look at you again.
It could be your confidence, physical beauty, or something about you that makes them want to look at you twice.
3. Staring
Of all the types of eye contact attraction, this one can be the trickiest.
People stare at you because they like you, and your beauty mesmerizes them. They're afraid to admit it or even shy and can't muster the courage to approach you.
This type of attraction is common but isn't troubling. Maybe, this person is trying to think of ways to know how to talk to you.
Did you know that a few minutes of eye contact with a potential partner can do so much? Even in seduction, eye contact is one of the things that attract a potential partner. With a mere gaze, you can already say so much to the person you like.
Though, starting could also mean that this person has a creepy crush on you. This fixation can be alarming and points at someone without manners. It just feels different and uneasy.
Being stared at, especially by a stranger, can make anyone feel uneasy and disturbing. So it's better to be aware and ready if you're in a possibly harmful situation.
4. Avoiding eye-contact
People who are attracted to someone can make eye lock attraction or direct eye contact with the person they like, but not everyone.
Some people can feel extremely nervous, which is why they try to avoid direct eye contact. They stutter, have sweaty icy hands, and will avoid looking at you.
It's a harmless crush that can look innocent, so maybe, if you feel the same way, you can make the first move.
On the other hand, a person avoiding direct eye contact could mean that they are struggling with social anxiety.
These people have a hard time talking to people, explaining what they feel, and the simplest task of presenting in a meeting can cause anxiety to some people.
Related Reading: 10 Reasons Why He Is Avoiding Eye Contact
5. Lustful glare
When you're with your partner and getting intimate, a lustful stare can do so much. It can heighten the sensation and can give a distinct sense of connection.
You don't need words spoken as you look into each other's eyes. You know you're with the person you want the most.
Like the other types of eye contact attraction, lustful stares can be dangerous and disrespectful. You can feel it when someone stares at you with malice, and that's not good.
If you ever feel threatened or offended in any way, don't be afraid to speak up or take the best course of action. Don't tolerate lustful attraction stares.
What is the importance of eye contact?
Eye contact, including the types of eye contact attraction, is significant during communication. Direct eye contact gives meaning to conversations.
1. Maintaining eye contact shows confidence
Can you imagine not looking at your interviewer? Or maybe you're trying to fix an issue with your partner, but he's not looking at you.
If you can look into a person's eyes, then it means you're confident with what you are saying.
2. Eye contact means respect
Aside from giving meaning to conversations, keeping eye contact shows respect and active listening. It also reflects our sincerity, warmth, and honesty.
People who are insincere or those who are hiding something can't maintain eye contact; that's one way to tell if a person is lying to you.
Aside from those facts, no one wants to converse with someone who can't keep eye contact. It can also be very rude not to look into the eyes of the person you're talking to.
3. Your eyes reveal your true feelings and intentions
We can see emotions through your eyes, and that's a fact. Eye contact is very powerful in that it can convey what we feel.
You can't hide what you feel with your eyes. That's why people who are being insincere or hiding something won't be able to look you directly in the eyes.
It's nice getting sexually intimate with your partner, but what about emotional intimacy? Anya Mind, LMFT, talks about building emotional intimacy in your relationship.
Final thoughts
Maintaining good eye contact with the person you are talking to is an essential skill. It's needed to communicate effectively and ensure proper understanding between people.
Maintaining eye contact with someone you are talking to shows respect, interest, and professionalism. Even the types of eye contact attraction display interest in the person you like, and that's a start.
So, whether you are applying for a job or proposing to your partner, it's important to maintain eye contact.
Share this article on
Want to have a happier, healthier marriage?
If you feel disconnected or frustrated about the state of your marriage but want to avoid separation and/or divorce, the marriage.com course meant for married couples is an excellent resource to help you overcome the most challenging aspects of being married.
More On This Topic
You May Also Like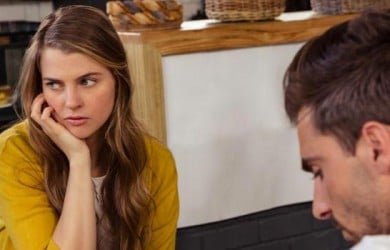 Popular Topics On Married Life