20 Female Body Language Signs of Attraction
Words are the primary means of communication when it comes to letting someone know that you are interested in them. However, body language can also be used to communicate with someone that you are attracted to.
You can understand women better when you understand and know how to interpret female body language.
In this post, you will learn the common signs of attraction that women display, making it easier for you to take things to the next level with them.
Margo Mullinax and other authors highlighted the experiences of women when it comes to their attraction and feelings for someone outside their primary relationship. The study is an eye-opener to help you understand how women process their feelings of attraction for anyone.
20 female body language signs of attraction
You might have feelings for a woman but may be unsure how she feels toward you. If you are reluctant about asking her what she thinks of you, then you can watch out for the women body language signs that tell she is attracted to you.
Here are some examples of female mannerisms and body language signs that show attraction
1. She feels nervous when with you
When a woman displays nervousness anytime she is around you, it is one of the common female body language signs. She probably has feelings for you, but she feels uncomfortable, especially when she doesn't know what you think of her.
Additionally, she might have some things to say to you, but her nervousness and mild anxiety would prevent her from mentioning them.
Related Reading: 

15 Real Signs She Feels Guilty For Hurting You
2. She blushes around you
Some of the reasons ladies blush could be excitement and attraction. If a girl is interested in you and happens to be around you physically, blushing is one of the feminine body language signs you will notice.
You can check this by giving her a sincere compliment and seeing if she blushes. If the lady blushes helplessly, she might be attracted to you, but she is not ready to say it yet.
3. She speaks differently when with you
Have you noticed that people tend to behave differently when they are with their loved ones compared to other people who are not close to them? This is also obtainable when a woman who is attracted to you is around you.
One of the things you will notice is that she will speak differently when with you. She might speak freely and unhinged because she feels comfortable with you. However, when she is speaking with other people, it might be different from what you are used to.
4. She loves spending time with you
Spending quality time is one of the female gestures to look out for if she is attracted to you. For instance, if you were to go to an event, she would love to be by your side. She might be willing to skip her personal engagements to spend time with you.
Similarly, you might keep bumping into her at places where you don't expect her to. This will likely happen because she might find out where you should be with your friends, and she will show up there.
5. She pays attention when talking to you
If you are looking for the female body language signs that suggest she is attracted to you, watch out for her body language when conversing with her.
She may listen with rapt attention because she doesn't want to miss details. If she does not get some of your points, she can call your attention for you to repeat them. You will notice that she loves listening when you talk to her.
6. She makes physical contact with you
One of the common female body language love signals to look out for is when she establishes physical contact with you. Usually, maintaining physical proximity is a female body language that ladies show when attracted to someone.
She can hold your hands during a conversation or even casually reach out for your hair or any part of your body. Similarly, she might be comfortable hugging you anytime she sees you.
When you observe that she likes to leave physical space between the two of you, she might have feelings for you.
Related Reading: 

What is the Physical Touch Love Language®?
7. She allows you to touch her
Another one of female body language signs to observe is when she doesn't object anytime you want to touch her. If you casually touch her, and her body language shows that she is comfortable, she might not stop you from doing it next time. However, ensure you don't touch her inappropriately.
Some ladies don't like getting touched by people they are unfamiliar with. So, even if it involves holding hands, touching their hair, or other parts of their body, they might not be comfortable with it if they are not close to you.
8. She tries to perfect her physical appearance
To know how to read female body language, watch how she is conscious of her physical appearance when she is with you. If a woman is attracted to you, she will put extra effort into looking great around you.
She might even make some adjustments when she is with you because she probably wants to look perfect for you. When this happens regularly, it might suggest she is attracted to you.
9. She tries to mirror your actions and behaviors
When someone mirrors your behaviors or actions, there is a good chance that they might like you. One of the common female body language signs is when a lady mirrors the way you talk, your gestures, how you walk, etc.
For instance, you might find her doing what you usually do, which suggests that she has closely observed you over time. Mirroring you can be a subtle sign to inform you that she is attracted to you.
10. She is relaxed when with you
Being relaxed when she is with you is another female body language sign that might show she is attracted to you. Sometimes, it may also indicate that she is comfortable staying with you, so she will likely let her guard down because she feels safe in your presence.
When she shows that she is relaxed, it may be a good opportunity to bring up a conversation that will make you bond better.
Watch this video on how to make a girl feel comfortable with you and try to take some cues:
11. She looks at you with admiration
Giving a look of admiration is a positive female body language that could indicate she is comfortable with you or probably attracted to you.
When she gives you this look, it might be due to different reasons. She may be in love with your dress sense, how you talk, walk, charisma, etc.
12. She likes to hug you
Some ladies love to hug regularly, but not all are the same. If a lady is attracted to you, there is a good chance she will be comfortable hugging you. She might seize any opportunity to hug you anytime she sees you because she is probably attracted to you.
To learn more body language signs in women, then R Don Steele's book is for you. The masterpiece is titled Body Language Secrets, which contains quintessential tips to help you understand more about body language.
13. She asks you if she looks great
One of the things that women love is getting validation, especially from someone they are attracted to. Hence, one of the women's body language to look out for is when she wants to find out from you if she looks good.
When she asks you, it is important to compliment her to make her feel good.
14. She can sometimes be shy
Not all women might feel confident when they are with someone they are attracted to. Some of them will be shy and might not be able to converse much.
You will observe that they have a shy or weak smile and might struggle to maintain eye contact with you. Rather, they will look away so that they are under less pressure.
Related Reading: 

15 Signs of a Shy Guy in Love
15. She licks her lips
Licking lips is one of the examples of female mannerisms that some ladies display. They might do it seductively to let you know that they are attracted to you, and they will leave you to take the next step in striking up a conversation with you.
16. She gives a lustful gaze
Some ladies will use their gaze or stare to tell you they are attracted to you. Using their eyes to communicate shows female body language attraction that you should watch out for.
She might be unable to use words to tell you how she feels about you. However, she probably feels you will get the message in her gaze and take the next step.
Related Reading: 

20 Practical Ways to Overcome Lust in a Relationship
17. She exposes her thighs
Regarding the female body language sitting down signs, she might expose her thighs if attracted to you. If she is seated across a room and knows you can see her full view, she might show off her thighs a bit.
This is because she wants you to get the memo that she is interested in you.
18. She loves holding your hands
Holding hands is a female body language that suggests she might be attracted to you. When a woman holds your hand, it probably shows that she is close to you and might feel safe with you.
Hence, even if she has feelings for you, she might only be able to show it by holding your hands.
Related Reading: 

What Holding Hands Means to a Guy– 15 Interpretations
19. She gradually flips her hair
Flipping hair is a common female body language of attraction that women use to capture your attention. If you are interested in a lady, and the feeling is mutual, she might flip her hair or play with it when she is around you.
She is most likely doing this so that you can fix your eyes on her.
20. She walks gracefully
When a woman is intentional about how she walks, she might be attracted to you. Walking is one of the female body language signs that women use to draw attention to themselves.
While she walks, she will be conscious of each step she takes to ensure that your eyes are fixated on her.
Related Reading: 

15 Reasons Why Walking Away Is Powerful
Commonly asked questions
In case you're still unsure of how women behave and what signs they show when interested in you, here are some more questions and their answers to give more insight into the topic.
When a girl likes you, what body language does she use?
If a girl has feelings for you, she will use various female body language signs like smiling, flipping her hair, holding hands, giving hugs, blushing, etc.
She may also show subtle signs through her body language, like prolonged eye contact, smiling and laughing more, touching or playing with her accessories, leaning towards you, and mirroring your movements.
How can you read a woman's body language?
When you want to tell or read a woman's body language, all you need to do is pay attention to how she behaves when she is with friends and you. If there's a difference, her body language when she is with you might be subtly trying to convey a message.
In David Givens' book titled Love Signals, you will have a robust understanding of the body language of courtship. This book explores the signals, cues, and nonverbal signs that human beings exchange to help them attract and keep mates.
It's all about reading between the lines
Sometimes, flirting might not be straightforward, and many women might prefer to use body language to communicate with you. Therefore, if you want to know if a woman is attracted to you, watch out for the female body language signs in this post.
You can also consider seeing a relationship therapist if you need more help beginning and building a successful relationship.
Share this article on
Want to have a happier, healthier marriage?
If you feel disconnected or frustrated about the state of your marriage but want to avoid separation and/or divorce, the marriage.com course meant for married couples is an excellent resource to help you overcome the most challenging aspects of being married.
Learn More On This Topic
You May Also Like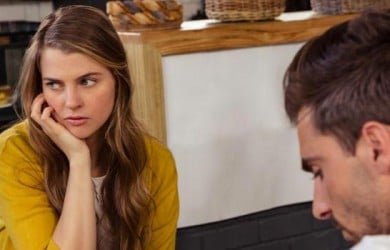 Popular Topics On Married Life