10 Ways How Technology Affects Your Relationships
New inventions are coming in each day, and it's affecting most activities like businesses, education, and even how people interact with each other. That being said, there are so many ways technology and relationships relate.
For example, the use of social media is used to connect partners.
People believe that technology and relationships is the best since sliced bread, but is that true?
Innovations like emailing, messaging via texts, and social media have all been brought to light to enhance how people communicate. In reality, they were to simplify human life so that they don't have to travel to meet one another in person.
And, it's not surprising that everyone, starting from families to friends, can communicate on a daily basis without having to travel for long hours. Isn't that something good?
However, there are positive and negative effects of technology on relationships. This a hot debate because people have different opinions regarding this.
While technology made it easier for us to connect, have you ever wondered how does technology affect relationships?
10 ways how technology affects relationships
With the advancements of technology, dating sites have been born, and now, you can get your perfect match through such dating sites. Who knows? You could get married after you have dated and known each other for long.
In as much as technology has simplified life for you, it could also impact your relationship in several ways.
While there have been many positive effects of technology on relationships, it's no secret that most relationships have been broken as a result of technological advancements.
So, why don't you know how technology can affect your relationship and take precautionary measures well in time?
Here are ways in which technology can affect your relationship
1. Intimacy
It's no secret that intimate relationships have tons of challenges, and technology can't be ignored because it's one of the primary causes of conflicts in modern relationships.
The question is how do you use technology?
Do you use it in a way that can cause problems between you and your partner? In most cases, how you use technology can affect your relationship or even cause a breakup.
Twenty-five percent of people in a relationship or marriage is said to be distracted by their smartphones as reported by a research center.
The same report reveals that out of the 25 percent of couples or partners that were distracted by their cell phones, 10 percent were involved in an argument as a result.
Besides, the study reveals that the arguments could be triggered because of using technology like when to use your cell phone or when to abstain.
Additionally, the study also found that younger users experience both increased tension and enhanced relationship with their partners due to technology.
Finally, technology has affected how partners or couples carry out their relationships.
For example, more adults are now sexting – sending your partner messages that have sexual content. This has risen since the year 2012.
It's said that a fifth of partners have received such messages containing the
sexual content.
2. Distraction
Because technology comprises of all innovations, it's likely to distract you. After all, who wouldn't want to know the latest trends?
Everyone wants to get familiar with any new invention.
It is a common observation that one of the partners was always distracted by their smartphones even when their partners were next to them.
The truth you don't know is that those hours, however little they can seem, can add up and take up much of your time that you could have spent with your partner.
The sad thing is that the use of smartphones is increasing and distracting most couples that they can't have time for each other.
In the past, it was considered just a mere addiction. Today, it's increasingly becoming a threat to your relationships. In most cases, the younger ones are the ones falling into this trap.
The
best thing to do is to limit the use of your phone. Don't think the internet or social media is the solution to everything.
Before you realize it, you will not know how much of your time it's consuming and how dangerous that could be for your relationship.
3. Communication
Technology has affected communication and relationships, enabling people to connect and communicate in ways that were previously impossible.
However, it has also created challenges in maintaining genuine connections and understanding in relationships. Technology ruining relationships is a common issue today.
Instead of talking face to face when you have problems, most couples today would just chat or text each other, which doesn't allow them to fully connect and resolve issues or even create a bond.
Effective communication is essential for building and maintaining strong relationships, and technology can both facilitate and hinder this process.
Ultimately, it is up to individuals to use technology in a way that supports their relationships and communication goals.
Related Reading: 

10 Effective Communication Skills in Relationships for Healthy Marriages
4. Infidelity
How does technology affect relationships? Indeed, technology has made it easier for people to meet and fall in love, but it has also provided new ways to engage in infidelity.
Technology can promote infidelity by providing more opportunities for secretive communication and sexual encounters.
Social media, dating apps, and messaging platforms can enable individuals to connect with people outside their relationships and hide these interactions from their partners.
There are even options to clone messenger apps, have secret conversations, and so much more. That's how advanced and scary technology and relationships are today.
Technology can also be a tool to help uncover infidelity, as digital trials can provide evidence of wrongdoing.
5. Satisfaction
The effects of technology on relationships can be both good and bad. It has a significant impact on sexual behavior and attitudes within relationships.
On the positive side, technology can help couples engage in long-distance intimacy through video calls, sexting, and virtual reality experiences.
Additionally, online resources can provide information and support for couples seeking to improve their sex lives. These can help couples get stronger, even if they're far away.
On the negative side, technology can facilitate infidelity and exacerbate sexual addiction, leading to trust issues and relationship breakdowns.
Moreover, the ubiquity of online pornography can create unrealistic expectations and lead to dissatisfaction with real-world sexual encounters.
Finally, technology overuse can lead to decreased physical intimacy and reduced sexual desire leading to dissatisfaction.
Related Reading: 

Why I Am Unhappy and Never Satisfied in a Relationship?
6. Addiction
Another way on how social media destroys relationships is when a person doesn't know how to limit the use of their gadgets.
Mobile gaming addiction, for example, can also have negative effects on relationships, as it can lead to a lack of presence, reduced attention, and disengagement during shared activities.
This is prevalent today. More and more people would rather look and play with their phones rather than spend quality time with their families.
Instead of bonding, talking, and making memories together with their family, a person addicted to mobile gaming may opt to spend most of their time playing.
Excessive mobile gaming can also create feelings of frustration and resentment in partners, leading to conflicts and misunderstandings.
7. F.O.M.O
Using technology allows us to show what we have to other people, may it be our earnings, cravings, love life, or family. Because of this, FOMO was born.
FOMO or fear of missing out is when you feel you also need to have what other people are 'flexing' or you will miss out on it.
There are several technology and relationships statistics related to the impact of technology on relationships and FOMO (fear of missing out).
One example is a 2021 survey by the Center for Generational Kinetics found that 56% of Americans believe social media enabled the FOMO trend, and 45% of young adults report experiencing FOMO.
Many people are pressured to present an attractive image of themselves and their lives on social media, and this affects their self-esteem and relationships.
Tomas Svitorka, a Life and Performance Coach, teaches us how to be self-confident that you can say 'NO' and start prioritizing yourself.
How are they connected? How can they help? Check out his video below:
8. Disconnection
How does technology affect relationships?
We already know the negative impact of technology on communication, such as misinterpretation of tone and body language, and a lack of emotional depth and authenticity.
In addition, technology can foster a sense of disconnection and loneliness by creating a false sense of connection through social media, online communities, and virtual experiences.
We may have seen this often. We may admire a couple who constantly post on social media, only to find out how their relationship, which seemed to be picture-perfect, suddenly ends.
These experiences may provide temporary relief from loneliness, but they do not replace the depth and intimacy of in-person communication and relationships.
In fact, this will end and change our relationship because of internet misuse.
9. Shallow connection
Another impact of technology on relationships is the development of shallow connections. It can create a false sense of intimacy and hinder deeper emotional connection.
For example, social media and dating apps can encourage individuals to focus on surface-level qualities, such as appearance and status, and create a culture of "swiping" and instant gratification.
They can send sweet quotes, messages or love, and so much more, but how do you know if it's genuine?
Today, technology can make it easier to avoid vulnerability and uncomfortable emotions, as individuals can hide behind screens and avoid face-to-face communication.
This can lead to a lack of emotional depth and authenticity in relationships and a reluctance to engage in tough conversations and build genuine emotional intimacy.
10. Depression
The biggest challenge that technology can cause in your life is depression. It was found out that there are higher tendencies of depression in younger people by a study conducted by the University of Pittsburgh.
In most cases, the younger adults are the ones who take it personally, especially when they are heartbroken.
All the above reasons are proof that technology and relationships can't go hand in hand. Therefore, please limit yourself from using technological equipment, especially when you have time with your partner.
Related Reading: 

How to Deal With Depression in a Relationship






How to make the most of technology: 5 positive effects of technology on relationships
Technology hurts relationships if not used properly. It can damage trust, ruin communication, and make couples feel disconnected.
However, we also need to know how does technology affect relationships positively.
Here are five positive effects of technology on relationships and tips on how to make the most of them:
1. Improved communication
Can you imagine waiting for days or weeks just to receive a letter from your partner? What about going to a photo booth to call?
We can consider ourselves lucky to have phones, computers, and the Internet. Technology allows couples to stay in touch through video calls, instant messaging, and social media, even when they are physically apart.
Tip:
To make the most of this, set aside dedicated time for communication, avoid multitasking, and prioritize active listening and emotional openness.
2. Enhanced long-distance intimacy
Technology can help couples maintain intimacy and sexual connection. They can still be intimate through sexting, video calls, and virtual reality experiences.
Aside from that, spending time talking, laughing, updating each other, and even seeing each other can contribute to enhanced intimacy.
Tip:
To make the most of this, respect each other's comfort levels and boundaries. It's okay to try and explore, but remember that if your partner is not comfortable, you need to respect that.
Communicate openly about sexual needs and desires, and prioritize trust and respect.
3. Access to information and resources
Online resources can provide information and support for couples seeking to improve their relationships, such as articles, self-help books, and online therapy.
Today, couples can easily enroll in a marriage preparation course, or any other therapy program in the comforts of their own home.
Tip:
To make the most of this, know how to intentionally on seek quality resources and work with a qualified professional if needed.
Using technology, you will be able to seek reviews and other important information in choosing therapists.
4. Shared experiences
Technology can provide opportunities for shared experiences, such as watching movies or playing games together online.
The amazing technology has been helping people feel closer as if they're just on the other room. Couples can still bond and have fun even if they are miles away.
Tip:
Prioritize quality time together, and balance online and offline interactions. With the proper use of technology, we would be able to connect with each other.
5. Increased social support
Technology can provide access to social support and community. Through these online groups, forums, and social media, they can share, open up, and even help people who may be experiencing hardships in life.
Sometimes, being there for someone and having someone to talk to can make a tremendous difference in one's life.
Tip:
To make the most of this, seek supportive communities, engage in constructive conversations, and avoid toxic or negative online interactions.
How to limit technology usage in your relationship?
Since we know how does technology affect relationships, both negatively and positively, it's time to know what to do about it.
The key to making the most of technology in relationships and reaping its positive benefits of it is to be intentional, balanced, and mindful in its use.
We should also prioritize communication, emotional openness, and shared experiences. But where do we start?
Here are five ways to limit technology usage in your relationship:
1. Set boundaries
Too much of anything is bad, even the use of technology. Therefore, we need to learn how to set healthy boundaries with the use of technology.
Talk with your partner about your concerns and establish clear boundaries for technology use in your relationship.
For example, set designated times when devices are put away or agree to limit phone use during meal times.
Both of you should agree on the terms and boundaries and slowly implement each one.
2. Create technology-free zones
Designate certain areas of your home, such as the bedroom or dining room, as technology-free zones, where phones and other devices are not allowed.
Today, it is common to see the whole family engaged with their gadgets while eating.
This is not a good practice. If it's labeled as a technology-free zone, then you'd be present and be able to eat properly and talk to one another.
3. Practice mindfulness
Be mindful of your technology use and try to be present and engaged at the moment during face-to-face interactions with your partner.
This means avoiding the temptation to check your phone or engage in other distractions while spending time with your partner.
It's understandably hard at first, but it's not possible. There's so much to do that doesn't involve the use of your gadgets.
4. Engage in shared activities
Spend quality time with your partner engaging in shared activities that do not involve technology, such as going for a walk or playing a board game together.
If you have kids, then bond with them. Play with them in the park, exercise, bake, or just watch a movie. This will allow your family to feel closer.
5. Prioritize in-person communication
Attempt to prioritize in-person communication and emotional intimacy in your relationship by having regular conversations, practicing active listening, and being emotionally present with your partner.
Communicating in person allows you to look in each other's eyes, and practice your tone of voice, and body language. It's more personal and genuine.
By implementing these strategies, you can limit technology use in your relationship, strengthen emotional intimacy, and cultivate a deeper sense of connection and presence with your partner.
Some more questions!
Have you got more questions on you can make the best use of technology in the interest of your relationship and overall happiness? Here are some to give you a clearer perspective.
What impact has technology had on intimate relationships?
Technology has had both positive and negative impacts on intimate relationships.
On the positive side, technology has made it easier for people to connect with their partners over long distances, stay in touch throughout the day, and access information that can help them build and maintain healthy relationship.
On the negative side, technology can also lead to decreased face-to-face communication, increased distractions, and privacy concerns, and even satisfaction, which can all contribute to feelings of disconnection and isolation in relationships.
Remember. It is important for individuals and couples to be aware of how does technology affect relationships and to use technology in a way that supports their relationship rather than detracts from it.
How does screen time affect relationships?
Technology made life easier, but it's also addicting. With so many dating, messaging, photo apps, and games, people get addicted to using their gadgets.
It's not just kids who have screentime problems.
Even we, adults, have problems with our time management and screen time. When we get too focused on our gadgets, we no longer give time to the people we love.
We no longer talk in person, go out and play, or just sit down and have that long and deep conversation. What happens next?
The bond that we have slowly deteriorates, and before we know it, we become strangers.
Don't let technology paralyze you!
Do you still remember the last time you sat down and talked with your partner? How about the last time you all ate a meal with no interruptions?
Technology is already a part of our lives. It helps us with our tasks, with communication, and even when we're bored, but when we use it more than we should, we unknowingly decrease our connection to the surrounding people, the people that matter.
How does technology affect relationships?
It's when we become addicted to our gadgets and technology that we forget how to live. Technology addiction has developed into a disease and that's that affects people in the current era.
But it's not too late. If we learn how to control how we use technology, then we'd create a balance that will allow us to enjoy the benefits of technology, without sacrificing our human interactions.
Share this article on
Want to have a happier, healthier marriage?
If you feel disconnected or frustrated about the state of your marriage but want to avoid separation and/or divorce, the marriage.com course meant for married couples is an excellent resource to help you overcome the most challenging aspects of being married.
You May Also Like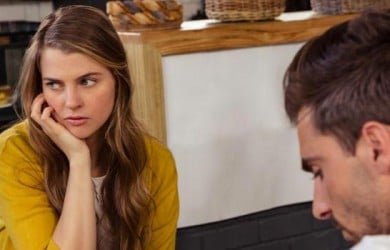 Popular Topics On Married Life