What Women Want From Men: 15 Meaningful Things
We know that men and women are different, and so are their expectations from each other when they're in a relationship.
Most men struggle with what women want in a relationship. It isn't easy to comprehend at times. However, men should never think that women's expectations will match theirs. It surely won't. Listed below are certain things that can explain what women want from men.
What attracts a woman to a man
Different women want different things. However, experts have tried to figure out some common expectations that most women have regarding the man in their life.
Research conducted by the Journal of Experimental Social Psychology concluded that women tend to factor in a man's socioeconomic status when making decisions about their choice of partner. They value this more than looks.
Further studies have also shown that what women want from men is a high level of education.
However, mate selection for women can be based on relative factors like their perception of their attraction, body mass index, or the presence of attractive women. Women are more or less selective with men based on many such factors.
What does a woman want in a man physically?
Even though different women want different things, there are some common physical attributes that women usually desire.
Based on sample surveys, it is evident that women usually desire a man that is taller than them. It is a crucial factor in things woman wants in man physically.
Looking for further clarity on what does a woman want in a man physically? Women prefer men with some facial hair, a deep voice and other features associated with masculinity and high testosterone levels.
15 things women want from men
Women are different and often end up falling from different types of women. However, they share a common inclination towards certain physical and personality traits.
It would help if you spent some time trying to understand what women want for men to get a chance at being in a healthy and happy long-term relationship. Here are some things if you are trying to figure out what do women want in a man that they admire:
1. Expressive love
Women are expressive and effortlessly express their love and care to men.
However, men find it quite challenging to share their feelings, which eventually makes women believe that men are not responding to their love. Women want to feel loved.
There are various ways men can express their love to women. It could be saying 'I love you' every day or bringing them a few gifts now and then or some romantic dinners.
These small gestures will help men express their love to their women and move through problems smoothly.
Related Reading: 

30 Romantic Ways To Express Your Love Through Words & Actions
2. Trustworthy
We all have some regretful past that we refuse to share with people. Men often avoid talking about their past and believe there is no point discussing this.
However, when women start talking about it, they either ignore it or change the topic. This, eventually, make them doubt their men, which may lead to various troubles.
What women want in a husband is someone who speaks freely and makes sure that the trust between him and his partner grows stronger with time. After all, trust is one of the most important things women like about men.
Related Reading: 

How to Resolve Trust Issues in a Relationship – Expert Advice
3. Future security
Future and financial security are important things a woman wants from a man. It's understandable that today, men and women are working and are independent. But you can't ignore this when thinking about what women want from men.
Despite that, women want their husbands to provide them with future security, financial and emotional. It's quite difficult for women to support their men when men fail to assure them that their future is secure and nothing will happen to their love nest.
4. Communication
To know what a woman needs from a man, sit down with them and have some real conversation. Women want to spend some quality time with their men. Men are busy with many things in their lives and believe that they're fulfilling their duties towards their women just by providing living comfort.
However, women also would like their men to spend some time with them and have a conversation. Sitting for a while with their women, men would be addressing things women love about a healthy relationship.
5. More 'yes' and less 'no'
No woman would want to be turned down almost every day. If trying to understand what women want from men, start saying yes more often.
Indeed, it's not right to blindly say yes, but avoid saying no frequently. This is one of the best answers to getting your partner in the mood. Your wife will be happy and surely the love will flourish between you.
6. Sharing household responsibilities
Start taking on household responsibilities when thinking about what women want from men. They want their men to take an interest in household work and help them in every way possible.
What women need from men are some small gestures that show that he cares. Take an active interest in grocery shopping, household chores and even spend some time with kids.
Related Reading: 

15 Ways to Get Your Husband to Help More with the Chores
7. Romance
The definition of romance is different for men and women. What a woman needs from a man is some romance. When in a relationship, women expect their men to be romantic.
They would want their husbands to take them out for dinner dates, spend some personal time, go on holidays, and remember important dates. These are some basic things women want from their husbands.
8. Self-care
Self-care is one of the essential qualities a woman wants in a man.
Men can indeed be a little careless towards self healthcare. They tend to eat anything and refuse to follow a healthy diet. If you want your wife to love you and care for you, start taking care of your health. Women would love it.
9. Support
One of the most important things women want from their husbands is their support.
If a woman supports her partner and stands next to him, she would expect the same from them. They consider their husband and their family their priority and do everything to take care of them.
Women want their partners to stand next to them whenever the circumstances call for it.
Related Reading: 

20 Steps to Becoming a Supportive Partner
10. Vulnerability
What women want from a husband is to be emotionally open about how they feel and if something is bothering them.
Emotional vulnerability was traditionally seen as a chink in the armor of masculinity. However, a man who understands and can voice their reaction to different situations is the one you feel closer to. You can understand his perspective better as he allows you to get close to him in an authentic way.
To learn the power of vulnerability in men, watch this video by Self-help Coach Sean Smith:

11. Confidence
What makes a woman fall in love with a man is often the confidence with which he carries himself.
Confidence in a man can be evident in how he conducts himself around other people, in the way that he talks and even how he chooses to dress.
Furthermore, it is the confidence in one's convictions that can make a man irresistible to women. What women want from men includes this trait because it displays clear conviction and principles in a man.
Related Reading: 

How to Improve Your Self-Confidence in the Relationships?
12. Sense of humor
Life can get serious sometimes, and that's why what women want from men is the ability to make the situation better with their sense of humor.
A witty man can break the emotional walls that a woman may maintain to protect herself. She will be comfortable around him and enjoy herself.
A man's ability to laugh at himself or find humor in any situation indicates that he could make any situation better and act as a stressbuster.
13. Maturity
What is the difference between a boy and a man apart from age? It's maturity.
What women want from men is maturity that helps them helps them see things in a level-headed manner. They can then have a reasonable approach to things and situations.
A mature man will not overreact to a situation that deters fights.
Related Reading: 

15 Ways on How to Be Mature in a Relationship
14. Sexually considerate
No discussion about relationships is complete without talking about the sexual dynamics.
What women want from men in bed is consideration and compassion. The man in a woman's life should assess her enthusiasm and excitement for different sexual elements and respond in a considerate manner.
Furthermore, a man should understand if their partner says no to sex on a particular day or stage of the relationship.
15. Open to change
Twists and turns are what life is all about. So, who wouldn't value a partner who can adapt to life's ever-changing tide?
A man who adapts well to situations and different types of people will be open to changing their attitude if that's the more reasonable thing to do.
What women want from men in a long-term relationship is a practical approach that aids the healthy survival of individuals and situations.
Final takeaway
While men might be content with other things, women would want their husbands to express their love and care, support them, and participate in household work. Listed above are some things women want from their husbands. Follow it for a happy and healthy relationship.
Share this article on
Want to have a happier, healthier marriage?
If you feel disconnected or frustrated about the state of your marriage but want to avoid separation and/or divorce, the marriage.com course meant for married couples is an excellent resource to help you overcome the most challenging aspects of being married.
More On This Topic
You May Also Like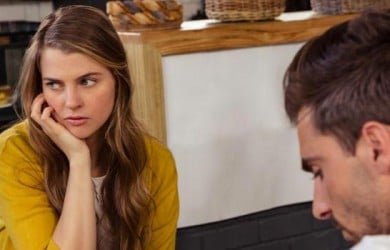 Popular Topics On Married Life