5 Stepping Stones in a Relationship and Why They Are Important
The concept of being in a romantic relationship is something that most individuals are well-acquainted with from a very early stage of life. But did you know that all romantic relationships consist of stages and stepping stones irrespective of who you're romantically involved with?
Yes, that's right!
The concept of stepping stones in a relationship is worth knowing about. And yes, it doesn't matter who is in a relationship and with whom. All romantic attachments follow some key stages of relationship development and are characterized by five key stepping stones.
What's relevant here is learning about these stages of getting into a relationship and the 5 stepping stones in a relationship.
So, if you find yourself questioning the progression and characteristics of a romantic relationship, hello and welcome!
Continue reading to learn about the stepping stones in a relationship, the importance of stepping stones in a relationship, the key stages of a romantic relationship, and much more!
Sit tight.
Read on.
What do stepping stones in relationships mean?
The first question you may be asking yourself after finding out that all romantic relationships have key stepping stones is: what are the five stepping stones in a relationship?
What do stepping stones mean, and what's the significance of these stepping stones, right?
Let's look into the concept of stepping stones in a relationship.
The 5 stepping stones in a relationship signify the progress that a couple makes in their bond throughout the progression of their relationship.
Do you know how diamonds are made from coal? It's sort of like that. You can compare the diamond obtained from coal to the stage of unconditional love and security you experience in your relationship.
All couples have to overcome their issues, obstacles, and interpersonal barriers. In this way, they grow and create an everlasting bond characterized by unconditional love. You will get your soulmate by working through challenges and issues together constructively.
But the thing about the stepping stones in a relationship is that it doesn't just come naturally or magically. It takes a lot of effort to reach these stepping stones and have a stepping stone relationship. Both partners have to find their balance and put in that necessary effort.
This is the significance of stepping stones in a relationship.
How many stages are there in a relationship?
Now that you're well aware of how important stepping stones in a romantic relationship are. Let's look into the concept of the different stages of a relationship. Every romantic relationship goes through different stages.
Any romantic relationship undergoes five different phases in general. The first stage is where every couple re-establishes themselves to stabilize their whole relationship. As the relationship progresses, they become stable with marriage and enter into the Honeymoon stage.
As time passes and the marriage excitement slows down, some couples often experience a doubting stage with loads of conflicts. But, with support and love from each other, a man and a woman can rebuild their relationship to make it stronger and a lifelong commitment.
What are the 5 stepping stones in a relationship?
Let's finally look into the 5 significant stepping stones in a relationship. These 5 stepping stones have been delineated as follows:
Stepping stone 1: The merge/ emotional connection
It is well-known that intimacy is essential in any romantic relationship. However, intimacy doesn't just refer to physical or sexual intimacy. Intimacy covers more ground, such as emotional intimacy and spiritual intimacy.
Intimacy causes human emotions to surge as people feel they have met their soulmates. It all happens due to the biochemical reactions in the human brain.
Your brain releases a huge load of hormones as you have been attracted to another person who seems to be the other half of you.
The result? People feel extremely addicted to their partners, and both of them start to form a bond that grows stronger with time.
While sexual attraction often comes first, it moves towards emotional intimacy. As the two people start to spend time with each other, they forget the mental connection needed to strengthen a relationship.
Amongst the various types of intimacies, emotional intimacy is crucial. So, the very stepping stone for a couple is establishing an emotional connection in a relationship.
It's important to put in the effort from both ends to be emotionally intimate with each other. Finding a haven in your partner or viewing them as your support system with whom you can be vulnerable is of utmost importance.
Stepping stone 2: Identification of underlying insecurities
The point in the romantic relationship is when couples have doubts about each other and the relationship. People often cannot see their insecurities in the first stage due to their budding and surging attraction.
This is the stepping stone where couples come back to reality. They now see the negative points of the other person's characteristics and try to respond to them.
You may find yourself questioning whether your significant other truly loves you or not. This is when your insecurities and issues start manifesting. You may question your worth too.
In this phase, a lot of time is spent doubting and questioning oneself and the relationship's long-term potential.
Couples need to be careful through that stage. You have finally realized that your partner is not that perfect.
But do not consider that a disappointment because imperfections make a human more beautiful. Hence, try to love them with their imperfections.
Build strong emotional and spiritual connections to work out the differences and ensure you two love each other with your heart and soul.
Related Reading: 

6 Key Tips to Stop Being Insecure in a Relationship
Stepping stone 3: Disillusionment and disappointment
This is undeniably the most tumultuous stage of the relationship, where partners finally come to terms with reality. They start seeing their significant others for who they truly are.
A lot of arguments and conflicts bubble to the surface. This stepping stone is extremely trying because it determines whether the relationship will last.
Issues like feeling unloved, neglected, rejected, etc., come up. Another common issue that couples deal with is financial problems. This is the make-it-or-break-it stepping stone of the relationship.
During this stage, often, the human brain focuses on the deficit areas in your relationship. But it is up to you to find the silver lining. Practice gratitude and the art of loving to counter the disillusionment.
In this video, Dan Bacon, relationship and marriage expert, talks about how to save a relationship that is falling apart.
Related Reading: 

How to Deal With Disappointment in Relationships: 10 Ways
Stepping stone 4: Making the decision
Although the previous stepping stone is the most troubling or difficult, this stepping stone is the most important one in your romantic relationship.
After knowing each other for who you are, there is the responsibility of making the all-important decision to commit to the relationship or break up.
This is the stepping stone to deciding how you'd like to proceed with this bond. This stepping stone is successful if you decide to stick together through thick and thin. How you resolve the conflicts of the previous stepping stone sort of determines the outcome of this stepping stone.
If you have to make some choice, ensure you become the best version of yourself. This will help you two understand your roles in a relationship and lovingly respect each other.
Stepping stone 5: Wholehearted love
This is undoubtedly the best stepping stone of a romantic relationship where you completely and wholeheartedly accept each other for who you are. This stepping stone signifies undying commitment, support, and love.
This stepping stone enables you to experience a romantic relationship characterized by unconditional love. This stepping stone is reached through forgiveness, balance, and love.
If you find a couple with decades-long marriage, you will find that those people have found the best strategy to elongate this final step till their last breath. So, continue working on your relationship and your personality through different methods.
From this stage onwards, couples need to become lovers, best friends, and emotional support pillars for each other.
On top of that, as they grow old, they also need to find new ways to keep the spark alive in their personal life.
It will also help you face the life hurdles in the later phase of your life! Last but not least, never stop loving each other!
Wrapping up
Now that you're well aware of the pertinent stepping stones in a relationship and the various stages of progression of a romantic relationship, you can figure out which stage you're in with your beloved.
Please understand that every relationship is different. Hence, for each relationship, the stages will be different.
You will also have to encounter these stepping stones to make your relationship a stable one with your partner. So, always try to find new ways to cope with issues and misunderstandings.
Besides that, make sure to communicate with each other and form healthy boundaries to keep negativity away from your life. As you two move forward in life and new responsibilities come to you, embrace them together.
Please remember that joint efforts are needed to make a relationship work. Hence, always relish your journey and respect your partner throughout the journey!
Share this article on
Want to have a happier, healthier marriage?
If you feel disconnected or frustrated about the state of your marriage but want to avoid separation and/or divorce, the marriage.com course meant for married couples is an excellent resource to help you overcome the most challenging aspects of being married.
More On This Topic
You May Also Like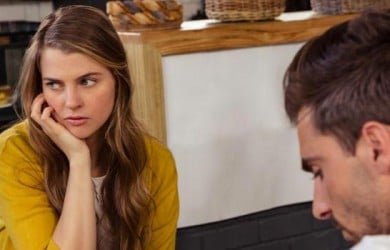 Popular Topics On Married Life