20 Clear Signs She Wants You to Chase Her
In many instances, you may find that individuals have been chasing one another when it comes to romantic relationships. This isn't a big deal, but it becomes an issue as you can't read someone's mind to know if they want you chase them. To avoid making someone uncomfortable or threatened by your behavior, you need to look for certain signs.
While some people prefer potential partners to chase them before they start dating, others don't like the idea of someone pestering them or playing games.
So, how do you know the signs she wants you to chase her to avoid behaving like a stalker?
It can sometimes be hard to read people. They can play hard to get even when they like you or give mixed feelings when they aren't interested. As someone interested in them, you don't want to be seen as bothering a woman, and at the same time, you don't want to lose a great opportunity.
So, how do you know she wants you to chase her? And why do girls like to be chased by certain men that they like? Learn the reasons in this article as it reveals the subtle signs she wants you to chase her.
Do women want to be chased?
Regarding relationships, it is only normal that you put in some work when you like someone. Many people have a crush on others, but when they don't go further to make their intention known to the other person, things may remain in the platonic zone.
Besides, showing that you like someone through words or actions (without harassing them), it tells the other person that you are serious and know what you want.
Do girls like to be chased? Sometimes.
All women aren't the same, and the difference is apparent in whether a woman chooses to respond to certain advances and also the time it may take for her to respond.
For example, it may take one woman a few days to give a man a response when he asks her out or months for another woman.
To back this up, a recent study by The University of Rochester examines the effect of "playing hard to get." It states that increasing the effort when chasing someone makes you more desirable.
Nonetheless, the crux of the matter is that a potential partner may also want you to put some effort into showing you need them.
Even when it's a case of love at first sight for the two individuals, a person may have to go through the normal process – proving that they want her before she says yes.
However, you must be careful not to harass or stalk them. To help you reduce the chances of misunderstanding the situation, you need to look out for signs she wants you to chase her.
20 clear signs she wants you to chase her
Some people are scared to flirt with women because of any potential rejection. However, this might prevent you from dating the woman of your dreams. It's better to get rejected than to assume things would go wrong. All you need to do is watch out for positive signs from the woman of interest.
Here are a few guaranteed signs she wants you to chase her:
1. She responds to texts promptly
One of the top signs she wants you to chase her is how she responds to your texts.
Whether in the morning or night, if a woman doesn't wait before replying to your text, it might mean she wants you to chase her. That shows she has been thinking about you and anticipating your messages.
Learn how to make a woman think about you non-stop in this video:
2. She uses emojis in her texts
Does she want me to chase her? A woman might want you to chase her if she uses specific emojis in her text messages.
Many people use emojis in their text messages on social media. However, when it comes to an individual they like, the use of some emojis might indicate the likelihood of a romantic relationship.
Emojis are subtle ways to show your feelings, which might be the green light for you to consider chasing her. But ensure that you are respectful.
3. She tells her friends about you
Another way to tell if a woman wants you to chase her is through her conversation with her friends. You are in luck if she is secretly discussing you with her friends while appearing disinterested in front of you. It may mean that she wants you to ask her out. Therefore, don't waste any more time before you make a move.
4. She's always around you
Women who like you or want to date you may make the chase easy for you.
One of the signs she wants you to chase her is her finding reasons to be around you. You may bump into each other often, and while it might look coincidental, she could be hoping to see you. That's her way of subtly telling you that she is interested in you.
5. She initiates contact with you
If she wants to be chased by you, a woman might be the one to initiate contact.
After responding to your text quickly, and seeing each other often, if you don't make contact, the woman might. That means she doesn't want to wait for you to decide, so she strikes the iron while it's hot. This might come in the form of texting you first, asking about you from your friends, or taking you out on a date.
6. She misses you
Should a man chase a woman? Yes, you can if she tells you, she misses you. This statement might not come directly from her, especially if she's giving the impression of playing hard to get.
For example, during a conversation, she might ask, "Do you miss me?" This is to hear your response, but the fact could be that she misses you. She may ask you often while sounding playful or casual, but she might be missing you.
Also Try- 

Who Misses You Most?
7. She isn't comfortable around other women
Even though you aren't dating, a woman who wants you to chase her will usually react when you are with other women. She may frown or look away when you tell her that you've just finished talking to some woman.
If you usually mention a particular girl's name, she probably won't smile and may even question your relationship with her. In this case even, you
8. She informs you about her daily activities
If a woman likes you, half of the chasing is often done for you. Therefore, be ready to hear about her co-workers, friends, and people who annoy her daily. She will talk about everything and won't leave you in the dark about her plans.
For example, when she tells you she's free on a Saturday, she might be indirectly telling you it's okay to go out together. Pay close attention and ensure you ask her politely.
9. She shares personal information
One of the main signs she wants you to chase her is the sharing of personal information.
Without asking much about her, a woman who likes you will tell you about her background, family, deepest secrets, and feelings. She will become vulnerable with you without holding back any information. That might be your invitation into her life.
So, please don't waste time by waiting before chasing her, while still being careful not to take the path of harassment or stalking.
10. She flows well in conversations
You may complain about being unable to connect with certain people. Nobody is boring but some might not find you exciting enough, or they may not enjoy your company. Simple topics like weather or food can become meaningful discourse when a woman likes you.
In addition, she might continue discussing certain things to make you feel comfortable enough to chase her.
11. She cares about your feelings
How to tell if she wants you to chase her? She might tread carefully not to make you upset.
Even though she may appear disinterested, a girl will ensure she doesn't hurt you if she wants you to chase her. She will apologize promptly and give reasons to make you understand whether you feel offended or not. That means she cares about your feelings and doesn't want you to doubt her.
12. She cares about you
One of the signs she might want you to chase her is showing she cares. These can come in different ways, including:
Asking if you have eaten

Remembering important dates in your life

Showing support when necessary

Telling you to be safe when you go out
Nevertheless, ensure you look out for other signs, so you don't appear threatening to her.
Related Reading: 

20 Ways to Show Someone You Care About Them
13. She smiles a lot when you're around
If she wants to be chased by you, a woman will smile generously when she sees you.
These smiles are different from the ones you get from random women around you. A woman interested in you will loosen up whenever she sees you. It may be her way of making you comfortable to talk to her and telling you she approves of your advances.
14. She accepts your invitation
One of the fastest ways to understand "why she wants me to chase her" is to send her an invite to a party or other places. If she accepts your invitations repeatedly, she might be open to you showing displaying your interest in her by chasing her.
A girl's repeated acceptance of your invitations indicates that she is open to spending time, and you can treat this as a positive sign.
Related Reading: 

15 Signs Someone Is Hiding Their Feelings for You
15. She invites you out
Does she want me to chase her? Yes if she invites you to events constantly.
If a girl wants you to chase her, she may try to casually extend invitations for you two to go out together. She might be pretending to be around you to give you plenty of chances to chase her.
16. She dresses well when you go out
Some people don't care about their appearance around random people. When they aren't trying to impress someone, they don't see the point of dressing around them. If she is one of these people, she might want to be chased by you when she dresses differently when you hang out together.
For instance, if she usually has a new hairstyle or new clothes whenever you see her, she might be trying to impress you as dressing well can increase physical attractiveness, according to a study.
Related Reading: 

30 Signs of Attraction: How Do I Know if Someone Is Attracted to Me
17. She wants to know about your career
Should I chase her? Yes, if she asks intricate details about what you do for a living. Someone interested in you would likely want to know about your career. This is because it may be important for her to know the kind of person she is dealing with.
18. She doesn't hide her support for you
Another way to know she wants you to chase her is her support. Generally, women show genuine support for their partners. Even if you haven't started dating, she won't hide her support for you among friends and families.
For instance, if you have a business, she would likely ensure that she talks about it with people around her. Also, she might boast about your career and refer clients to you.
Related Reading: 

20 Steps to Becoming a Supportive Partner
19. She maintains eye contact with you
Research shows that eye contact plays a significant role in the evolution of romantic attraction between people.
Maintaining eye contact with someone is one of the ways to show you are interested in another person. If she wants you to chase her, she may look at you directly, accompanied by a smile.
20. She tells you about her personality
Different personalities describe the unique nature of people. Someone can be introverted, extroverted, friendly, organized, resilient, etc. After several encounters, you should be able to tell which category someone falls into.
When a girl wants you to chase her, she tells you about her character and personality, so you can know how to understand her better.
Summing up
If you notice more than five signs she wants you to chase her, don't waste time before making your moves. Keeping her waiting longer might pass a negative message to her.
Meanwhile, these signs are no guarantees that a woman will jump at your proposal. As such, you should be certain that she genuinely wants you to chase her to avoid being annoying.
You might still get a "no" after observing all the signs above, but at least you can be sure that you tried your best. You should talk to a relationship counselor about your observations if you need specific advice.
Share this article on
Want to have a happier, healthier marriage?
If you feel disconnected or frustrated about the state of your marriage but want to avoid separation and/or divorce, the marriage.com course meant for married couples is an excellent resource to help you overcome the most challenging aspects of being married.
More On This Topic
Recent Articles
You May Also Like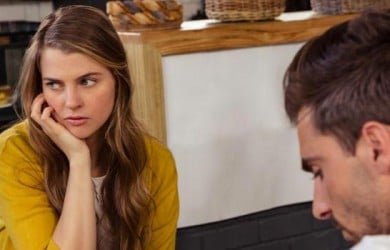 Popular Topics On Married Life