15 Signs of a Catfish – What to Do About It & How to Leave
There are so many signs of a catfish relationship. As someone who intends to enjoy their relationship, you must train yourself to see when you are being catfished and to make a clean exit if that is the case.
It has become more common to find people who have fallen into a catfish situation in their relationships. Hence, this article aims at helping you discover if you are in one and show you the best way to handle yourself.
Related Reading: 

14 Tips on How to Control Your Emotions in a Relationship
What is catfishing?
Catfishing is simply the process of luring someone into a relationship by using a fictional online persona. When you catfish someone, you get the person to fall for you and decide to be with you by presenting them with pictures and videos that aren't yours.
Before you start asking if this is even possible, the stats prove that catfishing on the internet is becoming more common.
A 2021 report documented by the Federal Trade Commission revealed that reported losses due to catfishing and romance scams reached an all-new record of about $304 million that year alone. When you do the maths, you will discover that the average victim of catfishing and romance scams lost about $2400 per scheme.
Usually, a catfish relationship aims to scam the victim out of their money or inflict pain on them somehow.
Why do people catfish?
People catfish on the internet for many different reasons. The most common is to obtain money by scamming others of their hard-earned money. Online romance scams are perpetrated mainly by people in search of quick money.
Also, lack of confidence is another reason people end up catfishing on social media. When someone doesn't believe in themselves and thinks that they wouldn't be able to find love because, for some reason, they may be tempted to falsify their online details to attract the person they want.
Before they can even tell what's going on, they have become full-blown catfish.
Also, people get into catfishing because of depression or anxiety. When someone falls into the deep pit of depression and anxiety spells, they may start seeking an exit route.
Along the line, some of them may seek to experiment online by taking up a new identity and fooling around on the internet. Hence, they pick up a persona they would have preferred to have offline.
Like every other thing we have discussed here, they get so deep in the act of catfishing even before they can tell what is going on. At this time, it becomes almost impossible for them to reveal their true identities.
Also Try: 

Am I Being Catfished Quiz
15 signs that you have been catfished
Here are the top 15 signs of a catfish we have identified.
1. The catfish never wants to video chat
Is there a better way to get to know someone and see them in real-time than video chats? If your online 'other half' always looks for the flimsiest excuses to opt-out every time you ask for a video chat, that may be a sign of a catfish.
2. Meeting up is an absolute no-no
When you are in the middle of a catfishing experience, they will never agree to a physical meeting, no matter how hard you try. Even if you are in their area and you'd like to meet up for a quick chat, they would instead give you an excuse than meet you one-on-one.
3. Things are going way too fast
Because their plans are usually time-tagged, it is pretty common for a catfish to come on strong to you. Their idea of a relationship is to obtain anything they can, so they would do anything to take advantage of you before you even know what's going on.
Take a moment to breathe and think about that relationship. Does it feel like things are a bit too rushed? What if that is one of the signs of a catfish in your life?
Related Reading: 

7 Different Ideas of a Perfect Relationship
4. Their social media handles are shady
Social media has quickly become home to billions of people. With over 2.19 and 1.47 billion monthly users of Facebook and Instagram, respectively, these social media platforms have become the online extension of many.
One of the signs of a catfish is that they either don't have personalized social media handles (contain their details like pictures and snippets of their lives), or they don't even have social media handles at all.
If you are dealing with someone and feel like their social media handles don't give a significant amount of information about them, you may want to be extremely careful.
Related Reading: 

8 Ways Social Media Ruins Relationships
5. They seize every opportunity to request financial help
On day 1, they need to pay this bill. The day after, they would have a sick sibling needing medical treatment.
Before you get out of that one, they tell you that they have to bail a parent from police custody. Every day, they always have a way of asking you to give them money.
One of the signs of a catfish is that they always want to be given and not to give back.
Related Reading: 

15 Tips to Manage Finances in Marriage
6. You notice gaps in their stories
One way to know when you are in a catfish situation is by looking at the details of the other person's stories. When you catch them in their unguarded moments, they may give you details different from what you have always known.
Also, their inability to corroborate their stories can leave you wondering how strange things can get.
Watch this video by Pamela Meyer, author of "Liespotting," to understand how to spot a liar:
7. The information on social media is different from real life
A quick look at their social media handle may reveal that they have incorrect details up there. Everything from where they live, their job, and where they are studying may not be accurate information.
You may discover this the more you talk to them. They may slip up and give you their accurate information at some points. It is up to you not to take these as common mistakes but to place your feet on the brakes and do your research.
Related Reading: 

The Harsh Truth About Social Media and Relationships' Codependency
8. Your friends suspect something
One of the first signs of a catfish is if your friends tell you so. You should know that one friend whose premonitions are almost always accurate all your life. What do they have to say about this mystery online lover?
9. They find it difficult to talk on the phone with you
This would even be worse if they have sent you supposed videos of themselves in the past. One of the characteristics of catfishers is that they will permanently hide behind their keypad and refuse to talk to you on the phone because they sound different from the videos they have sent before.
And they know that if they dare speak to you on the phone, you'll put two and two together and discover who they are.
So, they would rather spend their lives coming up with clever excuses every day.
10. They are good looking, almost to a fault
This doesn't mean that you are not deserving of some eye candy in your life. However, if someone is that good-looking, why do they always have a reason why they can't show you their faces on a video call or meet up in real-time?
That's some food for thought there.
Related Reading: 

How Much Do Looks Matter in a Relationship?
11. Do they even interact with real humans on social media?
If they have given you their usernames on social media, take some time to go through their handles and see if they even interact with real humans on social media.
Do they take photos with other people (no matter how rare)? Do they even tag their friends online and have some good-mannered fun on social media? Or are they always by themselves?
If they are perpetually alone online, it could be one of the signs of a catfish.
12. You have your suspicions
As a rational adult with a super-functional brain, you have probably suspected that there's something "off" about them. One of the easiest ways to know that you are being catfished is to look inwards.
Your mind has probably warned you that something is off, right?
13. They mostly talk about wealth
this may not add up to you because they have a way of coming back to ask you for money at the oddest times.
Whenever you converse with a catfisher, they mostly talk about having a lot of money or being from a wealthy family. Sometimes, their claims sound too good to be true. And if you look deeply, you will see that their claims are.
14. They love to bomb you from the start
When dealing with a catfisher, you may even think that they are your soulmate, the one you have looked for since the beginning of time. They speak your love language, know all the right things to say to get you weak in the knees, and are incredibly romantic.
If someone presses you to commit even without seeing them, you may want to reconsider.
Related Reading:

 What Is Love Bombing: Signs, Types and How to Cope
15. They may press for implicating content
If a catfish is in your life to get money out of you, they may try to press you for implicating content. When conversing with them, they may ask you to send nude and erotic pictures and videos of yourself – just for fun.
Please desist from doing this. History has shown that compromising pictures and videos like these are a treasure in the hands of a catfisher. They can use them to blackmail you into giving them money over a long time.
How to save yourself from being catfished ?
As the internet presents many chances of getting catfished, you must understand catfishing psychology to protect yourself from these treacherous people.
Here are some ways to prevent yourself from being catfished.
1. Do your research
Whenever someone swoops into your world, don't be overcome by emotions that you forget to do your background check on them. Those times of searching can reveal things you never imagined.
2. Talk to the people in your life
When you meet a new person, don't run into the relationship all by yourself. Bring the people you trust into the loop and give them all the information about the person you just met.
They may be able to see something you may have overlooked.
3. Never share too much
The catfisher's hold over you is the information you share with them. Never send your nude pictures/videos and other compromising content to them as a rule of thumb. This can give them all they need to make your life a living hell.
Related Reading: 

How to Share Your Feelings With Your Spouse
4. Look out for the signs
We have covered 15 signs of a catfish in this article. Please keep your eyes open for them. If you see them, don't dismiss them.
What not to do when you have been catfished?
Are you already the victim of a catfishing relationship? Here are the things you mustn't do.
1. Keep it to yourself
Don't keep your ordeal to yourself. Two good heads will always be better than yours.
2. Keep it away from law enforcement agents
When your catfish discovers that you have identified them for who they truly are, they may threaten you never to talk to law enforcement agents. However, this is the worst time to die in silence.
Please speak to the police and let them use their intelligence to fish this person out and allow them to face the full wrath of the law.
3. Make excuses for the catfisher
Catfishers are masters at emotional blackmail. They can make you feel like it is your fault you were catfished, and you may even start making excuses for them.
Never find yourself where you start feeling like the catfisher was the victim. You need a clear mind to get yourself out of that toxic situation and find closure, especially if you lost many things due to this relationship.
Related Reading: 

45 Warning Signs of a Toxic Relationship
How to end a catfish relationship?
Knowing how to end a catfish relationship is an important skill you must have in today's world, seeing as there are many chances of encountering a catfisher in your lifetime.
Well, here are some things to try out.
1. Remind yourself that you are the victim
If you feel any ounce of pity for the catfisher, you may not do the needful. If it takes this, remind yourself that you are the one who has been used.
2. Block them
Across all social media handles, block them ASAP. Also, block every friend you net through them. Ensure that you plug every hole they could have reached you through.
3. Seek justice, especially if they did damage to you
If you got defrauded of your money or suffered abuse in their hands, you may want to seek justice. This is your decision to make, however.
4. Just leave
You have to pick yourself up and take that walk for your sake. If you don't decide to leave them, you'll still be stuck in a toxic relationship with a catfisher.
Conclusion
Meeting and falling for a catfish is a nasty experience nobody wants. Thankfully, there are many signs of a catfish, and if you know what to look out for, you should be able to tell when one comes into your world.
Use the strategies discussed in this article to get your sanity back if you ever find yourself in a relationship with a catfish.
All hope isn't lost. At least, not yet.
Share this article on
Want to have a happier, healthier marriage?
If you feel disconnected or frustrated about the state of your marriage but want to avoid separation and/or divorce, the marriage.com course meant for married couples is an excellent resource to help you overcome the most challenging aspects of being married.
More On This Topic
You May Also Like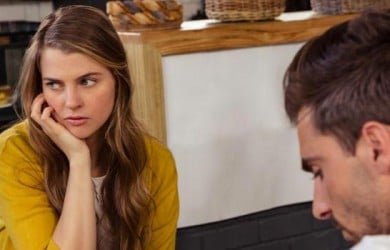 Popular Topics On Married Life