20 Insights in the Law of Polarity in Relationships
You may have heard of the term relationship polarity but are not sure what it means or how to achieve it in your relationship. This article will provide advice on this subject, so you can determine if you are using the law of polarity well in your relationship. Keep reading for more information.
What is the law of polarity in a relationship?
So, what is relationship polarity? This refers to the idea that two poles should be present in each relationship. One person must have feminine energy, and the other should have masculine energy. Together these things will attract.
Does polarity mean attraction?
If you learned about how magnets attract each other in school, you would understand more about the matching energy in relationships that polarity covers. For instance, if there are 2 feminine energies in the relationship, the couple may become unattractive to each other, and the same goes for 2 masculine energies.
In general terms, all relationships need feminine and masculine energy polarity to stay attracted to each other. Otherwise, their personalities could cause them to repel each other.
What is masculine polarity?
Masculine polarity is a bit different than feminine. It may help you stay sure of yourself, make decisions, and be able to work through issues, and it may help the feminine energy in your relationship to become comfortable when you behave this way.
For instance, with a masculine polarity, you may not express your feelings often and be sure when working towards accomplishing something. For more on what does masculine polarity means, you may want to read more on the topic.
What is feminine polarity?
Feminine polarity could lead you to be a nurturer and caregiver. You might be emotional, but you may also be able to feel things that your masculine counterpart cannot.
For instance, you could tend to follow your heart when meeting your goals instead of thinking things out logistically. If you like making new friends and working with groups of people in different aspects of your life, you may have feminine polarity.
For more information on female and male polarity in a relationship, check out this video:
20 insights in the law of polarity in relationships
Regarding relationship polarity, it may not be easy to get it just right unless you work at it. Here's a look at how you can create polarity in relationships when trying to strengthen your bond with someone.
1. Men are typically masculine
While this isn't always the case, men frequently carry masculine energy in a relationship. When they do, they can take charge and make decisions and may also make you feel safe.
If you enjoy how your partner acts with this energy, you should tell them what you like about them.
2. Women are typically feminine
On the other hand, females generally have feminine energy. This is what could cause them to be a good teacher or nurturer when you aren't feeling your best or when they are taking care of pets or children.
Feminine polarity could cause you to be emotional and flighty, but these are things you can work on if they become a problem.
Related Reading: 

Difference Between Feminine and Masculine Energies in a Relationship
3. You need to know what you want
When trying to balance feminine and masculine polarity in your relationship, both of you need to know what you want out of the relationship.
If you are trying to change each other and aren't sure what exactly you want in the future, this can be problematic and lead to arguments.
4. Expressing yourself is key
It is okay to make yourself heard in any relationship. If your partner is doing things that are out of character for them or leaning towards the opposite type of energy than they normally have, you must let them know what is happening.
It could be that there is an issue with the balance of polarity that needs to be addressed.
5. You should be aware of how you act
To maintain a balance of polarity in your relationship, you will also need to be aware of how you act. It won't do any good to tell your partner that they need to change if you aren't willing to do the same.
Perhaps you aren't letting them be the masculine force, and you must concentrate on acting like yourself, so they can too.
6. You can depolarize
Again, it is important to remember that your energy isn't absolute. For instance, you may have feminine energy and still have a few masculine traits.
This is okay as long as it doesn't upset the balance of your relationship polarity. If it does, this could depolarize or change your attraction to one another.
7. You have to work at it
It is unlikely that you will find the right polarity attraction chemistry overnight. This is something that will take work.
However, when you know how you act and how your partner acts, it may be easier to determine who carries which energy and cultivate these things in each other.
8. It's okay to be you
Regardless of your energy type, it is okay to be you. All types of relationships need a balance, so as long as you and your partner are maintaining one, this could be something that works for you.
Of course, if you want to make changes within yourself, this is something that is okay as well.
Related Reading: 

5 Ways Being Self-Aware Can Help Improve a Relationship
9. Feel free to talk about it
You should make sure that you are talking to your partner about the things that are working and what aren't working.
Research indicates that an individual may appreciate discussing your relationship with you when you talk to them the way they like to be talked to.
Keep this in mind when trying to get the point across to your mate, and it may be worthwhile.
10. Be honest with your mate
Hiding things from your mate is usually not a good idea, and this is also the case regarding relationship polarity. Let them know how they make you feel, both good and bad, and how you would like them to change their behavior, if likely.
You will need to be fair and allow them to say these things to you as well, however. When you can talk to each other about emotions, this could be beneficial, especially in a clinical setting.
11. Talk about rules
It would help if you talked about rules with each other in the early part of your relationship. If you have not done so, you need to discuss what your rules are and what their rules consist of.
This can help you not upset each other and know what is expected. For example, if you need someone that is going to have your back no matter what, this is something that you must express to your partner. Otherwise, they will have no idea what you expect.
12. Talk about boundaries
Another thing that you should talk about before considering your relationship polarity is your boundaries. These are the lines that you won't cross in your relationship.
Chances are that there are things you will not put up with, and your partner may have some of their own. Don't be afraid to be as open and honest with your mate as possible, especially if you want a long-term relationship with them.
There's no bad time, to be honest with each other when you are trying to grow your bond.
Related Reading: 

15 Ways of Setting Boundaries in a New Relationship
13. You are a work in progress
Finding the proper relationship polarity is something that may take time. Don't worry if it doesn't happen overnight. You may have been in relationships where you had to take a role that you didn't want to, which now affects how you act.
At the same time, if you are dating someone that you are compatible with, this is something that can change when you can align your energies with each other.
14. You should learn about you
It can be helpful to find out all you can about yourself before you talk to your partner about changes you would like them to make. Consider that they may be acting a certain way because you are acting in a specific manner.
Think about how your actions affect theirs and determine if you both need to address what is happening.
15. Always take time for yourself
To learn more about yourself, you will need to spend time by yourself. Try to take time doing things that you like to do. You may want to learn new hobbies, read books, stream your favorite movies, or hang out with friends. There's no wrong way to be you, so take care of yourself.
16. Reassure each other
As you and your partner learn how to get your relationship polarity on track, you must encourage each other.
When you can talk about what you like about your partner, this may give them the push they need to take the lead in a relationship or allow you to do whatever works in your situation.
Related Reading: 

Seeking Reassurance in a Relationship? 12 Ways to Rest Assured
17. It's okay to talk to someone
You don't have to go it alone while trying to improve your relationship. Talk to people you know and trust if you need advice or want someone to listen to you.
They may have had similar experiences or be able to provide you with their distinct point of view on a subject. They might also be truthful with you about how you act.
18. Therapy can help
There's nothing wrong with working with a therapist if you feel that it could help improve your relationship polarity.
Couples therapy could be a good choice for you and your partner, where you can get a personalized approach to address any concerns or issues you are having within your relationship.
Moreover, therapy may help you discover more about which polarity each of you is expressing.
19. You can find a balance
Finding a balance may take some work, but it isn't impossible. When you have a partner with whom you would like to find polarity, it may be sensible to keep trying.
Talk to them about how you feel, what you like about them, what you don't like, and your future plans. After some time, you may be able to find a balance that works just right for your relationship.
20. Clear communication helps
Be kind and clear each time you talk to your partner. This can help you get your point across, and it may also help you both be able to be true to the energy you give off.
There's no reason to hide your feelings or true intentions, and you likely wouldn't want someone to do this to you. Consider this when you are speaking with your mate, no matter what the topic is.
Related Reading: 

10 Effective Communication Skills in Relationships for Healthy Marriages
Takeaway
When it comes to relationship polarity, this is something that may take some work to get just right with any couple. However, when you are honest with each other, communicate effectively, and can reassure one another regarding what is working and what isn't, these things can go a long way.
Besides, it may be helpful to talk to loved ones, friends, or even a therapist if you need further help talking to your partner, figuring out what type of energy you have, or even addressing your behavior.
Remember that it can take a while to align your energies with each other, so don't be too hard on yourself. When you are both willing to put in an effort, this is something that can keep you going and strengthen your relationship. Keep at it and lean on each other for the support you need to keep going.
Share this article on
Want to have a happier, healthier marriage?
If you feel disconnected or frustrated about the state of your marriage but want to avoid separation and/or divorce, the marriage.com course meant for married couples is an excellent resource to help you overcome the most challenging aspects of being married.
Learn More On This Topic
You May Also Like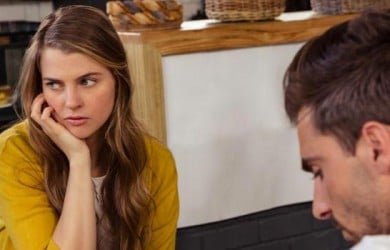 Popular Topics On Married Life