10 Relationship Check-Ins Questions to Ask for Relationship Health
Relationship check-in questions are game changers when taking care of your marriage.
Consider this: if you have a health concern, you see a doctor. You get the issue looked at and likely ask questions about why this happened. Or you may go for a checkup when nothing is wrong to ensure your body stays in tip-top shape.
Similarly, whether your relationship is in turmoil or you have a happy marriage, it's smart to schedule weekly relationship check-in questions to ensure you and your spouse are satisfied.
Keep reading for questions to ask when starting a relationship and healthy relationship check-in questions to ask at any stage of your love.
What is a relationship check-in?
Relationship check-ins are weekly or monthly meetings where you and your spouse discuss what's going on in your life and your relationship.
It's a time to open up about what you love in your marriage and tactfully address issues that you would like to see improved upon.
Couples check-in questions facilitate open communication and build a stronger connection with your spouse.
Do you have an incompatible relationship? Watch this video for signs.
Ten relationship check-in questions to ask for relationship health
Whether you are looking for questions to ask when starting a relationship or have been with your partner for a while and want to dig deeper, these relationship check-in questions will flow the conversation.
1. How do you feel we're doing with communication?
Because communication is so powerful in relationships, this is one of the most important check-in questions.
Does your spouse feel like you communicate well?

Do you feel seen and heard by your partner?

Do you both practice active listening, or are you just waiting to cut in a while your partner is speaking?

When you disagree, how can you focus better on solving the issue as a team instead of taking your frustrations out on one another?
Related Reading: 

The Importance of Communication in Relationships
2. Are you satisfied with our sex life?
There are more important things in life than sex, but it's still a huge part of a healthy marriage. Studies reveal that marital satisfaction is significantly associated with a great sex life – so if things aren't going your way in the bedroom, it's time to speak up.
Couples who communicate about their sex life experience greater happiness, higher levels of sexual satisfaction for both partners, and increased orgasm frequency in women.
3. Is there anything you want to talk about?
Another one of our favorite weekly relationships check-in questions is all about your emotions. How are you both feeling this week?
Was there anything you've done to hurt each other?
Anything you want to get off your chest and clear the air about?
Now is the time to find calm and tactful ways to tell your partner either A) that they hurt you or B) that you are genuinely sorry for any pain you've caused.
4. How is your mental health?
Relationship check-in questions don't always have to be about the relationship itself. It can simply be a question about your spouse.
Life is stressful and that can take a toll on mental health. Don't be afraid to ask your partner how they're doing and whether there is anything you can do.
5. Do you feel close to me?
The Journal of Happiness Studies found that couples who consider each other their best friend expressed marital satisfaction two times higher than the average couple.
One of the questions to ask early in a relationship is whether your spouse feels close to you and if there's anything you can do to be more open with them.
6. Is there anything you would like me to do?
Healthy relationship check-in questions are about showing love, support, and compromise to your spouse.
If your partner seems especially overwhelmed (or even if they don't!) this week, ask them if there's anything you can do to make life easier for them.
Even something as simple as cleaning up the house or brushing the snow off their car in the morning can bring so much love into your marriage.
7. Are we spending enough time together?
Are you and your partner getting enough "we" time? Research shows couples experience a reduction in stress and an increase in happiness when spending quality time together.
Between work and perhaps raising children, there may not seem to be enough time to go around, but prioritizing quality time with your partner will strengthen your relationship more than you thought possible.
8. Do we trust each other?
Great questions for a relationship are: Do you trust each other? Why or why not?
No one is perfect, and the longer you are together, the more likely you will do something to hurt each other. This past hurt can make trust harder to gain and give.
By asking relationship check-in questions about trust, you and your spouse will be able to dig deep and start repairing the damage done by past mistakes.
Related Reading: 

15 Ways on How to Build Trust in a Relationship
9. Is there anything stressing you out?
This is one of the good weekly relationship check-in questions because your partner may be taking on excess stress without telling you. This may lead to out-of-character decisions or actions that could weigh your relationship.
Ask your partner if anything is causing them anxiety and reassure them that you are always there to talk and listen.
Related Reading: 

20 Causes of Stress in Relationships and Its Effects
10. Are you happy?
This is one of the more important relationship check-in questions, so it's best answered honestly – even if honesty may hurt you or your partner's feelings.
If you aren't happy, tell your spouse what you feel your relationship is missing and actively work on making things better.
If you are happy, tell your partner how much you love them and shower them with compliments.
Weekly relationship check-in questions aren't just there to point out issues in the relationship. They are designed to draw couples closer together and to find joy in things that are going great while working together as things that could use tweaking. So don't be afraid to celebrate the good!
5 questions to evaluate the health of your relationship
Relationship check-ins help couples be open with each other about how they are feeling, but sometimes the questions you need to ask aren't for your partner.
If you are having a witchy feeling about your relationship, it may be time to ask yourself some hard questions:
1. Are you able to communicate?
A lack of communication is a common factor in divorce, so it's clear how important it is to keep the lines open. If you and your spouse can't seem to talk without arguing or pushing issues under the rug, it may be time to re-evaluate your relationship.
2. Do you feel safe in your relationship?
It's important to feel at peace when you are with your spouse. This is done by open communication, active listening, and respecting consent and boundaries.
It is not easy to leave an abusive relationship, but if your partner is not accountable, hurts you emotionally or physically, or always has to get their way, it may be time to consider therapy or finding somewhere safe to stay.
3. Does your relationship bring out the best in you?
This is one of the more important questions to ask when starting a relationship (or if you are in a newer relationship.) Does your partner bring out the best version of yourself?
Someone you're meant to be with will make you feel empowered and supported and bring out your positive side.
An unhealthy relationship will make you feel unsure of yourself and bring negative emotions.
4. How do you feel when you're around your partner?
When doing relationship check-ins with yourself, knowing how you feel about your partner is important.
You want someone who is going to make you feel motivated, happy, and excited to be around them. Not bored, anxious, or sad.
Related Reading: 

10 Ways to Make Your Partner Feel Secure in a Relationship
5. Does the relationship feel balanced?
Do you feel like you constantly have the lower hand in your relationship? Your partner should never make you feel less than them.
Learning how to do a relationship check-in with your partner can open dialogue between you and create a healthy balance.
How to schedule relationship check-ins
Schedule a check-in by choosing a time when you are both calm and relaxed each week.
Have a standard list of check-in questions for couples, or change the questions you ask each session. This will keep the conversation flowing and help you to be open and honest about your needs.
You can do weekly relationship check-in questions or do them monthly. Either way, having regular couples check-in questions will strengthen your partnership and help you get what you want out of your relationship.
Related Reading: 

20 Effective Ways to Put Effort in a Relationship
Relationship check-ins FAQ
If you're still feeling unsure about what kind of relationship check-in questions you should ask or how to schedule weekly relationship check-in questions, don't worry. Here are some frequently asked questions about relationship check-ins.
Should you have relationship check-ins?
If you want to improve communication and build a happier, stronger relationship, you should do a couple of check-in questions.
How do you ask for a relationship check-in?
Learning how to do a relationship check-in may seem daunting at first. Asking your partner to have a formal "talk" may seem like you're about to have a serious, scary relationship conversation.
Relationship check-ins are nothing to be afraid of. After a few, you and your spouse should look forward to getting close and talking.
Let your spouse know that you would like to devote (5, 10, or 20 minutes) to talk and ensure you feel fulfilled and happy in the relationship.
What are some deep relationship questions?
If your partner has trouble opening up, these relationship check questions will help them unleash their softer side.
What was something hard you had to deal with this week?

What makes you feel the most supported?

When was the last time you cried?

What is stressing you out lately?

Who has had the biggest impact on your life, for better or worse?

Do you believe in God?
What are examples of long-distance relationship questions?
It is hard to be away from your spouse for a long period. Long-distance relationships test love and loyalty; if you come through the other side, your relationship will be stronger than ever.
Research suggests that long-distance relationships are more satisfying when there is a plan to close the distance one day.
Here are some healthy relationship check-in questions to deepen your long-distance love.
How often will we visit each other in person?

If we plan on being together, will we move to you, come to me, or meet somewhere in the middle?

What are our expectations for the future?

How will we handle temptations that arise while we are apart?

What can we do to calm any jealousy or insecurities we feel from being apart?
The takeaway
Relationships are healthiest when partners communicate and feel heard. This is why relationship check-in questions are so helpful. They allow you and your spouse to celebrate what you love about each other while tweaking areas that may need work.
Share this article on
Want to have a happier, healthier marriage?
If you feel disconnected or frustrated about the state of your marriage but want to avoid separation and/or divorce, the marriage.com course meant for married couples is an excellent resource to help you overcome the most challenging aspects of being married.
More On This Topic
You May Also Like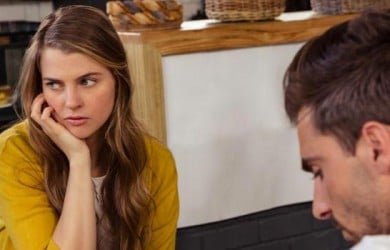 Popular Topics On Married Life