5 Reasons for the Increasing Popularity of Searching for a Hookup Buddy
Searching for buddies online has become a trend. Why? The idea of meeting someone good-looking and having fun without responsibilities sounds good to many people.
Finding a hookup buddy is not that difficult: there are plenty of dating sites that focus on bringing casual hookup connections.
At such platforms, you can look through profiles of good-looking girls and boys, send messages and arrange dates.
Hookup sites are for "free in mind" people. Usually, the members of such sites are either married, or people who are dating but they are looking for something more. Something that would make their blood rush.
So here are 5 reasons why seeking a hookup buddy has become a trend:
1. It's uncomplicated
Spending free time with a hookup buddy is easier than building a relationship.
If you are not vulnerable and you know that you won't "catch feelings," then finding sexy hookup buddies for spending a fun time together may be a great idea for you.
A hookup buddy won't make you feel responsible or that you own anything which is totally opposite of being in a relationship.
You can meet up whenever it suits you both. You can experiment with things that you were shy about telling your partner.
Not everyone sees a romantic relationship as a goal in life. Nowadays, many people don't want to be tied down.
Casual hookups bring happiness and the feeling of liberation, while most relationships don't.
Some enjoy being free from responsibilities. They enjoy the freedom and once they feel someone possessing more of them and their time, they move on. It's liberating.
People like to break the rules, so being completely free and doing what you want without complications is the first reason why many like see the benefits of having a friend with benefit.
2. It's a chance to make your desires real
Many people, even those who have been married for years, neglect their sexual desires.
People are scared to say that they get turned on by the idea of threesome, handcuffs, latex, BDSM, or sex in a public place.
Many of us can't tell the truth because we are scared of people who we love and care for, changing their opinions on us. However, such secrecy affects your relationship.
Research suggests that a higher sexual desire discrepancy between married couples undermines the relationship well being and negatively affects the degree of marital satisfaction.
On the other hand, finding your hookup buddy enables you to feel free and non-judgemental. It releases the weight off the shoulders.
But why are the people who have been dating or married for years shy to talk about their desires? There are a few reasons:
One of the partners is scared to hurt the feelings of another.

Some desires may sound "dirty"; therefore, a partner can feel embarrassed to talk about them.
This is why it's easier to find a hookup buddy and share wild desires with him or her.
There are many people who want to experiment and experience different sensations, and at a hookup site, men and women can find like-minded people who are looking for similar experiences.
Also watch: Stripping down the Hookup culture.

3. It's a way to find a better partner
A recent study shows that looking for a hookup partner is a hope for women to find a better partner.
Moreover, another study found that couples who became sexually involved as friends or acquaintances and were open to a serious relationship ended up just as happy as those who dated and waited.
So, most women search for friends with benefits to improve their emotional state while men seek physical satisfaction only.
The majority of women who look for hookups hope to find better partners with whom they would feel more safe, satisfied, and surrounded with care.
Finding a hookup partner is often related to the feeling of loneliness in a relationship. Not many women can tell their partners how they feel, what they lack, and what they don't like.
This is why a hookup is an escape towards a better life, happiness, and both emotional and physical satisfaction.
4. It's perfect for people who know what they want
Why friends with benefits are the best relationships? Because with a hookup partner, you can be completely honest.
People who are looking for partners for romantic and long-term relationships want to be perfect.
Therefore, they rarely reveal all their dislikes, fears, and things about their characters on first dates.
However, with a hookup buddy, it's easy to be totally honest since you have nothing to lose.
Married people who search for hookup partners are not scared to say what days they want to see their buddies, how they prefer to spend time together when it's best not to call each other, and what turns them on to make sex as good as possible.
It sounds crazy, but this is how hookup works. Men and women on various hookup platforms search for a one-night stand, so they don't have to deal with all the coming consequences.
5. It's a chance to try same-sex relationships
The number of married people who have at least once thought of trying same-sex relationships is huge, but not many are willing to talk about it.
It's not about wild desires that you can't tell your partner about, it's about wanting a connection with a person of the same sex.
Finding a hookup buddy of the same sex is a great chance to try something that you have always wondered about.
The benefit of meeting a hookup buddy of the same sex is finding out about yourself: whether you are really attracted to people of the same sex not just physically but emotionally, or it was one of your fantasies that you turned into a reality.
Conclusion
Nurturing a relationship requires much time and effort. For married people, an opportunity to have fun by switching their minds off sounds great; this is why they head to hookup sites.
Hookup websites and apps give people much freedom. It's exciting, looking through profiles and choosing people by their appearance, not thinking whether he/she will put up with your busy schedule, parents, and snoring.
For many, the idea of finding a hookup buddy sounds very attractive.
Reviewing hundreds of profiles of sexy women and men, chatting with them and exchanging photos can also be entertaining.
However, not everyone who joins a hookup site actually cheats on his/her partner. Many get satisfied with texting and seeing half nude photos.
It's important to not punish yourself for what you want but understand what you lack. Often an honest conversation with your partner leads to getting closer and satisfying each other's desires.
Share this article on
Want to have a happier, healthier marriage?
If you feel disconnected or frustrated about the state of your marriage but want to avoid separation and/or divorce, the marriage.com course meant for married couples is an excellent resource to help you overcome the most challenging aspects of being married.
More On This Topic
Recent Articles
You May Also Like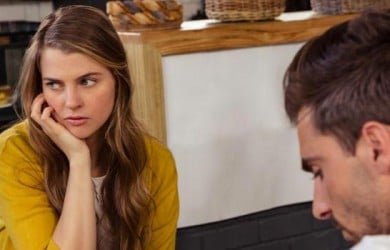 Popular Topics On Married Life