How to Understand Idealization in Relationship: Role & Reasons
We are genetically driven in many ways to pick romantic partners who are dependable, consistent, and trustworthy. This form of relationship decreases future uncertainty and alleviates safety issues.
The irony is that once you've established this temporary home at a particular point, the groundwork you've constructed with so much effort to ensure stability begins to feel restricting, triggering feelings of captivity and a desire to flee.
How do the attempts to build a dwelling in another person tend to feel like such a self-imposed prison? The ongoing tug between stability and adventurous life may urge you to hunt for the missing element.
What happens in idealization in relationships
What does idealization mean in relationships? Anyone who has been "adored" will tell you that idealization in relationships is a one-way ticket to your little hell.
Of course, it wouldn't begin that way, and most people, unless they're gluttons for misery, wouldn't stay around long enough to ride the relationship roller coaster.
While the honeymoon period is unavoidable when falling in love, idealization is not. The two are misunderstood because they happen simultaneously at the beginning of a brand-new relationship.
When the honeymoon period wears off in a healthy relationship, it is replaced by a continuous serenity filled with emotional connection and solidity in which both parties begin peacefully settling into the couple's routines.
Unfortunately, when it comes to idealization, consistent calm is substituted by anxiety and despair. Physical affection and consistency are replaced by coldness and emotional unavailability, and pleasantly falling into a pattern is replaced by boredom.
That is why, in most relationships, avoiding idealization for as long as possible is the primary goal. When a pair falls out, depreciation is never too far behind. Drop in the worth happens whether it starts with subconscious thoughts, sarcastic smiles, hurtful words masked as 'jokes,' or blatant slurs.
Many couples fail to recognize that the sensation of deadness results from their own creation.
Couples not only create it, but they also keep the uninteresting and predictable elements of their connection to defend and safeguard against the dread of instability. Making matters worse, the other person's impression is centered on the notion that they are unusual and unique and that this person carries the promise of escape from daily challenges.
That fantasy is gradually replaced by an even more realistic perception, a stage known as "idealization in relationships." Many relationships fail to survive this stage because the desire for the other to come close to the vision is typically too powerful to appreciate them as they are in life.
Because you are hesitant to let go of your idealistic vision of people, it is difficult to perceive them realistically; instead, you will constantly force the partner into the unrealistic images you've made for them.
After repeated disappointments and disillusionment, it becomes tempting to retreat inward to avoid the hardships that arise with relying on and being willing to trust people.
Watch this video that talks about how expectations and not expressing them makes everything challenging for us.
Is it healthy to idealize your partner?
What if someone tells you that you cause idealization in relationships rather than your partner? Abraham Maslow's theory of human motivation describes our most basic requirements and how these needs impact our actions during our lives.
So, how do our fundamental requirements influence idealization? Anyone who "shows their love" through idealization has a dangerous misconception of love, which typically begins in youth and manifests in how they "appreciate" an individual.
For example, children who had parents and family who "adored" them based on how well they performed in school were taught that "love" is dependent on image and making others "pleased." As a result, these children figured out they needed to accomplish something to keep "earning" love and appreciation.
On the other hand, a child may have grown up observing their mother pursue relationships to pay her electricity bills. The lesson is about taking advantage of opportunities and putting herself first.
The child is learning that their necessities must always take precedence over love. In any case, both instances are harmful ways of learning about love.
Idealization is not love because it is not selfless or altruistic. For the opportunists, idealization is a weapon to fulfill their demands while "loving" you. For people-pleasers, idealization is used in the expectation that another person will genuinely love them.
Relationship success, however, depends on the ability to perceive others truthfully. Having an accurate image of your partner is critical since you collaborate in a way that balances each other's shortcomings and doubles down on each other's virtues.
It is critical to comprehend the temptation of the dream of strangers rather than the available lover. As a result, you may pursue unknown or unavailable companions because their absence eliminates the fear of rejecting them.
In addition to the fact that they thought their relationship was truly loving, the reason idealization affects a person so hard is because their concept of love has now been distorted as a result of being devalued and deserted as part of a toxic habit.
Suppose they struggled with feeling confident enough in the past. In that case, they're now likely dealing with despair and significant self-esteem difficulties, where the dozens of moments they were told they were wonderful won't compensate for the one insult that made a fool of their smiling face.
Fantasizing and idealizing about the person you have a relationship with can be much more harmful. Idealization encourages you to continue living in fiction at the expense of your mental capability to prioritize and manage real-world issues rationally.
This is the devastation produced by idealization when it might be so simple to simply unlearn this toxic pattern.
Reasons you should stop idealizing your partner
It's usual for couples to idealize relationships. However, idealizing your partner is detrimental to your long-term connection because idealization is not the same as falling deeply in love with one another.
It may sound strange, but trying to mold your partner into someone from your fantasy can harm your marriage. Let's look at why this is so.
1. Idealization results in unfulfilled expectations
Unfulfilled expectations are a key source of conflict in most partnerships.
Most people go through a stage in their relationship where they communicate, consider, and change their aspirations for one another. However, when you idealize your partner, your ambitions exceed what they would be in a successful relationship.
If you idealize your partner, you want them to meet your needs and demands constantly. This is not reasonable. Really no person can meet everyone's desires and expectations.
Related Reading: 

5 Relationship Expectations That Are Harmful for Couples
2. Idealization inhibits empathy
If idealization results in unfulfilled expectations, it stands to reason that it will impede your capacity to empathize with them.
One of the most crucial abilities in marriage is the capacity to put oneself in the shoes of the other. Your idealistic vision of your partner is a piece of fantasy. When that viewpoint is finally shattered, you'll struggle to see things from their standpoint since you'll be preoccupied with your disappointments.
Becoming this inwardly focused inhibits empathy. So, if you idealize your partner, stop right now. Allowing them to be flawed beings and loving them anyway will spare you both a lot of sorrow eventually.
Related Reading: 

How to Build Empathy in Relationships
3. Dehumanization follows idealization
Idealization presumes that your partner is flawless and would never harm or fail you. It also expects your partner to do what is beneficial for you, no matter what.
In any case, your partner is simply human, exactly like you. Turn the script around to see what kind of harm idealization may cause.
How would you behave if you realized your partner expected nothing less than your absolute best, with no missteps? Uncomfortable? Flawed? Are you afraid of hurting them?
While we must always do our best in marriage and life to accomplish the right thing for our partner, there will be moments when we fail to live up to our standards. It's just the way humans are.
Final thoughts
What is idealization in relationships? Idealization is a natural part of coming of age through childhood and adolescence. Our inclination to idealize should begin to fade in adulthood, giving way to a more holistic and integrated understanding of others and ourselves.
When idealization is not correctly implemented into adulthood, it is frequently followed by a cycle of devaluing. This is recognized as the idealization and devaluation loop, which can be seen in various mental conditions and behavioral issues.
You may be idealizing your partner because of unaddressed trauma. Spend some time taking good care of yourself and embracing yourself as you are, including your imperfections.
Accepting that humans are complicated beings with both positive and negative characteristics is the secret to overcoming your urge to idealize. The first step toward integrating the contradictory facets of your personality is to take care of yourself.
Share this article on
Want to have a happier, healthier marriage?
If you feel disconnected or frustrated about the state of your marriage but want to avoid separation and/or divorce, the marriage.com course meant for married couples is an excellent resource to help you overcome the most challenging aspects of being married.
More On This Topic
You May Also Like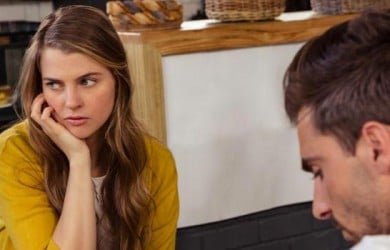 Popular Topics On Married Life