10 New Year's Resolutions for Couples to Keep the Flame Burning
The beginning of the year is the time to think about some resolutions to make your life even better in the months that lie ahead. Whether you want to achieve more at work, get fitter, or take up a new hobby, this is the time to set your intentions.
It doesn't matter how you've fared on achieving personal goals in the past, don't forget to set New Year's resolutions for your relationship. Just like any other aspect of your life, your relationship needs care as well. Keeping the flame burning isn't always easy. Make these resolutions today, and keep the flame of your relationship burning bright and steady into the new year and beyond.
10 New Year resolutions for couples
Check out these resolutions that you both can work on together and build a stronger bond:
1. Make time for each other every day
You and your partner have chosen to be part of each other's lives. That means really being a part, not an afterthought. Don't let your only conversation be a quick rant about work or a hurried dinner with the kids.
Make time every day, even if it's just ten minutes, to sit and have a drink together and talk about anything and everything. You'll feel closer, and your relationship will grow stronger as a result.
2. Focus on teamwork
Your relationship is a team effort, yet so many couples forget this.
When the going gets tough, it's all too easy to see your partner as your enemy. But aiming to win arguments or score "brownie points" builds a bad feeling. Remember, you're in this together. Make a resolution to aim for harmony, respect, and nurturing, not fighting.
3. Value what makes your relationship unique
Every relationship is unique. Maybe you have your own silly words for everyday things. Maybe you bond over philosophical debates. Maybe their lust for life balances your homebody tendencies. Whatever makes your relationship unique, value it! Appreciate everything that makes your relationship what it is, and take time in the next year to enjoy more of those things.
4. Find time for yourself too
If you want to be at your best in your relationship, you need to be at your best outside of it too.
It's hard to keep the flame alive if you're relying on your partner to make you happy or feeling stressed and drained. Find time to nurture yourself, whether that's through hobbies or time with good friends. You'll feel refreshed and enlivened, and your relationship will benefit.
5. Make your own routines
The routine doesn't have to be boring!
Creating your own special routines for just the two of you is a simple but powerful way to keep your relationship flame alive in the coming year. Maybe they always make breakfast while you brew the coffee. Maybe you have a movie night with popcorn every Friday.
Perhaps you give each other a foot or shoulder rub every night before bed. Creating and maintaining these little daily routine builds intimacy and gives you couple time even in the midst of the busiest days.
6. Say I love you in your own way
Saying I love you regularly helps you both feel valued and cared for. Saying the words is lovely, and if that fits you both, do that. But if you don't tend to say I love you a lot, that's ok too.
Find your own ways to say I love, whether that's leaving a silly note in their lunch bag or sharing things you think they'd like on Pinterest. Learn your partner's love language and help them learn yours, and your relationship will thrive.
7. Take interest in each other
Having separate hobbies and interests is healthy in a relationship– you don't have to do or enjoy everything your partner likes. Taking an interest in each other's lives is important, though.
Does your partner play a sport? Ask them how it's going and be overjoyed when they succeed. Are they having challenges at work? Show support and caring. Sharing each other's ups and downs will make you feel closer.
8. Create space for intimacy
As life gets busier and your relationship moves beyond the honeymoon phase, it's easy to let your sex life become routine or slide altogether. Make time for intimacy by setting aside regular time in the evenings or at the weekend to enjoy time together.
Get a babysitter if you have kids, lock the doors, and switch off your phone. Communicate regularly about what you both enjoy and would like to try.
9. Try something new together
Trying something new together is a powerful way to bond. Whether you've always wanted to learn to ski, or you make a spontaneous decision to take up salsa or try eating at a new restaurant, your relationship will benefit.
You'll enjoy some quality time together and have plenty to talk and laugh about afterward as well.
10. Keep social media out of your relationship
Social media is brilliant for keeping up with friends and family, but it has its downsides too. Seeing other people's relationships on social media can make you doubt your own. Remember, people only show what they want others to see on social media.
Resist the urge to vent about your partner on social media, too. They deserve more respect than that, and you'll feel better for not indulging in gossip.
Check out this video that discusses how social media could possibly ruin a relationship so that you can avoid these traps:
Resolve to create healthy relationship goals
New Year resolutions will give you an opportunity to bring improvement in each other and change the way you both look at the relationship. Pick your favorite resolutions and make them your priority next year – your relationship flame will burn brighter than ever.
Share this article on
Want to have a happier, healthier marriage?
If you feel disconnected or frustrated about the state of your marriage but want to avoid separation and/or divorce, the marriage.com course meant for married couples is an excellent resource to help you overcome the most challenging aspects of being married.
You May Also Like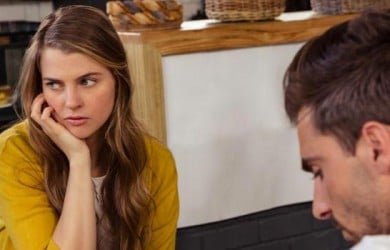 Popular Topics On Married Life