Metrosexuality: What It Is & the Signs and Being With a Metrosexual Man
Metrosexuality, a term coined in the 1990s, has gained popularity recently. The metrosexual man describes men who take great care of their appearance and embrace traditionally feminine grooming habits. This article explores what metrosexuality is, its signs, and what it's like to be with a metrosexual man.
What does metrosexual mean?
In a study by Putranto et al. (2020), it's said that metrosexuality is a term used to describe men who take a keen interest and great pride in their appearance and grooming habits. When defining metrosexual, we must understand that it combines the words "metropolitan" and "heterosexual" and is widely used for urban men.
As said earlier, it was first coined in the 1990s to describe urban men who were fashion-conscious and invested in their physical appearance. Metrosexuality represents a modern approach to masculinity, where men increasingly embrace self-care and style.
Who is a metrosexual man?
Metrosexual men are typically well-groomed, fashion-conscious, and aware of the latest trends in style and beauty. Moreover, a metrosexual man isn't afraid to invest time and money in his appearance and enjoys shopping for clothes.
Moreover, metrosexual men often indulge in personal care and fashion products. In essence, a metrosexual male is someone who places a high value on looking good and feeling confident in his skin.
5 signs of a metrosexual man
Are you dating a metrosexual man or trying to date one? You might be thinking, "what could be the metrosexual characteristics of this set of people?" We have compiled some signs you can expect from a metrosexual man.
1. Fashion-forward
A metrosexual man is often in tune with the latest fashion trends and takes pride in his appearance. Metrosexual men like to dress well and keep up with the latest trends in their well-curated wardrobes. They spend time putting together stylish outfits and take pride in their metrosexual style.
2. Grooming habits
A metrosexual man often takes grooming seriously and has a meticulous grooming routine. He takes care of his skin, hair, and overall hygiene. He's likely to have a well-groomed beard, styled hair, and a skincare regimen that's more extensive than the average guy.
Related Reading: 

15 First Night Tips for Groom
3. Attention to detail
A metrosexual man has a great sense of style and a keen eye for detail. He's likely to be organized and meticulous in his approach to life. Metrosexual men may tie their shoelaces to the color coordination of their outfits, and they strive for perfection.
4. Appreciation for self-care
A metrosexual man values and understands the importance of self-care. He's likely to engage in activities like spa treatments and other wellness practices to maintain his mental and physical health.
Elle Kelly, a professional dietitian, describes the characteristics of an unhealthy relationship with exercise and provides guidance on how to enhance it.
5. Open-mindedness
One of their best metrosexual characteristics is their open-minded personality. A metrosexual man is open-minded and accepting of others' differences. Metrosexual men have a keen interest in art, they appreciate everything related to it and are always willing to explore and learn new things.
If you're dating a metrosexual man, expect him to be confident, well-groomed, and fashion-forward. Embrace his metrosexual characteristics, and you may just learn a thing or two about grooming and style.
Is metrosexual a part of the LGBT community?
As mentioned before, metrosexuality is a term used to describe men who prioritize grooming and fashion, and it's not necessarily related to sexual orientation.
While some may associate it with the LGBT community, being metrosexual has nothing to do with one's sexual preference.
It's a common misconception that all metrosexual men are gay, but this isn't the case. Being metrosexual doesn't mean one is part of the LGBT community, and it's important to understand that fashion and grooming preferences don't necessarily dictate one's sexual orientation.
10 benefits of being with a metrosexual guy
When it comes to dating, some women may find themselves drawn to men who exhibit metrosexual characteristics.
While there is no one-size-fits-all definition of metrosexual men, there are some common characteristics that they possess. Here are ten potential benefits of being with a metrosexual man:
1. Grooming and personal hygiene
Metrosexual men take pride in their appearance, which means they often put time and effort into and have excellent grooming, dress well, and maintain their personal hygiene.
Related Reading: 

How Oral Hygiene Affects Your Relationship
2. Fashion sense
In their article, Lertwannawit and Guild (2010) say that metrosexual men are known for their impeccable fashion sense and style, which can be appealing and attractive to some partners. So, you can expect to have a well-dressed partner.
3. Attention to detail
Metrosexual men pay attention to the details, which means they are likely to remember the little things that matter to their partners.
4. Confidence
A metrosexual man exudes confidence. He's secure in his masculinity and doesn't feel threatened by non-traditional gender roles or expressions. This can be a huge turn-on for their partner.
Related Reading: 

25 Ways To Exude Confidence In Your Relationship
5. Open-mindedness
A metrosexual man is often open to trying new things, whether it be new cuisines or activities. He's likely to be interested in exploring fashion, cuisine, culture, and experiences beyond his comfort zone.
6. Emotional intelligence
Metrosexual men are often in touch with their emotions and have high levels of emotional intelligence, making them excellent communicators and partners. They may be attentive to their partner's needs and feelings.
Related Reading: 

5 Tips for Enhancing Emotional Intelligence in Relationships
7. Independence
A metrosexual man is often self-sufficient and can take care of themselves, which can be a relief for their partner.
8. Social skills
Metrosexual men are often outgoing and have excellent social skills, making them great at networking and socializing.
9. He's respectful
By valuing self-care and grooming, a metrosexual man will likely have greater respect for himself and those around him. This can translate to a partner who feels respected and valued.
10 Self-care
Metrosexual men prioritize self-care such as meditation, yoga, or therapy to maintain physical and emotional well-being. In this way, they are likely to encourage their partner to prioritize their self-care as well.
While not every woman may be attracted to a metrosexual man, those who are can potentially reap these benefits and more from their relationship.
Related Reading: 

What Is the Difference Between Self-Care and Selfishness
Is a metrosexual guy more womanly than you?
It's a common misconception that metrosexual men are more feminine than other men. Being a metrosexual has nothing to do with gender or sexual orientation. Instead, it refers to a man who takes care of his appearance and grooming to a high degree.
Saying that being a metrosexual man means being "womanly" is a myth that should be dispelled. In fact, being a metrosexual man can be seen as a sign of confidence and self-care, and it doesn't take away from his masculinity in any way.
Frequently asked questions
In this section, we have compiled and answered some commonly asked questions about metrosexuality for you.
Do girls like metrosexual guys?
While personal preferences vary from person to person, many women find metrosexual men attractive. This is because they prioritize personal grooming and fashion, making them appear confident and put-together (Hall & Gough, 2011).
Moreover, metrosexual men often have a keen eye for design and style, which can translate into thoughtful and creative gestures in a relationship. Ultimately, whether or not a woman is drawn to a metrosexual man depends on her individual taste and what she values in a partner.
What is the lifestyle of a metrosexual?
Metrosexuality is a lifestyle characterized by men who place significant importance on their grooming and fashion choices. The lifestyle of a metrosexual man is often associated with being fashion-forward, health-conscious, and having an appreciation for the finer things in life.
He places great importance on his appearance and strives to maintain a polished and well-groomed look. This lifestyle emphasizes self-care and keeping up with the latest fashion trends.
Is it okay for a straight man to be metrosexual?
In short, yes, it's absolutely okay for a straight man to be metrosexual. Metrosexuality isn't about one's sexual orientation but rather a lifestyle choice. It's all about self-care and personal style, which isn't limited to any particular gender or sexual orientation.
It's important to remember that gender roles and stereotypes shouldn't dictate how someone presents themselves. Ultimately, everyone should be free to express themselves in a way that makes them feel confident and happy.
Final takeaway
In conclusion, metrosexuality is a lifestyle choice that challenges traditional gender roles and embraces a more inclusive view of masculinity. Being with a metrosexual man can be a unique and exciting experience, but understanding the signs of metrosexuality can help you appreciate the effort that goes into his style.
However, it's important to recognize that personality traits and compatibility are ultimately more important than outward appearance. Communication and mutual respect are keys in any relationship, and if you find yourself struggling, couples therapy can be a helpful solution to work through any issues that may arise.
Share this article on
Want to have a happier, healthier marriage?
If you feel disconnected or frustrated about the state of your marriage but want to avoid separation and/or divorce, the marriage.com course meant for married couples is an excellent resource to help you overcome the most challenging aspects of being married.
You May Also Like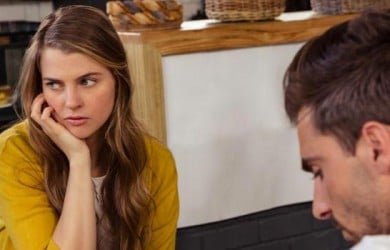 Popular Topics On Married Life