8 Effective Long Distance Relationship Love Lessons
Thinking of long distance relationship love lessons brings the chorus from the old Carol King song to mind: "You're so far away, doesn't anybody stay in one place anymore?" Various factors impact long distance relationships; however, they can function just as well as other relationships.
The fact is recent studies have shown that people with strong emotional connections regardless of physical proximity function better in their relationships.
We all know of couples or within our romantic relationships where distance plays a role in establishing and maintaining a relationship.
Related Reading: 

15 Signs of True Love in a Long-Distance Relationship
8 long distance relationship love lessons
Long distance relationship tips can help you healthily navigate the distance, taking into consideration communication and intimacy.
Following are some long distance relationship love lessons for silencing the perception that assumes that the average length of a long distance relationship is usually short.
1. Set boundaries
Setting clear boundaries in relationships, whether it is long distance or not, is a primary aspect of enhancing a relationship's health. Having rules and guidelines ought to be communicated and understood from both perspectives.
If those parameters are not clearly defined, couples may find that mistrust and assumptions can lead to the deterioration or even breakup of the relationship.
While couples assume monogamy, this term may be misconstrued or mean different things to different people. Anything left ambiguous can stifle the relationship communication and create misunderstandings.
Be clear about certain things that may need to be put on the table. Discuss what is mutually allowed or accepted. Although these conversations may not be easy, they are necessary if couples desire to make a long distance relationship work.
Related Reading: 

6 Types of Boundaries in Relationships & How to Maintain Them
2. Daily check-ins
Being part of the each other's daily lives is essential to feel and stay connected. Feeling isolated is one of the reasons long distance relationships falter.
Create a semblance of a daily routine for staying tuned in by having checkpoints, especially at the beginning and end of the day. It is a healthy routine that establishes the connection and good habits to create good results.
Use technology and creativity. Video chatting while having coffee together or a morning text scheduled or sent simultaneously (just like an alarm clock) or better yet, a recording of your partner's voice instead of the built-in alarm sound. How exciting to hear your lover waking you up!
Checking in to simply say good morning is never a failure. It would be similar to physically waking up next to each other. Sending love notes, a snapshot of your day at the moment, and punctuating the end of the day lets your partner know you are thinking of them.
Be sure to establish boundaries and frequency as too much or too little can cramp the relationship.
Related Reading: 

20 Common Reasons for Relationship Break-Ups
Watch this video to learn more about how to enhance and not break relationships through communication:
3. Let's talk about sext, baby!
Sexuality is creativity.
Making sure that each other's sexual needs are met ensures that distance has no control over your desires. So, you need to go all in to spice up a long-distance relationships.
When you are 'seeing' your partner on video chat, does it mimic the way you'd be if you were meeting in person? Well, that might be so depending on how you'd look hanging out at home. This is where creativity and sex appeal need to be taken up a notch.
Creating intimacy begins with a good attitude, openness and freedom to express yourself and physical distance should heighten this. Virtual sex talk, sexy photos, and having an overall mystique can turn up the heat while enhancing pleasure.
Follow each other around the house or set up your chat space/ cameras where it's most flattering and appealing. As with anything you do together, agree on what you both are comfortable with. You have these moments until the next time you meet, so enjoy playing!
Related Reading: 

5 Ways You Can Spice up a Long-Distance Relationship
4. Spice things up
Following up on the sex talk and flirting with each other means that no one will be left high and wet! In that case, your fantasies can play out in a healthy relationship where distance is a factor.
And speaking of play, sex toys are a fantastic way to spice up long-distance relationships. Sometimes in newer relationships, couples may not discover all the erogenous zones of their partner in the act of intimacy.
So ordering each other a sex toy the other might like and then using them together on video talk or simply being on the phone with each other, creates a sense of physical closeness even when you're far away. Treat this as one of the long distance relationship love lessons.
In my book Pit Bulls in Lipstick, there is a chapter on being in control of our orgasms by any means necessary.
Also, dinner and a movie on video call are just as intimate. After all, sucking down a few oysters and sipping on a glass of wine together might soon lead to being the star of your own show! Remember, sex is a part of intimacy, not all of it!
5. Do you, Boo!
Focus on the positives of the relationship. However, it is also crucial that each person lives out their own dreams and goals. Self-care is an integral part of long distance relationship love lessons.
In essence, do not get too caught up with simply maintaining your relationship and neglect your own aspirations and daily rituals that make you feel complete.
Spending time looking at the phone, reading ancient messages, or wishing that your partner would be near you does not lead to a good balance.
While keeping communication open is vital, bombarding your partner too frequently can become annoying. Projects, work, or social positives can pronounce your independence and self-love.
Long distance can be an opportunity to strive and grow outside of the relationship and will help to balance your relationship in a more meaningful way. Enjoying your hobbies, side hustles, social and extended family life encourages both partners to be more whole as individuals, enhancing their unique connectivity to each other.
6. Have SkyMiles; Will travel
You will find that consistently visiting each other helps build security in your long-distance relationship. Working out a schedule or even having open flexibility as a couple should be on the drawing board from the get-go.
Treating visiting each other as one of the long distance relationship love lessons helps with having peace of mind. Also, the excitement, buildup of passion, and anticipation rises when you are packing to visit each other.
Knowing that you are putting your frequent flyer miles or those 4X points on gas to the very best use is a bonus too. While impromptu plans where you hop on a plane after work may be thrilling, I suggest planned visits to be the norm.
Create a schedule that works for both of you at least every one to two months. You must put in the time and the miles to make the distance work.
Although booking your flight will soon become second nature, make sure visits are not. Mundane and predictable plans should be avoided unless you both enjoy doing that one thing always, no matter what else is planned.
These 'must-dos' create a sweet history and building even the smallest traditions in relationships should be encouraged. Still, make it exciting and spend time together like it is your first date.
As one of the long distance relationship love lessons, explore new events, new things about each other, new adventures, and new neighboring cities! Instead of going to each other's place, you can book a weekend at a hotel suite and stay in!
7. Just call to say, "I love you!"
When work-life gets in the way, at times, you never know how your partner may feel at the end of the day or during a tough meeting.
A simple call or text to say "I love you" with a kissy face or a selfie with the face you make when you're missing your love could be all it takes. It sends the message that someone is thinking about them, and that person is you.
Short phrases like, "I miss you," "Thinking of you," "Can't wait to see you," "You make me hot," or "I am so proud of you" can bring the happiness quotient way up!
When couples decide to make a long distance relationship work, they do this because they love each other. But it means so much to them when they can hear proclamations of love too.
Saying those short words can fix everything about a 'bad' day. Treat this as one of the long distance relationship love lessons. It says that you care and are committing to each other completely.
8. Healthy spirit, mind, and body
The very notion of a "commuter relationship" conjures up images of couples suffering quietly while living miles apart. But new evidence suggests some distance may be good for the partners' health in specific ways.
According to researchers at The Family Institute at Northwestern University, spouses who live in separate homes report being less anxious and depressed than couples who live under one roof.
The study of 296 married couples, one-third of whom had long distance marriages say they ate healthier and moved more. Long distance relationships can be a challenge; however, if both people focus on being balanced whole individuals, it lessens the strain.
The real act of intimacy is self-care and self-love, as these make the connection with your partner better. Consider reading relationship articles and books on caring for yourself by treating it as one of the long distance relationship love lessons.
If you laugh, enjoy yourself and your partner, and create positive memories, you are well on your way to heating up your long distance relationship.
Related Reading: 

6 Ways To Enhance Your Long-Distance Relationship
Final thoughts
One of the beautiful long distance relationships factors is that it can strengthen the bond between couples. This connection goes beyond the physical between you and your partner as you realize the essence of your love does not altogether hinge on only physical contact but a deeper, more spiritual and emotional connection.
You tend to be more creative, appreciative, and balanced, finding more time to talk to each other about yourselves, about each other and your day. Most importantly, set timelines and plans on if, when, and how you both agree on continuing the relationship long distance.
Share this article on
Want to have a happier, healthier marriage?
If you feel disconnected or frustrated about the state of your marriage but want to avoid separation and/or divorce, the marriage.com course meant for married couples is an excellent resource to help you overcome the most challenging aspects of being married.
More On This Topic
You May Also Like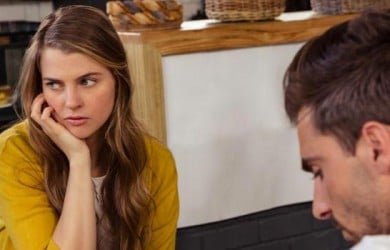 Popular Topics On Married Life