Is My Husband Gay?: What Is and Isn't a Sign to Look for
It is not unusual for women to ask themselves "Is my husband gay?" Many things can make a woman question her man's sexuality, and it can be distressing to think that the person you love and trust most is keeping a huge secret from you.
While the only way to know for sure if your husband is gay or bisexual is for him to tell you, there are some signs that you can look for that let you know a conversation about sexual orientation is necessary.
There are also, however, many things that society might tell you means your husband is gay that actually don't have anything to do with his sexual orientation.
Read on for some debunked myths and actual signs to look for if you find yourself asking, "Is my husband gay?"
Your husband might be gay if:
1. He watches gay porn and lies about it
First, watching and enjoying gay porn does not necessarily mean your husband is gay.
Many straight men enjoy gay porn from time to time. But if your man is hiding his porn use, or denies that any gay porn you find in the house or on his computer is his, then he may be at least questioning his sexuality.
If you are finding gay porn on his computer or other devices or finding print gay porn stashed around the house, it's time to have a conversation.
2. He has strange internet habits
Clearing your browser history might be good digital hygiene, but it can also be an indication that someone is keeping a secret.
Especially if he starts doing a regular cache clearing after you've confronted him about gay porn or other suspicious online behavior, you should start asking some questions. He may not be gay, but it's likely that there is something he's not telling you.
Likewise, having a separate social media account where most of his connections are men you don't recognize, surfing and having profiles on gay dating sites or hook-up apps, and Googling for questions like "how to know if you're gay" can be red flags.
3. He is not interested in sex with you
There are many reasons a person might be less interested in sex, and many marriages have ebbs and flow in sexual activity.
But if your husband is completely uninterested in sex with you for an extended period, and he isn't willing to discuss the issue or figure out if there's a health issue (mental or physical) killing his libido, he may, in fact, be gay or questioning his sexuality.
No interest in sex with you is especially a warning sign if you had a lot of sex early in your relationship, but it dropped off quickly and never picked back up.
4. He's a homophobe
Strangely, this is the number one predictor that someone is a closeted gay or bisexual man.
If your man is an outspoken homophobe, treats gay people differently or badly, makes a lot of nasty "gay" jokes, or talks about gay people in a dehumanizing way, he may be trying to assert his "straightness" because he is ashamed of being gay (or being found out).
This holds true even if he is fine with lesbians but homophobic toward gay and bisexual men.
There are also many things society tells women are signs their husbands are gay, but which really don't mean a thing.
Some things that do not necessarily sign your husband is gay include:
1. He's really into his appearance
There's a pernicious stereotype that a man is only concerned with his appearance if he's gay.
Not so!
Just because your husband is into fashion, likes to keep his hair and nails groomed (even if he gets a manicure), or otherwise takes time to put himself together doesn't mean he's gay.
2. He's into girly or womanly things
Activities and interests don't have gender, but our society likes to pretend they do.
If you're married to a man who enjoys typically "feminine" activities like cooking, baking, cleaning, decorating, knitting, or yoga, people might try to make you ask yourself "Is my husband gay?"
But his interests are in no way connected to his sexual orientation. Baking cookies or performing in community theater can't "make" him gay, either.
3. He wants to try "butt stuff"
It comes as a shock to many people, but lots of straight couples engage in anal sex or anal sex play.
And that includes many straight men who enjoy being penetrated or having their prostate stimulated via the anus or perineum. Societal shame keeps many men from asking for this type of play or admitting that they engage in it.
If your husband expresses interest in exploring "butt stuff," have a conversation. If you aren't into it, you don't have to engage in it, but also know that being interested in anal doesn't mean your man is gay.
Share this article on
Want to have a happier, healthier marriage?
If you feel disconnected or frustrated about the state of your marriage but want to avoid separation and/or divorce, the marriage.com course meant for married couples is an excellent resource to help you overcome the most challenging aspects of being married.
More On This Topic
You May Also Like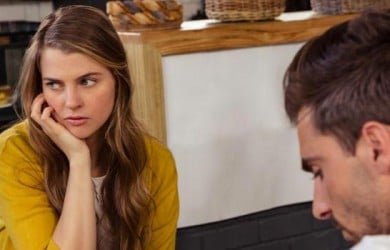 Popular Topics On Married Life