Intrusive Thoughts in Relationships: Causes, Signs & Coping Tips
In every relationship, we often experience a range of thoughts and emotions. But what happens when intrusive thoughts start to invade our minds, casting doubt and causing distress? Intrusive thoughts are unwanted, repetitive, and distressing ideas that can occur in the context of intimate relationships.
They may manifest as doubts about one's partner, fears of infidelity, or irrational concerns about the relationship's future. These thoughts can lead to anxiety, and mistrust, and strain the bond between partners. Recognizing the signs of intrusive thoughts is crucial in addressing them.
This article explores the causes, and signs, and provides effective coping strategies to help individuals navigate through intrusive thoughts in relationships.
What are intrusive thoughts?
Intrusive thoughts mean unwanted and involuntary thoughts, images, or urges that enter our minds and can cause distress, anxiety, or fear. They often occur spontaneously and disrupt daily life.
These thoughts are often disturbing, and irrational, and go against our values, causing significant distress and discomfort.
Common examples include thoughts of harm or violence towards oneself or others, fears of contamination or germs, and blasphemous or taboo thoughts. Intrusive thoughts are not indicative of one's character or intentions, but rather a manifestation of an overactive or misfiring mind.
Understanding intrusive thoughts can help individuals recognize and manage them effectively.
Causes of relationship intrusive thoughts
Intrusive thoughts in relationships can stem from various factors and can have a significant impact on individuals and their partners.
Wondering, "Why am I having intrusive thoughts?" Understanding the underlying causes can provide insights into why these thoughts arise. Here are four common causes of intrusive thoughts in relationships:
1. Anxiety disorders
Anxiety disorders, such as obsessive-compulsive disorder (OCD) and generalized anxiety disorder (GAD), can contribute to intrusive thoughts in relationships. Individuals with OCD may experience intrusive thoughts related to their partners' fidelity, trustworthiness, or the stability of the relationship.
These thoughts often lead to compulsive behaviors aimed at alleviating anxiety, such as seeking reassurance or engaging in repetitive rituals. GAD can manifest as excessive worry and catastrophizing, leading to intrusive thoughts about relationship problems or potential future issues.
2. Past trauma
Individuals who have experienced past trauma, such as infidelity, betrayal, or abusive relationships, may develop intrusive thoughts as a result of the trauma's lingering effects. The intrusive thoughts serve as a defense mechanism, attempting to prevent future harm by constantly assessing the relationship for signs of danger.
These thoughts can create a cycle of mistrust, hypervigilance, and anxiety, making it challenging to establish and maintain healthy relationships.
3. Insecurity and low self-esteem
Insecurity and low self-esteem can contribute to intrusive thoughts in relationships. Individuals with low self-worth may constantly doubt their partner's love and commitment, leading to intrusive thoughts of rejection, abandonment, or inadequacy.
These thoughts can be triggered by external factors, such as a partner's interaction with others or perceived threats to the relationship's stability. Insecurity and low self-esteem can fuel a cycle of self-doubt and negativity, straining the relationship and causing distress.
4. Unrealistic expectations and social influences
Society's portrayal of idealized relationships and romanticized notions can create unrealistic expectations, contributing to intrusive thoughts.
Media, social media, and peer influence can shape individuals' beliefs about what a perfect relationship should look like, leading to comparisons and doubts about their own relationships.
These intrusive thoughts may revolve around unrealistic standards, fear of missing out, or doubts about the long-term compatibility of the partners. Such thoughts can lead to dissatisfaction, anxiety, and a constant quest for an unattainable ideal.
5 signs of relationship intrusive thoughts
Intrusive thoughts in relationships can be distressing and can significantly impact the well-being of individuals and their partnerships. Recognizing the signs of relationship intrusive thoughts is crucial in addressing and managing them effectively. Here are five common signs to watch out for:
1. Persistent doubts
One of the key signs of relationship intrusive thoughts is the presence of persistent doubts. Individuals experiencing intrusive thoughts often find themselves questioning their partner's trustworthiness, fidelity, or the overall stability of the relationship.
These doubts can persist despite evidence to the contrary, leading to a constant state of uncertainty and anxiety. Individuals may find it challenging to trust their own judgments, constantly second-guessing their partner's actions and intentions.
One of the relationship intrusive thoughts examples is consistent doubt about the relationship. Intrusive thoughts about breaking up can be distressing, but it's important to remember that they don't necessarily reflect your true desires or the health of your relationship
2. Repetitive thoughts
Intrusive thoughts tend to be repetitive and intrusive in nature. They can intrude upon an individual's mind unexpectedly and persistently, even when efforts are made to dismiss or suppress them.
These thoughts may manifest as distressing mental images, imagined scenarios of betrayal or conflict, or repetitive worries about the relationship.
Their repetitive nature can disrupt daily functioning, make it difficult to concentrate on tasks, and drain mental energy, causing significant distress.
3. Heightened anxiety
Relationship intrusive thoughts are often accompanied by heightened anxiety. Individuals may experience increased worry, restlessness, and physical symptoms such as a rapid heartbeat, shallow breathing, or difficulty sleeping.
The presence of intrusive thoughts can create a constant state of apprehension and anticipation of potential relationship problems or betrayals. Anxiety can become overwhelming, affecting overall well-being and the ability to engage in other aspects of life.
4. Compulsive behaviors
In an attempt to alleviate the distress caused by intrusive thoughts, individuals may engage in compulsive behaviors. These behaviors are repetitive actions or mental rituals aimed at reducing anxiety or preventing perceived threats to the relationship.
For example, an individual may feel compelled to repeatedly seek reassurance from their partner, excessively check their partner's whereabouts or communication, or perform specific rituals as a way to ward off intrusive thoughts.
While these behaviors may provide temporary relief, they can contribute to relationship strain and reinforce the power of intrusive thoughts.
5. Emotional distress and impact on functioning
Intrusive thoughts in relationships can have a significant impact on emotional well-being and daily functioning.
The constant presence of intrusive thoughts can lead to emotional distress, including feelings of sadness, anger, guilt, or shame. Individuals may find themselves overwhelmed by intense emotions, struggling to find a sense of peace or stability within the relationship.
Additionally, intrusive thoughts can interfere with concentration, work performance, and other relationships outside of the romantic partnership. The distressing nature of these thoughts can affect the overall quality of life and hinder the ability to engage fully in daily activities.
How to cope with intrusive thoughts in a relationship
How to stop intrusive thoughts about relationships?
Understanding how to deal with intrusive thoughts in a relationship can help you approach them with self-compassion. Here are 10 effective ways to cope with intrusive thoughts:
1. Practice mindfulness
Engaging in mindfulness exercises can help individuals observe and accept intrusive thoughts without judgment.
By focusing on the present moment and acknowledging the thoughts without becoming entangled in them, individuals can develop a sense of detachment and reduce the distress associated with intrusive thoughts.
Mindfulness techniques such as deep breathing, meditation, or body scans can be incorporated into daily routines to promote a calmer and more centered state of mind.
2. Challenge negative thoughts
Actively challenging negative and intrusive thoughts is an essential step in coping. Identify cognitive distortions, such as catastrophizing or overgeneralization, and replace them with more balanced and realistic thoughts.
Ask yourself if there is evidence to support the intrusive thoughts and consider alternative explanations. This process can help break the cycle of rumination and reduce the impact of intrusive thoughts on emotions and behavior.
3. Cognitive behavioral therapy (CBT)
CBT is a therapeutic approach widely used for managing intrusive thoughts. It focuses on identifying and changing negative thought patterns and behaviors. Working with a therapist trained in CBT can provide guidance and tools to challenge and reframe intrusive thoughts effectively.
CBT techniques may involve cognitive restructuring, thought records, or exposure and response prevention (ERP) exercises, which gradually expose individuals to feared thoughts while refraining from compulsive behaviors.
4. Create a supportive network
Seeking support from trusted friends, family members, or support groups can be immensely helpful. Sharing intrusive thoughts with understanding individuals who can offer empathy and validation can reduce feelings of isolation and provide a different perspective.
Connecting with others who have experienced similar intrusive thoughts can foster a sense of belonging and reinforce the understanding that these thoughts are common and manageable.
5. Engage in physical activities
Engaging in regular physical exercise has been shown to have a positive impact on mental well-being. Physical activities, such as walking, jogging, or practicing yoga, release endorphins and promote a sense of relaxation and focus.
Exercise can serve as a healthy outlet for managing stress and redirecting attention away from intrusive thoughts.
Finding an activity that suits individual preferences and incorporating it into a routine can support overall mental and physical well-being.
6. Establish a routine
Maintaining a structured routine can provide a sense of stability and predictability, which can help manage intrusive thoughts. Plan daily activities, including self-care, work, hobbies, and relaxation time.
A well-organized routine can reduce uncertainty and create a sense of control, minimizing the space for intrusive thoughts to take over. Remember to include activities that bring joy and promote self-care, as prioritizing one's well-being is essential when dealing with intrusive thoughts.
7. Challenge avoidance behaviors:
Individuals with intrusive thoughts may develop avoidance behaviors as a way to escape distress.
However, avoidance can inadvertently reinforce the power of intrusive thoughts. Gradually confronting feared situations or triggers associated with the thoughts, with the support of a therapist if needed, can help break the cycle of avoidance.
Exposure therapy, under the guidance of a professional, can gradually desensitize individuals to intrusive thoughts and reduce the anxiety they provoke.
8. Self-compassion
Practicing self-compassion involves treating oneself with kindness and understanding. Remember that having intrusive thoughts does not reflect personal character or intent. Be gentle with yourself and acknowledge that everyone experiences intrusive thoughts to some degree.
Treat yourself with the same empathy and compassion you would extend to a loved one facing similar challenges.
Engaging in self-care activities, practicing positive self-talk, and cultivating self-compassion can create a nurturing inner environment that counteracts the distress caused by intrusive thoughts.
This enlightening video explores the transformative journey of embracing oneself, finding solace in self-care, and cultivating a lifelong friendship with your own being.
9. Distract and refocus
When intrusive thoughts become overwhelming, it can be helpful to distract and refocus attention on other activities.
Engaging in activities that require concentration or active involvement can redirect attention away from intrusive thoughts. Pursue hobbies, engage in creative outlets, read a book, listen to music, or watch a movie.
The goal is to occupy the mind with positive and enjoyable experiences that shift focus away from intrusive thoughts. By actively refocusing attention, individuals can break free from the cycle of rumination and reduce the impact of intrusive thoughts on their well-being.
10. Practice self-reflection and journaling
Taking the time for self-reflection and journaling can be a therapeutic way to process intrusive thoughts.
Set aside dedicated time each day to write down the thoughts that are bothering you. This can provide an outlet to express and externalize the thoughts, gaining clarity and perspective in the process.
Additionally, reflecting on the patterns and triggers of intrusive thoughts can help identify underlying causes and develop strategies for managing them effectively.
Writing down positive affirmations and gratitude can also cultivate a more positive mindset and counteract the negativity associated with intrusive thoughts.
More questions on intrusive thoughts in a relationship
Uncover valuable insights and practical tips to curb intrusive thoughts and nurture self-love and unlock the path to personal growth.
How to identify intrusive thoughts when dating or in a relationship
To identify intrusive thoughts in a relationship or when you are dating, pay attention to repetitive, distressing thoughts that go against your desired mindset. Notice if doubts about your partner's trustworthiness, feelings of unworthiness, or irrational fears about the relationship's future consistently occupy your mind.
Intrusive thoughts can manifest as vivid mental images or scenarios that cause anxiety or distress.
They often interrupt your focus and lead to feelings of uncertainty and unease. Recognizing these persistent and intrusive thoughts can help you address them effectively and seek support if needed to maintain a healthy dating or relationship experience.
How to distinguish between intrusive thoughts and OCD
Distinguishing between intrusive thoughts and obsessive-compulsive disorder (OCD) lies in the impact and response to these thoughts. Intrusive thoughts in a relationship can occur in various contexts and are a common human experience.
They may cause distress, but individuals without OCD can typically acknowledge them as unwanted and irrational.
In OCD, however, intrusive thoughts lead to compulsive behaviors or mental rituals aimed at reducing anxiety. These compulsions become a way to temporarily alleviate distress and create a cycle of obsessions and compulsions.
If intrusive thoughts significantly interfere with daily functioning and lead to compulsive behaviors, it may indicate the presence of OCD and warrant professional evaluation.
Identifying the cause to seek the right cure
Intrusive thoughts in relationships can be distressing and challenging to navigate. Understanding the causes helps shed light on why these thoughts arise. At the same time, recognizing the signs is crucial in addressing intrusive thoughts effectively.
Coping strategies can help individuals manage intrusive thoughts in a relationship and foster healthier relationships. Relationship counseling can be a valuable resource for individuals seeking to cope with intrusive thoughts and improve their relationships.
Remember, with patience, self-compassion, and support, it is possible to navigate intrusive thoughts and cultivate fulfilling, secure connections.
Share this article on
Want to have a happier, healthier marriage?
If you feel disconnected or frustrated about the state of your marriage but want to avoid separation and/or divorce, the marriage.com course meant for married couples is an excellent resource to help you overcome the most challenging aspects of being married.
You May Also Like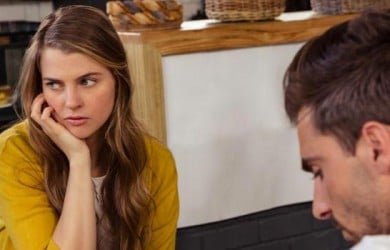 Popular Topics On Married Life