How to Stop Being Paranoid in a Relationship: 10 Simple Steps
It's happening again: your unhealthy relationship behavior patterns are ramping up.
You are starting to feel insecure, doubtful about your partner, and paranoid.
You wonder if they really are in love with you.
You start interpreting their actions as signs that they will leave you – a text that they didn't answer right away, an evening where you sensed something was just "off" with them, a suspicion—unfounded but present nonetheless—that he might be seeing another woman.
Does this anxiety and paranoia in relationships sound familiar? Do you recognize this pattern in yourself?
If so, know that you can be helped.
Let us learn how to stop being paranoid in a relationship.
Anxiety and relationships are intertwined
There are moments when these go hand in hand.
But most people sail through these moments, dealing with anxiety using positive self-messages, good communication techniques, and reaching out for professional help if they sense it is needed.
On the other side are those of us who exhibit extreme anxiety in our relationships, both love relationships as well as professional ones.
Why is it that some people can manage these moments of paranoia and anxiety, and others remain stuck in a self-defeating pattern?
Causes of relationship paranoia
What are some reasons why you experience relationship paranoia? Once you have figured out the causes and impact of relationship paranoia, it would be easier to know how to stop being paranoid in a relationship.
1. Your past can dictate your future choices
So much of your past will dictate how you react in the future.
Suppose you experienced trauma in a previous relationship or your childhood and haven't done the tough but necessary psychological work to free yourself from the effects of this trauma. In that case, you will likely carry this over to future relationships.
It is nearly impossible to overcome trust issues if you don't deal with them head-on.
Let's say your previous partner was unfaithful in the relationship. Let's say he hid his extramarital affairs for years until one day he got caught.
It would be normal for you to exhibit trust issues in subsequent relationships because you lived for years with someone you thought was trustworthy but who turned out to be living a double life.
2. Low self-esteem
If you struggle with a low sense of self, you are likely to feel paranoid in the relationship. You might think your partner is too good for you or that they can always find someone better than you. In that case, you will always be paranoid about them leaving.
Related Reading: 

How Low Self Esteem Affects a Relationship
3. Attachment styles
People develop different attachment styles based on their childhood experiences. Some people have the anxious attachment style, which makes them paranoid and anxious even in romantic relationships as an adult.
How do you move forward now?
Impact of relationship paranoia
Relationship paranoia can negatively affect your health, partner, and relationship. Understanding the impact of relationship paranoia will help you figure out how to stop being paranoid in a relationship.
1.
Detreating

health

Paranoia causes your brain to be on high alert. This can lead to excessive stress, lack of sleep, reduced appetite, anxiety, and fatigue.
2. Your partner has trouble coping with it
While your partner may understand where you are coming from, being constantly paranoid about something related to them or your relationship may negatively affect them. They may feel the need to explain themselves all the time, which is not just unhealthy but can also become very challenging for them.
3. Lack of trust in the relationship
Relationship paranoia indicates a lack of trust in a relationship. Trust is one of the pillars of a healthy relationship, and its lack can adversely affect your relationship.
How to stop being paranoid in a relationship: 10 ways
If you want to manage the paranoia you are feeling in your relationship, here are ten things you can do. If you have been wondering, "How to deal with paranoia in a relationship?" read on.
1. Have an open conversation
How to stop being paranoid in a relationship?
If you are experiencing trust issues in a current relationship, the first step in managing this is to open the communication channel with your partner.
You need to see if you are merely being paranoid, based on a previous relationship experience, or if there is truly something going on.
So sit down with your partner and have a frank talk.
Share with him what you are feeling: that you are dealing with paranoia and need to know if there is any basis for this feeling.
Also watch:
2. Dealing with past issues
Ideally, the honest conversation you will have with your partner will show you that there is no reason to be paranoid; and is really the basis of the answer to the question "how to stop being paranoid in a relationship?"
But that may not be enough to get rid of your paranoia—remember, trust issues, paranoia, and feeling insecure in a relationship are all part of the emotional baggage you have been carrying for a long time.
This is where working on changing that response will be critical in helping you establish healthy, happy connections.
3. Understand your feelings
Feeling insecure is one of your go-to emotions. Recognize that this speaks more about you than about your relationship.
Being aware of this part of your personality is the first step in overcoming trust issues and getting rid of paranoia.
This awareness helps you realize that unhealthy emotion is internally-driven and not externally-provoked.
Related Reading: 15 Ways to Help Your Partner Understand How You're Feeling
4. Seek professional help
Trained therapists can help you explore the roots of these behaviors and help you begin to fix trust issues in a relationship.
Working with a mental health expert in a safe and trusting space can be beneficial in overcoming these relationship-handicapping behaviors.
You can learn how to replace the paranoia, insecurity, and trust issues with more positive and loving thoughts, repeating these thoughts until you feel calmer and able to let go of the unhealthy emotions.
5. Focus on the present
Focus on the present without viewing it through the lens of the past, if you want to learn how to stop being paranoid in a relationship.
It is possible to retrain our brain's thinking so that when a negative thought comes along, we become aware of how it feels for a moment and then learn to let it go.
To overcome insecurity in your relationships, it is helpful to learn to stop the reflex where you automatically refer back to any past unhealthy relationships that have nothing to do with your current living.
Each connection in your life is its entity, fresh and new.
6. To stop being paranoid, practice self-care
At the root of paranoia, insecurity and trust issues is a low sense of self-worth. Therefore, the answer to "How to not be paranoid in a relationship" lies in increasing your self-worth.
When low self-worth is present, we risk becoming convinced that we do not deserve good things happening in our lives, or that we are not worthy of being in a relationship with our partner.
Our relationship trust issues begin to take a toll on the relationship, and the very thing we feared—abandonment—happens due to our behaviors.
By taking the time to build your sense of value, worthiness, and self-esteem, you can put a stop to being paranoid and insecure in your relationship.
It is a freeing feeling to be in a relationship with a firm grasp on your worthiness!
7. Identify your triggers
What triggers your relationship paranoia is essential when you are trying to understand how to overcome paranoia. Is it when you are unaware of what your partner is up to, or when you see them hide their phone from you? Identifying your triggers can help you avoid them and practice not being paranoid in your relationships.
8. Pause before you react
Your first reaction to anything that triggers your paranoia may be to worry and question. However, pause for a moment and understand what is causing this response. Is it the situation or the fact that you experience relationship paranoia generally?
This will help you a great deal in reducing your paranoia.
9. Do not surrender to the paranoia
When you feel these thoughts, do not let paranoia take over. Understand your feelings, face them, but do not let them take over your reactions.
10. Work to build trust
Find ways to build trust with your partner. You can practice trust-building exercises or seek couple counseling.
Trust is essential
How to stop having trust issues and being paranoid?
Trust is definitely one of the most essential elements of a relationship. Being paranoid in a relationship is a reflection of a lack of trust. It is of utmost importance that you and your partner communicate about this and ensure that you work on it together.
If you feel you need to seek professional help, it is best to speak to a counselor.
Share this article on
Want to have a happier, healthier marriage?
If you feel disconnected or frustrated about the state of your marriage but want to avoid separation and/or divorce, the marriage.com course meant for married couples is an excellent resource to help you overcome the most challenging aspects of being married.
You May Also Like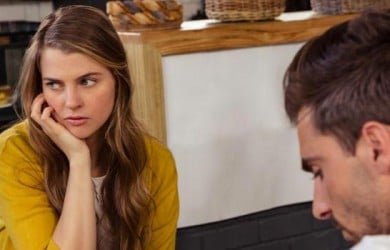 Popular Topics On Married Life