How to Stop Being Obsessive in a Relationship: 10 Steps
Romantic relationships are often filled with passion and an intense desire to be close to each other, especially in the beginning stages. While feelings of love can be intense, problems can arise with obsessive behavior in relationships.
If you're struggling with relationship obsession or you've become obsessive in a relationship, there are ways that you can cope. Here, learn strategies on how to stop being obsessive in a relationship before things get out of control.
What causes obsession in a relationship?
If you're asking yourself, "Why am I so obsessed with someone?" you might be interested in the causes of obsession. In some cases, obsessive behavior in relationships can be caused by a mental health condition, such as obsessive-compulsive disorder, or a personality disorder (OCD).
Other common causes of obsessiveness in relationships include
Constant need for reassurance

Low-self esteem

Having codependent tendencies, meaning you feel the need to care for other people in relationships

Underlying issues with jealousy or the fear that a partner will leave you

Having an addictive personality type.
Difference between love and obsession
When you're obsessive in a relationship, you may believe that you're simply demonstrating feelings of love, but there is a difference between love vs. obsession.
An unhealthy obsession with someone can take over your life, whereas healthy love is balanced and allows you to care for someone while recognizing that they can have interests aside from you.
For example, when you are obsessed with someone, you may want to spend all of your time with them, and you may become highly jealous if they want to spend time with others or have interests outside of you.
On the other hand, in relationships with a healthy form of love, you can care deeply about your significant other and even feel passionate about them. However, you still recognize that they may spend time apart from you and have interests outside the relationship.
Obsessive behavior in relationships can also take on the form of control, in which one person seeks power over the other. In healthy relationships based on genuine love, a person does not desire to control their partner but instead views them as a person who is worthy of respect and autonomy.
Learn more about the difference between love and obsession here:
How to get over an obsession with someone: 10 steps
If you find yourself demonstrating unhealthy, obsessive behavior in your relationships, there are strategies you can use to learn how to be less obsessed with someone. Consider the 10 tips below:
1. Distract yourself from obsessive thoughts
One of the easiest ways to learn how to stop being obsessive in a relationship is to distract yourself. If you're having difficulty letting go of your obsessions, spend time doing things you enjoy or take up a new hobby.
You might also consider distracting yourself with a movie, a good book, or a walk around the block. Whether you're in an obsessive relationship or trying to stop obsessing over an ex, a little distraction goes a long way.
2. Set a goal for yourself
It's easy to become obsessive in a relationship when you don't have any personal aspirations. If you're looking to overcome an obsession with someone, set a goal, such as learning a new skill, getting a promotion at work, or even going back to school.
When you're focused on your goals, you won't have time to be obsessed.
3. Get to the root of the feeling
Behind every obsession is usually some sort of underlying feeling, like fear or anxiety. It might be time to dig deeper if you can't figure out how not to obsess over someone. What are you really feeling?
Maybe you're obsessing over your partner because you've been hurt in the past, and you're fearful they will betray you. Whatever the case, dealing with the underlying feeling can help you to become less obsessive.
4. Practice mindfulness
Learning to become more mindful, or live in the present moment, can be a strategy for how to not be obsessive in a relationship. When you become more mindful, you can focus on the present and let thoughts come and go without fixating on them.
For someone who tends to obsess in relationships, mindfulness practices like yoga and meditation can take your mind off of your obsessions and allow you to be more relaxed.
Related Reading: 

Improve Your Relationship with Mindfulness and Meditation
5. Turn to family and friends
Sometimes you may not realize you're being obsessive in a relationship. If friends and family share that they worry you're overly obsessed, they're probably genuinely concerned and also correct.
At the same time, if you worry that you're being too obsessed, you can usually count on your closest loved ones to be honest with you and offer their suggestions.
6. Take up journaling
Sometimes, it can help to put your thoughts on paper. When experiencing an obsessive thought, write it down, and you may find it has less power.
In general, journaling can be a way of calming your mind and alleviating whatever feelings are leading you to be so obsessive in a relationship.
7. Consider if codependency might be to blame
Codependent people tend to obsess over the wellbeing of the people around them, to the point that they feel responsible for other people, even in adult relationships.
If you feel compelled to obsess over your significant other's every need and think you need to "fix" them or be a hero in their life, you could be codependent.
In this case, attending a codependent support group can be helpful. In support groups, you can learn that you aren't accepting of other people's behavior, which can help you let go of your obsessive desire to protect your partner.
You may also benefit from exploring books on codependency to help you discover more about your tendency to be obsessive in relationships.
Related Reading: 

What Is Codependency – Causes, Signs & Treatment
8. Recognize that obsession can be dangerous
If you're struggling with how to stop being obsessive in a relationship, take a step back and recognize that being obsessive in your relationships can be unhealthy and even dangerous.
At the very least, being obsessive can lead to toxic relationship dynamics, in which you control your partner and prevent them from having outside interests.
In the worst cases, obsessive behavior in relationships can cause you to violate your partner's rights. For instance, they may feel they do not have the right to leave the house without permission. Some obsessive partners may even resort to psychological abuse or physical aggression to control their partners.
9. Spend time with other people
If you've become obsessive in your relationship, you might benefit from enjoying time with family and friends. When you're struggling with the fact that your significant other has outside interests and friendships, it can be helpful if you pursue friendships of your own.
As you spend more time apart, you might realize that you enjoy having separate time for your own interests and friendships. This can help you to overcome being obsessive in a relationship.
10. Turn to professional support
Sometimes, there may be an underlying issue, such as a mental health condition, that is leading to an unhealthy obsession with a person. If you're in a committed relationship, you may benefit from undergoing relationship therapy to help you address obsessiveness.
On the other hand, if you've broken up and you're trying to figure out how to stop being obsessive in a relationship, it can be helpful to undergo individual counseling to treat underlying mental health conditions.
This will not only reduce the current obsession but also allow you to have healthier relationships in the future.
The bottom line
If you find that you tend to show obsessive behavior in relationships, there are strategies you can use to overcome your obsessions. For instance, with time and practice, you can learn to cope with obsessions by practicing mindfulness, distracting yourself with things you enjoy, and spending time with friends.
Obsessiveness can sometimes signify an underlying issue, such as a mental health condition. In this case, learning how to stop being obsessive in a relationship may require you to go to counseling, so you can address the mental health condition that is leading to obsessive behaviors.
It can be challenging to learn how to stop being obsessive, but the truth is that it is possible. Often, obsession is rooted in some larger fear, such as a fear of something bad happening to your significant other or anxiety over being abandoned.
Letting go of these fears may seem scary, but the truth is that learning how not to obsess over someone paves the way for healthier, happier relationships.
Share this article on
Want to have a happier, healthier marriage?
If you feel disconnected or frustrated about the state of your marriage but want to avoid separation and/or divorce, the marriage.com course meant for married couples is an excellent resource to help you overcome the most challenging aspects of being married.
Learn More On This Topic
You May Also Like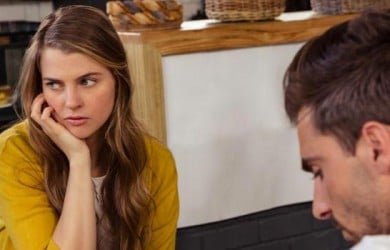 Popular Topics On Married Life