15 Ways on How to Stop Missing Someone
When you stay with someone for an extended period, you automatically begin to develop an emotional connection, regardless of whether it is a family relationship, romantic relationship, or a casual relationship.
Understanding how to stop missing someone would be an added advantage in dealing with situations such as a break-up, the death of a loved one, the relocation of a partner, and the temporal separation between two partners in a relationship.
When you stay apart from someone you have lived with for a long time, you start missing them. Hence, when you miss someone, it is a sign that you have established a passionate relationship with that person.
Being connected to people emotionally is not a bad idea, but you must ensure that you strike a balance to get over missing someone.
Why do you miss someone?
Everybody has at least one person that they miss. Maybe a friend, a colleague, a family member, or a lover. Sometimes you can find out that you are missing someone who doesn't miss you.
When you're missing someone so much, it hurts to realize that the person doesn't miss you back. The big question is, "Why do you miss someone?" You miss people for one of the following reasons.
You might be in love with them
Missing someone could be a sign of love. You may not be able to go a day without seeing a person you have fallen in love with.
You want to see the person; you want to hear from them; you want to spend time with them, meet their needs, etc.
So, anytime they are not where you are, you tend to miss them. Missing someone you love is natural.
You admire their qualities
When you have someone whose qualities or personality you admire, you subconsciously develop an emotional attachment to that person.
Maybe you love their excellent communication skills, team spirit, leadership ability, or other physical qualities. You are always proud to associate with them.
When you stop seeing such a person for one reason or the other, you miss them.
The person is always around when you need them
You quickly develop feelings and sometimes love for people who are always there for you whenever you need them, thereby making you miss them whenever they are not around, especially when you need them.
It is even worse when you know they miss you too.
Some of them may call you and say, "missing talking to you," "I can't stop missing you," "Missing you is hard," etc. Words have a way of resonating within us, so you find yourself unable to cope with missing someone.
You would easily miss someone who makes you always laugh, thereby making you happy.
Whenever you don't see them, you miss them. You always want to be around people who make you happy all the time.
Related Reading: 

180 Missing You Quotes for Him and Her
15 ways to stop missing someone
If you have established an emotional connection with someone, especially for the long term, then it would be tough for you not to miss them whenever they are not around. It applies to family, friends, and your relationship with a partner or spouse.
Knowing what to do when you miss someone can help deal with psychological and emotional stress.
Consider the following tips on how to stop missing someone. The information will help you cope with missing someone, whether as a result of a short-term separation, a break-up, the death of a loved one, or the relocation of someone you love.
Ways for dealing with short-term separations
The feeling of missing someone can be easy to deal with when the context is a short-term separation. The mentality that the person will not be away from you for a long time can help you get over missing someone special.
You can adopt the following as ways on how to stop missing someone with whom you are experiencing a short-term separation:
1. Call them regularly
If you are experiencing a short-term separation, you should try as much as possible to call your partner as often as possible.
By doing this, you hear your partner's voice, which can assure you that there is a possibility of both of you getting back as soon as possible.
Talking with your partner can always satisfy that part of you that craves to have them around you always. So, the extent of you missing them is minimized.
2. Get busy in the meantime.
Since the separation will likely be short-term, why not get busy with your studies or work.
Instead of flooding your mind with the thought of the one you miss?
3. Take advantage of the moment.
You can leverage the free time you have as a result of temporal separation. You can learn a skill or enroll in an online course.
You can learn things within a period of short-term separation.
4. Visit their family
Suppose your partner is away for a short time, and it is likely that you two would be together again someday.
In that case, you could visit their family, and by that, the mentality that you both are still close psychologically is retained.
Related Reading: 

Ways How to Make Him Miss You
Ways to moving on after a break-up
It is not easy to move on after a break-up because your partner's memories are still fresh in your mind. But it would be best if you resolved to let.
The following ways would help you on how to stop missing someone as it pertains to a break-up.
1. Cut the communication
One way to stop missing someone after a break-up is to terminate all manner of communication with your ex.
Please don't call them or text them, and do not chat them up on social media.
2. Quit scrolling through their social media
It would be best if you stop checking out the activities on the social media pages of your ex-lover.
Going through your partner's page can back memories, thereby making you miss them again.
3. Hang out with your friends
Having time out with your friends can be instrumental in learning how to stop missing someone.
It would help if you stopped being idle not to create room for memories. Instead, plan a nice hang out with your friends, at the beach, in a restaurant, etc.
4. Learn new hobbies
The period of a break-up can be utilized as a period of productivity and self-development. You can learn new hobbies as a way of covering up idle moments.
You can take a guitar lesson and enjoy the melody of the musical sounds you create. If you love cooking, you can take a youtube video lesson on cooking.
5. Go out on a new date
If it is glaring that you and your partner are no longer getting back together, you should decide to move on with your life.
If you find someone you're interested in, then take the initiative and ask them to dinner with you.
Then have fun and open your heart to love again.
Related Reading: 

How to Survive a Breakup

?
Ways of managing the death of a loved one
It is not easy to cope with missing someone you loved who later died. The feeling of missing someone who passed on can be traumatic.
This situation sometimes requires a therapist to help deal with it. However, here are some tips on what to do when you miss someone.
1. Cry out the pain
The death of a family member, a friend, or a relationship partner can be traumatic.
But the truth, which you may not be able to accept, is that such a person you lost is gone forever. So, find new ways to overcome the sadness, feeling of hurt and loss, etc.
Crying is one of such ways. Research shows that crying when you're hurt can relieve you of the pain and stress.
Therefore, don't try to swallow the pain or pretend not to be broken. Cry out the pain.
2. Discard some reminder materials
It is not advisable not to surround yourself with excess pictures of a dead loved one on your phone or any gadgets.
Whenever you stumble at their pictures or any other object that reminds you of them, your heart would begin to hurt again, and you would start missing them afresh.
Deleting the photos of a loved one who died can heal a hurting heart and help such a person stop missing them.
3. Make new friends
Research shows that most people can get over the trauma of losing someone if they have social support and healthy habits.
It is unfortunate to lose someone dear to you, whether a family member, friend or partner. But you still have over seven billion people on the earth from which you can have new friends.
A loved one can't be replaced, but you can allow yourself to feel love and express love to other people again.
Related Reading: 

Effective Ways to Stop Thinking About Someone
Ways of dealing with a relocation
The relocation of a friend or a relationship partner can make the heart lonely, especially if you saw the person every day. Not seeing the person for one day can make you start missing them.
Hence, the following would help stop missing someone due to the person's relocation.
1. Visit the cinema
If your partner relocates and leaves you behind in another city, you would most likely feel lonely. But you can master how to stop missing someone by going somewhere the boredom can be dealt with.
One of the fun places to go if you're missing someone is the cinema. Enjoy the movies, popcorn, and forget about your partner for a while.
2. Opt for group tours
There are several travel companies that organize group tours for solo travelers. You can opt for such a tour and get to meet many new and interesting people.
This experience can relieve you of loneliness and saturate your heart with excitement and joy.
3. Join a club or a band
If you feel lonely because of your partner migrating to a new environment, it would be advisable that you either join a band of singers if you love to sing or join a dance group, etc. Any activity to keep you busy and take your mind off your partner.
Take a moment and check out this video for more clarity on how to stop missing someone.

Related Reading: 

Does He Miss Me

?
Conclusion
It is natural to miss someone you are separate from, someone who broke your heart, relocated to somewhere far, or a deceased loved one.
But don't let the situation weigh you down. Decide how you want to feel and intentionally work hard to ensure you feel that way.
Choose to be happy always, even if you miss someone terribly. Make it an intentional practice to understand the fifteen ways on how to stop missing someone you love and watch your mental health improve.
Share this article on
Want to have a happier, healthier marriage?
If you feel disconnected or frustrated about the state of your marriage but want to avoid separation and/or divorce, the marriage.com course meant for married couples is an excellent resource to help you overcome the most challenging aspects of being married.
You May Also Like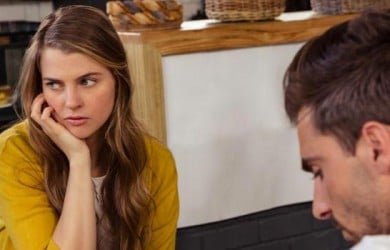 Popular Topics On Married Life