7 Simple Strategies for Finding Love Again in Life
When you are in your late 20s, your family, friends, and society constantly pressurise you to find love again, get married, and start a family. When you are in your 40s or 50s, if you are never married or divorced, the same words repeat again but with an extra punch of dialogues.
No one gives you time to heal and figure out what you want. Everyone is trying to put their fears on you. For instance, as you are getting older, all the good ones are taken first. You will be left alone with no one, etc. It is the unhealthiest thing they can do.
Regardless of your age, you are never too old for learning to love again. So never give up or question yourself, "Will I find love again after a breakup?" just because others are putting an unnecessary pressure on you.
Whether you are separated, divorced, or out of a long-term relationship, these 7 simple yet ignored strategies will help you in finding love again.
1. Start fresh
When we are determined about finding love again and meet someone new, it is common for us not to trust, and we keep our guards up.
Why do we do that? Because of our painful past experiences while finding love after breakup, we don't want to get hurt again
If one or both of you keep this protective shield on, how would you know if this relationship has potential? Let go of the fears. Explore the unique qualities a new person brings in. Live in the moment.
One of the tips for finding love again is to stay open. It takes time and work. The first or second date will not tell you everything about the other person. Do not rush in making judgments and reach conclusions.
Be patient. Give it a chance to develop and see where it leads you to.
2. Let go of Old Memories
People tend to carry older memories over to their new relationships that can ruin the fun. One common thing is saving the photos of previous relationships for reminiscing purposes.
I am happy to share my example here that I remember very well. I wanted to keep the wedding photos when I separated. But as I healed and focused on self-care and self-love, I realized it was a good thing that I don't have them.
It could have delayed my grieving and healing process and made it difficult for me to move on and thereby, in finding love again.
The past is gone. Its negative emotions should not be allowed to cripple you. Create and cherish new memories.
3. Discover yourself
Life is giving you another chance for finding the real you…finding love again.
Take time and reexamine yourself. Ask yourself where you went wrong and what can you do to better yourself. Work on your inner self first before you venture out to find someone. Be sure of your core values, and know how to love again for the right reasons.
Make a good life for yourself. Do things you wanted to do that you could not do before. Do not wait for anyone else to give you approval. This ongoing personal growth will help in establishing fulfilling intimate relationships.
4. Know that you are worthy of love
Yes, you are worthy and very much deserve love. Finding love again is your birthright. It is not healthy to keep a victim mindset. If you focus on the lack of love in your life rather than taking steps to love again, you will attract the same. On the contrary, love yourself and send out positive messages to the Universe.
There is a common saying by Leo Buscaglia,
"To love others you must first love yourself."
Learn and take pride in your unique qualities and the value you bring to the table. Even the most successful, confident people struggle to feel worthy of love and respect. You are not alone.
Be your Hero! (It reminds me of the song "Hero" by Mariah Carey. Listen to it if you have not.)
5. Get yourself out there
You cannot expect finding love again without putting yourself out there. In the process, rejection is inevitable either from your side or from the other person. Handle it with grace and stay positive even if it doesn't work out with several people. Don't think it was a waste of time.
You learn from every experience if you keep yourself open and self-aware and mindful. One of the ways to fall in love again is to trust that great things happen when we get out of our comfort zone and face our fears.
Also, you have to work at it if you are looking for love sincerely. Extensive research by Dr. Terri Orbuch showed that,
"Divorced singles who cut their work hours by at least one hour a day were more likely to find love. Changing your routine can open up new opportunities to meet people and even revise how you see yourself."
When you are in the process of finding love again and meet someone new, do not reveal everything about yourself in the beginning. Go slow.
If you are giving out too many details, it can become overwhelming for the other person to process, and you may push that person away.
And some try to market themselves as they do in business. It is not a game, and it is not about winning a deal, it is about finding compatibility.
In the video below, Esther Perel and Dr. Alexandra Solomon discuss setting parameters in the dating phase for unfolding to occur. They talk about boundaries and the ambiguity in the early stages of dating and building a relationship.

7. Communicate openly & listen attentively
Two strangers meet with different personalities, habits, belief systems, and quirks. You need to communicate and express your needs, fears, and desires. You cannot expect the other person to read your mind. Some are private about their thoughts and give incomplete information. If you feel you need to know more, do not hesitate to ask.
Differences of opinions and conflicts will bound to happen. Talking about disagreements instead of avoiding them, creates a bond between the two of you, and it gets stronger and deeper as you share more over time, and it will take you to the next level.
None of us are perfect communicators, and that is ok, as long as you are trying and working at it.
Listening is another powerful tool to build trust with a new person and navigate through your disagreements. Pay attention to what the other person tells you. You will know many important things about them and their lives.
Finally, once you find someone you think aligns well with you, and finds comfort in, make an effort to invest time and nurture your budding romance.
Share this article on
Want to have a happier, healthier marriage?
If you feel disconnected or frustrated about the state of your marriage but want to avoid separation and/or divorce, the marriage.com course meant for married couples is an excellent resource to help you overcome the most challenging aspects of being married.
More On This Topic
You May Also Like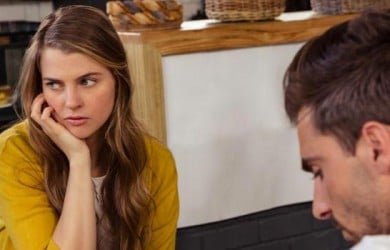 Popular Topics On Married Life