How to Propose to Your Boyfriend and Factors to Consider
These days there is a steady increase in women who decide that they want to be the ones to propose to their boyfriend rather than the other way around. Traditions are no longer set in stone, and when it comes to all things marriage, including the proposal, anything goes.
Which means that this non-traditional approach doesn't have as many rules to follow as the traditional approach where a man proposes to the women, however, it's still necessary to figure out how to propose to your boyfriend because it's a serious matter, and there are a few 'alternative' considerations that you might need to make.
Figuring out how to propose to your boyfriend might be unusual and open to a lot of creativity, but it still needs some careful planning to carry it off successfully.
Here are some of the crucial factors that you need to consider when planning how to propose to your boyfriend.
Related Reading: Signs He's Going to Propose to You Soon
The reasons why you propose
Before you go any further with learning how to propose to your boyfriend you first need to consider why you have decided to propose. If you are proposing because it's a fun and quirky thing to do and because you are ready to move to the next step that's a perfectly good reason.
However, many women do consider proposing to their boyfriend because they are tired of waiting for him to pop the question. And if you are learning how to propose to your boyfriend for that reason, you need to stop for a moment and think about what you are doing.
If you are at the point where it's necessary for your boyfriend to make this commitment or you will consider leaving, then marriage might not be the right way to go around things.
Chances are there is more work that you both need to do on your relationship around commitment and expectations which will only spill into your marriage if you don't address them.
Pre-marriage counseling will be a much cheaper and more proactive way to solve that problem than marriage, and you never know, after a few months of such counseling you might be happily engaged with both of you certain that it's the right thing to do.
Related Reading: Ways on How to Propose to a Girl
Determine whether your boyfriend is ready for marriage
Learning how to propose to your boyfriend involves a lot of groundwork – but it's the same the other way around too.
One of the ways that you need to prepare is to determine whether your boyfriend is ready for marriage.
To figure this out, consider whether you've discussed marriage and if he balked and ran for the hills as fast as he can or if he was receptive to the idea.
Is marriage something you have discussed together? Is it even something he says he wants to do?
These are the things that you need to find out first. If you haven't broached the topic of marriage just yet, raise the question to see what side of the fence he's on before you go any further with your plans to propose to your boyfriend.
Your man's ego
Men naturally push things (no pun intended) they usually like to feel in control hence why so many happily married women are a dab hand at letting their husband think everything was his idea!
So, an essential aspect of learning how to propose to your boyfriend is to consider his ego. Is he going to feel delighted and inspired by you taking control? Will he find that sexy and alluring, or will it make him feel belittled, insecure and inadequate because he didn't get to do the job he was 'meant' to do? Only you know the answer to this question because only you know your boyfriend.
But remember this, a proposal should be a happy memory for both of you for years to come.
If you feel as though your future husband will be embarrassed when the story of how you proposed is told, it might be worth re-considering proposing to your boyfriend.
And instead, having a frank talk with him about the prospect of marriage. If you think he'll be cool with it though then it's a green light from here!
Related Reading: How to Propose to Your Boyfriend
Asking for your boyfriend's hand in marriage
This is a tricky consideration since we are going down the non-traditional route. On the one hand, you need to consider that you won't want to embarrass your boyfriend in front of his family by making him seem or feel weak in front of them (but you won't if you have read and understood the tip above this one).
But if you know that your boyfriend will be fine with your plan to propose to him, then it's up to you what to do about this tradition.
A cute idea though is to perhaps take his Mom out for lunch, talk to her about your plans and ask her for her approval. She'll probably be delighted that you asked!
What to do about the engagement ring
For him, you don't need an engagement ring, but a token gift would be a sweet gesture, think of cufflinks, a chain, or something that he would cherish and feel special with. Of course, if he wears rings, then nothing is stopping you from getting him one too.
But the bigger question here is what will you do about having an engagement ring?
Chances are you are going to want one. So you need to think about how you will get one. One idea is to go together to shop for an engagement ring for you and make a special day of it after he has said yes.
Also Try: Is He Going to Propose Quiz 
To kneel or not
Traditionally the guy kneels when he proposes, you'll probably be wondering what you are going to do here. Well, you can do as you please.
However, there's something classy about not getting down on one knee. Plus it's going to be difficult if you are wearing high heels and a dress! So think carefully before you decide.
The final thoughts on how to propose to your boyfriend include thinking about what to do if he says no – remember it doesn't mean the relationship is over. But it's worth having a plan for how you will handle that. The remainder of the work you need to do to pull off your proposal to your boyfriend is all about planning something special, and the practicalities of what you might say and what you will do together afterward.
And at the risk of sounding a little feminist to a non-traditionalist such as your good self but Women usually have the planning element in the bag, just do something you both will love and remember forever, and it will be perfect – even if you do propose by sticking magnets on the fridge freezer.
Share this article on
Want to have a happier, healthier marriage?
If you feel disconnected or frustrated about the state of your marriage but want to avoid separation and/or divorce, the marriage.com course meant for married couples is an excellent resource to help you overcome the most challenging aspects of being married.
You May Also Like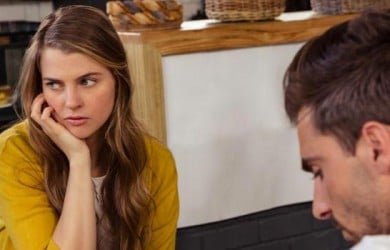 Popular Topics On Married Life