How to Get a Guy to Propose to You
You realize that he adores you since he reveals that to you all the time but you are worried that he isn't going to take the relationship to the next level.
Each time you talk about marriage, he goes hard of hearing in the two ears and starts talking about something else. Don't worry! We have compiled some ways through which you can get your guy to propose you without being obvious about it.
Related Reading: Signs He's Going to Propose to You Soon
1. Become his weakness
Though your guy is not proposing you, it doesn't mean he can't consider you to be his life partner in future.
Maybe he needs assurance that you'd be the best choice for him. To ensure this you should be his sounding board, his closest companion, and an expert in cooking his most loved dish. You need to understand that your person needs time away from you also.
He will value the fact that you have no insecurities and the way you give him space once in a while. He will gradually understand that marriage doesn't mean that a guy has to surrender his freedom and flexibility, and he'll be happy to get engaged with you.
2. Give yourself time and importance
Don't lose yourself completely in a relationship. Believe it or not, your boyfriend has to realize that you care about yourself, you have your own goals and plans, and you can't be available all the time.
Talking to your guy 24/7 might be engaging at the start; however, he'll certainly get bored of you if you don't have anything to do with your own life. Make some plans to set the focus on yourself for some time. Work out, start taking care of your skin and hair more and go to a spa for some relaxation.
Trust me, if you give yourself time every week to make yourself look more attractive, you will definitely become more appealing to him. Beauty and fitness are essential to make any guy head over heels for you. Also, he would want your attention if he isn't getting it much. This might make him think about proposing you.
Related Reading: Ways on How to Propose to a Girl
3. Give him hints about moving
This is one way you can try when everything else is failing.
Calmly share your thoughts with him about moving to another place to find better work opportunities, or moving to some city that has a magnificent climate. Start finding new flats to rent or tell him precisely how this new opening for work in another state will be great for your career.
Doesn't matter if you don't have any real plans for moving, just the thought of you going away and moving out will influence him to propose.
4. Start spending more time with your friends
When a guy enters your life, your life gets centered on him and then you don't get much time for your friends.
You routinely avoid week after week supper with your friends. In the long run, your friends quit requesting to meet up, and now, you hardly receive notifications from them. (You must not forget your friends when you get into a relationship).
Now that you are trying to make your guy propose to you. You need to show him that you have other people in your life to spend quality time with. Rather than being at home and waiting for him to come home from work every day, do your own things.
Simply, plan a weekend night out with your female friends, yet don't tell him your plans until the point that Thursday night moves around. If he will feel a bit insecure, he will be afraid to lose you. Sometimes it is important to make your absence felt.
This is a simple strategy to make him realize that things can change in his love life if he won't propose you sooner.
Related Reading: How to Propose to Your Boyfriend
5. Tell him you have options
Don't be too obvious and don't scare him by saying anything stupid.
He knows you love him and he trusts you so much, however, he has to realize that you have other options if he is not going to be the one who will marry you. You need your person to realize that can be attracted to other guys, as well as they can be interested in you!
You can do that by just mentioning about the kind of guys who impress you or just by looking at someone in front of him with admiring eyes. Tell him when a guy compliments you. He will start finding the ideal ring to ensure you're his and just his from now until for eternity!
Also Try: Is He Going to Propose Quiz 
6. Keep the wedding talk on hold
Now, he knows you need to get hitched on the grounds that you discuss everything all the time.
You have endless wedding magazines, you've disclosed to him how a particular wedding outfit will look gorgeous on you and he sees each time you are checking out a wedding post on Instagram. If you really want him to propose, it's the best to stop talking about weddings. Play it cool.
You have told him that you can't live without him; he doesn't have to know every one of the insights about your fantasy wedding until after he proposes you. Let the guy make a move now.
Share this article on
Want to have a happier, healthier marriage?
If you feel disconnected or frustrated about the state of your marriage but want to avoid separation and/or divorce, the marriage.com course meant for married couples is an excellent resource to help you overcome the most challenging aspects of being married.
More On This Topic
You May Also Like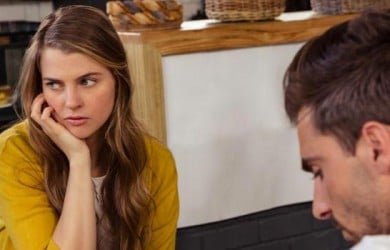 Popular Topics On Married Life