How to Make Someone Blush: 15 Adorable Ways
Blushing is cute, isn't it? And how great does it feel to suddenly make that special person in your life blush! It's heart-warming.
There's no doubt that there's immense satisfaction in making your beloved blush. But if you want to learn how to make someone blush, hello and welcome!
The good news is that when it comes to learning how to make someone blush.
There are several things to say to make someone blush. There are other ways, too, in terms of gestures or behaviors for learning how to make someone blush.
Another great thing about making someone blush is that it's pretty simple and easy to execute.
You're probably now getting impatient to just dive into the techniques of making someone blush and make memories together. So, let's not delay gratifying your desires any longer and get into it.
What it means to make someone blush
But before you equip yourself with the skills to make someone blush, one of the essential aspects of learning how to make someone blush is first to learn what it means.
But listen. It's important to acknowledge that everyone deserves to be made to blush by their partner, irrespective of their gender identity.
Now the trick to understanding how to make someone blush is to acknowledge that blushing isn't quite easy. People try to avoid blushing because it can be pretty embarrassing for them. Blushing isn't something that a person wants to do willingly.
As blushing may be perceived as an expression of embarrassment, your special someone may try their best to resist it. So, remember that spontaneity is key for learning how to make someone blush.
What does it mean when you make someone blush? When someone blushes, it is an emotional reaction. This emotional reaction happens due to the secretion of adrenaline, which is a hormone.
When adrenaline is released, the nervous system makes the blood capillaries on a person's face dilate (to get wide).
So, the blood flow to your cheeks increases, and therefore, you look flushed.
Can blushing make someone attractive?
Another important part of figuring out how to make people blush is to answer the all-important question: does blushing make a person look more attractive?
A study by Pazda and colleagues in 2016 on facial redness reported that the redness of women's faces made men perceive these women to be more attractive.
The study showed that women with increased redness were considered healthier and hence more attractive than women with lower facial redness.
So, the bottom line is that yes, there are chances that blushing can make a person considered attractive!
Watch this video, and you will definitely believe that blushing enhances attractiveness.
Does blushing indicate love?
Another essential question that has to be addressed regarding how to make someone blush is whether blushing indicates love.
The thing about blushing is that it may be a sign of love. How? When a person is so very happy (and that too without any specific reason), and they can't control their happiness, they may blush.
This usually happens when people fall in love with a special someone. So, they feel at all times without any particular reason. That giddiness they feel can make them blush. Hence, blushing may be an indication of being in love.
Do men find blushing attractive?
If you find yourself blushing around your special someone, the question of whether men find the act of blushing to be attractive might have occurred to you.
And before you get into learning about how to make someone blush, this is a good question to know the answer to.
As already mentioned, according to Pazda's study, women with higher facial redness were rated to be more attractive by men than women with lower facial attractiveness.
People who blush more are basically considered healthier than those who don't blush and have a paler face. And the thing is, these indirect indications of optimal health are considered highly attractive to men.
So, yes, men do find people who blush to be highly attractive.
So, if you find yourself blushing very often, you're in luck because the chances are that people find you to be highly attractive.
Related Reading:

 How to Be More Attractive to Your Partner: 20 Effective Ways
15 cute ways to make someone special blush
Now that you've got the answers to some important questions related to blushing, let's get into the details of how to make someone blush.
Here are 15 proven adorable ways to make someone blush:
1. Tease your special someone in public
A little bit of light teasing is one of the easiest ways to make your special person randomly blush. The light teasing, especially in public places, can make someone blush because people are naturally quite conscious when they're in public, especially with their beloved.
It's a cute way to make your beloved feel special in your life. But just remember to keep the teasing very light, don't hurt her with your words.
2. Maintain eye contact
This tip is from the movies! You must've seen the wonders of suddenly making eye contact and sustaining it, right? This is highly effective.
It'll make your man or woman, or partner blush because maintaining eye contact makes people feel like they're being admired.
Related Reading: 

10 Powers of Eye Contact in a Relationship
3. Write a cute note
To make someone blush, having romantic words to say is a great tactic. It's old-fashioned for sure but highly effective. If you want your boyfriend to blush suddenly, write something romantic for them and leave that note for them to see!
Related Reading: 

Romantic Quotes
4. Compliments for the win
There are several compliments to make a guy blush. It's easy; it's direct. Try to compliment your lover based on their qualities or features that they're proud of. For making men blush, appreciate his efforts. It works wonders.
5. Inside jokes are great
One of the things to say to make people blush is to have inside jokes with your special person. This works through phone calls, video calls, in-person, and texts.
When you crack a hilarious inside joke, it'll remind that person of that particular moment, and then they'll blush.
6. Cute texts
There are a lot of options when it comes to how to make someone blush by text. The idea of coming back home to find an adorable message from one's significant other is blush-worthy.
Related Reading: 

45 Best Hot Romantic Text Messages for Her
7. Flirt with them
Another great way to learn how to make someone blush over text is by sending them a special flirty text. It can be as racy as you want it to be. But random flirty texts out of the blue are a foolproof way to make your beloved blush and miss you.
8. Public displays of affection
One of the best ways to feel satisfied from successfully making someone blush is to do it in-person in public places. Cute displays of affection in public convey a strong sense of intimacy between a couple.
So, if you want your beloved to blush (non-stop), kiss them, an arm around their waist, a hug, or whatever you want.
9. Whisper something cute
Another great tactic for learning how to make someone blush with words is to whisper something romantic or sexy in their ears.
This trick is very effective because the act of whispering in someone's ears is also a sensory experience. That amazing tingly sensation accompanied by what you've whispered is sure to make your beloved blush.
Related Reading: 

100 Love Paragraphs for Her to Cherish
10. Wink at them
Another effortless way to effectively make your beloved blush is by randomly winking at them. The rush and giddiness when their special someone winks at them accompanied by a flirty smile are unparalleled.
11. Plan a surprise
Planning a surprise, whether it's their surprise birthday party or a surprise trip or date or anything important to them, is sure to make your significant blush uncontrollably.
Planning and executing a surprise is so effective because it conveys to your special person that they're very important in your life.
Related Reading: 

10 Ways to Thrill and Surprise Your Special Someone
12. Thoughtful gifts
The gift doesn't have to be something grand or expensive. Just make sure that what you gift your beloved is meaningful to them. Whether it's your beloved's favorite flower or chocolate or a hand-made gift or a piece of jewelry or anything else. Thoughtful gifts rock!
13. Appreciate them
Some of the things to say to make people blush are to include something as simple as a "Thank you." Verbally expressing your gratitude or appreciation for them, especially randomly or spontaneously is a sure-shot way of making your beloved blush.
Related Reading: 

8 Ways to Show Appreciation to the Love of Your Life
14. Say I love you
Another one of the things to say to your gf to make her blush is dropping the L-bomb. This will especially work if you both haven't said it to each other before this.
15. Smile away
That warm and fuzzy feeling that people experience can be brought upon by something as simple as a smile. A cute smile with good eye contact can show your beloved that they're on your mind.
Conclusion
Now that you're well-acquainted with how to make someone blush, go ahead. Try out at least a few of these adorable ways and make your love blush away!
Share this article on
Want to have a happier, healthier marriage?
If you feel disconnected or frustrated about the state of your marriage but want to avoid separation and/or divorce, the marriage.com course meant for married couples is an excellent resource to help you overcome the most challenging aspects of being married.
More On This Topic
You May Also Like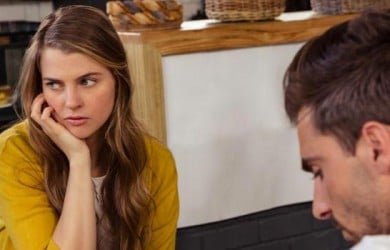 Popular Topics On Married Life