How to Get Over Someone You Never Dated: 15 Helpful Tips
It's one thing to mourn the end of a relationship. It's another to pine for someone you were never dating in the first place.
Many of us have experienced unrequited love, and if you're reading this, you have probably experienced it too. Letting go of someone you never had can be more difficult and confusing than traditional heartbreak.
After all, how do you end something that never really had a beginning? How to get over someone you never dated? Read this article to discover the reasons behind this pain of unrequited love and how you can cope with it.
How long does it take to get over someone you never dated
?
The duration of recovery from any negative situation depends on the degree of exposure. The amount of attachment and feelings you hold will determine how long it takes for you to get over them.
It's easy for people who have never experienced this unrequited love to pretend it isn't real or as valid as conventional heartbreak. But that doesn't make your feelings less valid.
It isn't as if you're dreaming about a girl or guy you've never met. It's possible to have feelings for someone you know or are close to, even if you never dated them.
Telling yourself that it isn't a real issue for you will make it harder to move on in the long run.
Instead of being in denial, you need to know that there are solutions to deal with this situation effectively.
5 reasons it can be difficult to get over someone you never dated
Before learning how to get over someone you never dated, it is important to understand why such a situation is difficult for individuals to handle.
Here are some reasons that make these one-sided feelings difficult to get over:
1. No concrete answer
Learning how to get over someone you never dated can be harder as many unanswered questions still plague your mind.
You might still find yourself wondering about the "what ifs" and whether you truly understood what the other person felt for you. Your heart might question things repeatedly to look for avenues for any hope.
Related Reading: 

125 Good Relationship Questions To Ask Your Partner
2. Residual hope
When you breakup with a partner, you usually understand the problems within your dynamic with your partner and how you may not have been compatible. But when you haven't dated the one you like, you might find yourself still hoping for a future together.
You may still wonder whether the chapter is truly closed, which will prolong your uncertainty and pain of longing.
3. Possible isolation
When you have not dated someone, you might keep your feelings for them to yourself. You might not share it with others.
Dealing with these one-sided feelings all by yourself can make things more painful and confusing.
4. Self-doubt
Unrequited love can make you doubt yourself immensely because, in the absence of answers, your instinct might be to doubt yourself and your appeal.
You might question your looks, personality and appeal, as you might see the lack of success as a failure on your part.
Related Reading: 

How to Identify and Overcome Relationship Doubts
5. No closure
Unrequited love might leave you in a position where you keep mulling over possibilities for a long time, as you get no real closure. Since you are not in an official relationship with this person, closure is proper closure for the possibilities that this person might represent for you.
15 tips for moving on from someone you never dated
There are many steps you can take to move on from this kind of situation. Figuring out how to get over someone you never dated is perhaps more difficult than recovery from traditional heartbreak. But it's possible.
Thinking of the what-ifs, what could happen, what might have been, etc., can turn into a never-ending loop. But thankfully, there are ways you can stop the loop and escape the confusion.
So we've developed a helpful list of tips for getting over someone you never dated. It's time to move on, and this advice will help get you to the other side and have you ready to bounce back.
1. First, make sure they're not interested
Maybe this person has rejected your feelings, or their friends have done it for them. If you know, you know, and you can ignore this step.
But if they've never established how they feel about you, it's time to find out.
It's easy to convince yourself that someone isn't interested because you think they're giving off negative cues and body language. Especially if you suffer from low self-esteem or anxiety, you're going to tell yourself that's the case even if it's not, or without confirming it for certain.
It's hard, but you need to ask. This way, you can get real closure around your feelings and shut the door on them completely.
If you keep the possibility of their feelings open in your mind, it will always seem like a good reason to hold on and keep that door open.
As sad as it may be, one of the best ways to get over someone you never dated is by accepting the fact that they don't feel the same.
And of course, there's always the chance that maybe they do. But you won't know if you don't ask!
2. Stop checking their social media
If you've observed, "I can't get over them, " you need to stop constantly checking in on them through Facebook, Instagram, Twitter, etc.
Keeping tabs on their whereabouts and activity through social media may help you feel closer to them, but in the long run, it only keeps you tied to the person and your feelings, ultimately making it harder to move on.
If you are close with this person, and they know your feelings for them and don't reciprocate, consider limiting their ability to contact you.
You can do this by temporarily deactivating your profiles, archiving their messages so you don't see them and feel tempted to respond, or blocking them temporarily as a last resort (you can always unblock them later).
Related Reading: 

4 Things to Avoid in Social Media if You Are in a Committed Relationship
3. Keep your distance
Checking out of social media isn't enough. When you're in love with someone you aren't dating, it's tempting to find an excuse to see them or be around them.
Often that means showing up to parties or social events you know they'll be attending or even going out of your way to initiate social encounters.
It isn't the easiest way to get over someone you never dated, but keeping yourself around the person will only prolong your feelings and stop you from letting go of them.
Distance is essential when breaking up with someone you never dated.
If they're a friend of yours, you don't have to cut them off completely but try not to be in their company regularly for a few weeks, or even better, months. Avoid taking those actions you know will put you in proximity to them. It's all part of moving on.
4. Stop reading into things
Wondering how to get over a guy or girl you never dated?
Stop taking every possible signal, or a bunch of mixed messages, as a sign they want you back. Things like shared eye contact for more than a second or brief and accidental physical contact!
When you love someone and don't make it clear how they feel about you, it's easy to find any excuse to believe that they might.
You need to stop finding every tiny excuse to believe that they share your feelings.
It's important if you want to get over a girl or guy you never dated.
Related Reading: 

Dating vs. Relationships: 15 Differences You Must Know About
5. Embrace your feelings
When you're getting over someone you've never dated, it's easy to feel guilty and embarrassed or to trivialize your feelings.
Hell, the people around you will probably do the same. It can be difficult to understand and empathize if they've never experienced it themselves.
But none of that matters. If you're feeling down in the dumps, dismissing your feelings or belittling yourself for them is only going to make you feel worse.
And it's very likely to stop you from moving on. Not only that, but it's actively bad for your health to bottle up emotions.
This study, published by the American Psychology Association, analyzed the dreams and sleeping patterns of the participants. They found that those who regularly repressed their thoughts and emotions experienced more stress, anxiety, depression, and sleeping issues in waking life.
It's imperative for your physical and mental health that you embrace how you're feeling.
Processing your emotions is key to moving on from the experience that caused them in the healthiest way possible. As the old saying goes, 'the only way out is through.'
6. Acknowledge that it isn't worth it
This is a particularly difficult step because it also means acknowledging that you've spent so much time and emotional energy on something that was a waste.
Yes, you can learn a lot from this kind of heartbreak. It isn't all wasted. But after a while, continuing to mope over someone you are unlikely to ever end up with is just self-torture.
At some point, you need to realize that it isn't worth focusing on something that isn't going to happen.
7. Be honest with yourself
Face up to the truth of this situation in whatever way you need to to get over someone you love but never dated.
Identify the things you are in denial about and are using to keep this person in your life or convince yourself that you still have a chance with them.
Getting over love is impossible if you're constantly telling yourself lies and half-truths about your situation.
Related Reading: 

Why Honesty in a Relationship Is So Important
Watch this video to learn how honesty and transparency can transform your life:
8. Accept that it isn't bad timing
If it were bad timing, there would be a clear cause, and you would find your way around it, whether because they can't commit, are emotionally unavailable, or just aren't interested.
It doesn't matter why. Stop blaming time.
9. They don't feel the same
If you wish to get over someone you never dated, this is the big one.
If you tried step one and you're still reading this article, it's because you know they don't want you in the same way.
Related Reading: 

What To Do When You Feel No Emotional Connection With Your Husband
10. Many people feel like this
Whether it's falling in love with someone unattainable or still pining for your ex, many people are going through the same thing you are.
Studies amongst high school and college students have shown that unrequited love is four times as common as reciprocated love!
Many have felt this way, and many will experience it in the future. How many of those people feel this way forever? Exactly.
11. Look at the past objectively
We often romanticize our memories, particularly about that special person. Amid heartbreak, go over these memories with a harsh and honest eye.
Review your interactions with that person and ask yourself – was there ever a spark? Or any signs that they liked you back?
Are they even as wonderful as you remember? Or wonderful enough to feel this much pain over? The answer is likely 'No,' on all counts.
Related Reading: 

How to Accept the Past of Your Partner: 12 Ways
12. Figure out why it wouldn't work
If being with that person was going to work, it probably would have already. This isn't always true, but think about it – people know when someone is right for them, especially someone they've spent a lot of time around.
If this person doesn't want to be with you, it's probably because they know something that you don't – i.e., that you're just not that compatible.
And if you look closely into why that might be, you'll no doubt find reasons why a relationship with them wouldn't work.
Maybe you're too clingy, and they're too emotionally distant. Maybe they love going out, and you just want to stay home. That last one was a joke, but you get the idea.
Once you pinpoint these kinds of things, you'll slowly start to feel more positive about the position you're in.
13. Keep yourself distracted
Distractions are a helpful tip for virtually every kind of heartbreak one can experience. There are many ways you can distract yourself from your feelings until they eventually (or hopefully) fade into the background.
Here are a few good ways of keeping yourself distracted:
Focus on your hobbies and interests, or find new ones

Spend more time with your friends and family

Do things that make you smile and laugh.

Work on yourself: exercising more, organizing your room, or focusing more on work.
Relationship counseling shows that consistent distractions aren't going to heal your heart completely, but it can help by making the process easier.
14. Be open to other people
Jumping into bed with other people without a second thought may not be the best idea (though some people do this), but you shouldn't rule out pursuing others entirely.
The truth is that when you are pining for someone who doesn't return your affection, you will use most of your emotional energy thinking about and feeling for that person.
Not moving on means you block yourself from others because you're so consumed with this other person. But exploring other people can distract you from your feelings and, over time, help you heal and forget.
So, how to get over a girl or guy you never dated?
Consider going on dates, using dating apps, or just putting yourself in situations where you are more likely to meet interesting people. But make sure that you use dating apps safely.
The worst-case scenario is that you don't meet anyone you're interested in, and you're back to square one, which is OK.
But the best-case scenario is you meet someone you like and enjoy spending time with. As new feelings blossom, old ones should fade.
15. Remember that you've got options
It's hard to think about when you're deep in it, but rejection and heartbreak are natural.
Not everyone will want you, but someone out there definitely will.
It's all cliche to hear when you're love-stricken, but it's SO true – there are billions of people on this earth and endless opportunities to meet someone who wants to be with you.
Don't spend too much time mourning something that never was when there are much better opportunities out there.
Related Reading: 

25 Things to Remember When You Love a Woman
Some commonly asked questions
It can be difficult to get over someone you have not dated, as you might be dealing with these emotions alone. Answers to certain questions can address some of your doubts and possibly validate what you've been feeling.
Is it more difficult to get over someone you haven't dated?
It is not more or less difficult to get over someone you have not dated, as everything is relative. Your level of involvement and feelings for the other person determine how painful it is to move on, whether from a relationship or unrequited love.
Can you be in love with someone you never dated?
Your feelings for someone depend on how you feel and not the standard. You can fall in love with someone you have not dated, as they truly move you and matter to you a lot.
Other people might consider it a simple crush, but you are the only one that can assess the nature of your feelings for someone.
Some final thoughts
Making a move to get over someone you loved but never dated is emotionally draining and time-consuming, so try not to be too hard on yourself.
You may only be able to do some of these steps, but even doing a couple should help you through the process.
Why is it so hard to get over someone? It's hard to say exactly, but we know that it's possible to let go as long as you take the right steps to make that happen.
Share this article on
Want to have a happier, healthier marriage?
If you feel disconnected or frustrated about the state of your marriage but want to avoid separation and/or divorce, the marriage.com course meant for married couples is an excellent resource to help you overcome the most challenging aspects of being married.
You May Also Like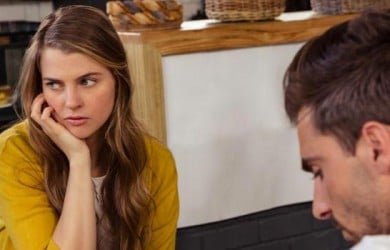 Popular Topics On Married Life