Here Are Some Concrete Exercises in Getting Through Unrequited Love
Have you seen the movie "Love Actually"? It's a great movie about the different forms of love. One of them is about unrequited love, and the main character in that story arc is in love with his best friend's wife. He handled it with class.
Unrequited love comes in two forms, unfulfilled desire, and forbidden relationship.
Unfulfilled desire is when you are in love with someone, and they are not in love you. You are both single, but the other person just doesn't feel the same way about you.
The second one is when one or both of you are in a commitment. It could also be a family member or someone who can't get into a relationship, like a priest.
Here are some concrete exercises in getting through unrequited love. You can either fulfill it or get over it.
1. Throw away your tokens and mementos
Love can turn into an obsession, and when it does, it can lead to something unhealthy and dangerous.
So, go cold turkey. Delete or throw away all their pictures and other paraphernalia that remind you of that person. People keep little trinkets that represent the object of unrequited love such as a handkerchief you once shared, photos, and other novelty items that you kiss and hug imagining a dream life with that person.
Get rid of it, all of it. Dispose of it somewhere you can't get back. Don't burn it, playing with fire while your emotional is not a good idea.
2. Date other people
You are in love with someone, but you can't be together, and it's unfortunate. But most people fall in love more than once in a lifetime. So, it's not really the end of the world for you. Just go out and date someone else.
If you don't have other prospects, then go meet your old friends and have fun just like the good old days. In time, if you don't live under a rock, then you will have a fated encounter with another potential soul mate.
3. Improve yourself
So, someone doesn't like you, maybe it's because you talk too much or too little. It could be because you dress like a total creep and forget to wash your hair.
Have a good look at yourself and change things for the better. Learn new skills or polish old ones. Take care of your appearance and hygiene. Work on your overall health and physique.
Men and women attract each other.
It is not a one-way street. Do what you can to make yourself a desirable mate. This is why some people can't get laid while rockstars have women lined up to have sex with them.
Become someone that the opposite gender crave for.
4. Make an effort to stay away
In the movie love actually, both the best friend and the wife think that the main character hates the wife. It is because he makes a conscientious effort to avoid her.
It is the best way to prevent embarrassing situations when the girl finds out that he loves her and ruins the friendship. In the movie, she eventually did, and they closed the matter between them.
In reality, things can get complicated if your affection comes into light. It's a complication that you do not want to get into. You are bound to lose one or both of them. If the rumors spread, it can take a life on its own and turn nasty.
So move away, it's the noble thing to do. It is also the safest.
5. Don't talk about it
The more you talk about it, the more you remember the person. There's also the added danger that the person you talked to will use that information against you.
If you really need to talk about it, go online and talk about it in an online dating site. It would make you look like a total idiot and cure that problem.
Remember out of sight and out of mind. Include your imagination in that. Most of the suggestions here are just concrete exercises in getting through unrequited love in line with that adage.
6. Go on a trip
Make sure it's not with the person you are in love with or anyone close to them. Go alone if you have to. Broadening your horizons by experiencing other cultures will help clear your head and raise your value as a person.
The most important thing is to be far enough from that person so you can freely think about them without anyone else finding out. Make sure to enjoy the sights, sounds, and the taste of the new culture.
You are in love, that is not a bad thing, and the easiest way to fall out of it is to fall in love with something else. Even if it's Chinese street food or Napolitano pizza.
7. Write a book or do anything creative
Ernest Hemingway is one of the most prolific writers of all time. His book "In Love and War" is about his wartime experiences and unrequited love. Unfortunately, his book won such acclaim that he won the Nobel prize and the Pulitzer for it.
He was never able to move on because of the book and committed suicide.
Pain inspire creatives to create great works of art.
In the movie Love Actually, another story arc is about a male character that decided to write a book after he caught his brother and wife cheating on him.
He eventually found the love of his life (again), when writing his book. Who knows, you could either be that guy or Ernest Hemingway minus the suicide.
These are some concrete exercises in getting through unrequited love and survive the aftermath of it.
You can find love elsewhere – just don't give up hope
Those concrete examples in getting through unrequited love will help you go through the pain. It already hurts and there's no point in going against the world and hurt yourself further.
You can always find someone else to love as much as that person or even more. They may even reciprocate your feelings.
As long as you don't do anything stupid like committing suicide or locking yourself in your room for years. Then, love, it will eventually happen, and if you improve yourself while you're waiting for love, then the chances of finding someone better rise together with your own growth as a human being.
Some concrete exercises in getting through unrequited love as mentioned here can seriously pull you out of such a dampening and miserable situation.
Share this article on
Want to have a happier, healthier marriage?
If you feel disconnected or frustrated about the state of your marriage but want to avoid separation and/or divorce, the marriage.com course meant for married couples is an excellent resource to help you overcome the most challenging aspects of being married.
More On This Topic
You May Also Like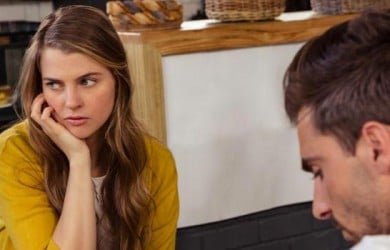 Popular Topics On Married Life