How to Balance Relationship and Career and Work: 10 Tips to Try
When you have a great career and a loving relationship, you might feel challenged at some point trying to ensure that none of them suffer. On some days, it may look like this is impossible to achieve. However, it is interesting to notice that you can keep the love strong and climb the career ladder.
This piece is for you if you love your relationship and career and don't want to lose both. In this article, you will learn how to balance work and relationship and achieve success on both sides.
How can you balance your relationship and career?
Relationships and career are two of the most important aspects of an individual's life, which should be handled with optimal commitment. However, many people struggle to balance their love life and career.
Eventually, they begin to fall short in one of these aspects while the other thrives. One of the primary ways on how to balance work and relationship is to choose the right partner who understands what is at stake.
Additionally, you can consider a career that offers flexibility to take care of your personal life. You can flourish in your relationship and career with good communication, sacrifices, and understanding.
Yetunde Odugbesan Omede's book titled Balance, is an eye opener for couples looking to balance their life, family, love, and career. The book also provides a full guide on how to chase your dreams while other aspects of your life keep thriving.
10 tips to help you balance your career and love life
One of the challenges that partners face in their love life is balancing career and relationship. This is why there are several cases where partners have to let each other go because they cannot balance these important aspects.
1. Be with the right partner
If you don't want your love life to affect your career and vice versa, looking out for the right partner is quintessential. On how to balance work and relationship, you need to ensure that you are with someone who is understanding.
You must be in a relationship with someone who knows the peculiarities of your career and is ready to make some sacrifices for you to succeed. Therefore, before you begin a relationship with anyone, inform them of what to expect and see if they can work with it.
2. Set healthy boundaries
Regarding your work and relationship, you need to set some boundaries, so they do not overlap and affect each other.
For instance, if it is time for you to leave the office, you should stick to it because if your partner is at home, they might expect you from that time. When you are off work days, you can leverage that freedom to bond with your partner and leave other pending and non-urgent tasks until you resume.
Additionally, when it is time for you to face your work squarely, ensure that you don't let your relationship get in the way. However, be sure to communicate any changes to your partner if need be.
3. Create time for each other
Another way on how to balance work and relationships is to set time for each other. You should be careful not to let your love life suffer at the expense of your work. Avoid using your spare period for work every time; you can seize the chance to spend quality time with your partner.
Doing this gives your partner the impression that you highly prioritize them, and even if there are urgent work demands, you don't want your relationship to suffer. Hence, create ample time regularly that the two of you will look forward to.
4. Support your partner in their career path
While you are focused squarely on your work, you must remember that your partner has a career life too. From time to time, ask them how they are faring with work and how you can help if needed. Showing your partner support is one of the ways on how to balance work and relationship and also show that you love them.
The absence of support in a relationship can gradually build resentment, which could cause friction in your love life. Show your partner that you genuinely want to see them win in their career.
Related Reading

: 

20 Steps to Becoming a Supportive Partner
5. Make decisions together
Another way on how to achieve balance in a relationship is to make decisions with your partner instead of leaving them out. Sometimes, when we are swamped with work, you might unintentionally leave your partner out of the decisions that matter.
It might be painful when they realize it later, even if some of them are understanding. Ensure you inform your partner about the need to discuss crucial matters before you forget due to work demands. Remember that one of the ways to steer your relationship in the right direction is to hear what your partner has to say on most matters.
6. Split household duties
When partners in a relationship misunderstand household duties, it is because they have not created a system that favors both parties. It can be frustrating coming back home to see the house untidy.
More so, the partner who is less busy handling household tasks would not want to feel unimportant because they have more time on their hands.
Therefore, you and your partner should assign clear roles in the relationship for your household chores. But be ready to fill in for your partner on some occasions if they are unavoidably absent.
7. Be ready to apologize and also forgive
Learning to apologize and forgive is one of the best ways on how to balance work and relationship. Sometimes, your work duties might affect your relationship commitments which might not go down well with your partner.
When they communicate their distress to you, apologize to them and try to make amends. Trying to defend yourself might make matters worse. Also, if your partner does something similar, try to understand and forgive them.
Related Reading

: 

Importance of Saying Sorry in a Relationship
Watch this video on why apology and forgiveness matter in a relationship:
8. Communicate regularly with your partner
Good communication is one of the vital ways on how to manage a relationship. Check-in regularly with your partner to know how they are doing and how their work is going. The absence of communication in a relationship can make you or your partner feel neglected. You may begin to think that they prioritize their work over you.
If you don't live with your partner, you can send them a text in the morning, a couple of texts during lunch break, and be sure to speak with them at night. However, be careful not to keep your communication moderate when you are in the heat of work to avoid affecting your productivity.
9. Plan vacations, date nights, or hangouts
Spending special moments with your partner is one of the ways on how to balance work and relationship. You can plan a vacation some months ahead where you and your partner will spend some time alone, without any interference from work.
Additionally, you can have some romantic date nights from time to time to make your partner feel special. Hangouts with friends and family is another profound way to balance career and love. The goal is to ensure that any moment spent with your partner is always worth it.
10. Set goals together
Another healthy way on how to balance work and relationship is to set goals together as a couple. You can set individual career goals and be accountable to each other. The relationship goals should be set together because you're a couple. Setting goals will allow both of you to have something to always look forward to.
Akuamoah-Boateng Clara conducted an interesting study using data from the female staff at the College of Distance Education, University of Cape Coast, Ghana. The research is titled Balancing work, family, and personal life, and it showed how the female staff could balance these aspects of their life.
Related Reading

: 

25 Relationship Goals for Couples & Tips to Achieve Them
FAQs
Can work affect your relationship?
Some people belong to the school of thought that believes that working too much affects the relationship. This is true when you don't provide a balance between your love life and your career.
What comes first- love or career?
Both love and career are important in a relationship, and none should come first over the other. Every relationship that wants to succeed needs to create a system on how to balance work and relationship so that none will suffer.
Bottomline
With the information mentioned in this piece, you might agree that knowing how to balance work and relationships is not as difficult as people think it is. You can apply some of these tips, and you will be amazed to see your love life and career flourish. If you are experiencing difficulties implementing some of these tips, you can see a relationship counselor for more guidance.
To learn more about striking a balance in your love life and career, check out Monika Kornaszewska Polak titled Balancing between professional and private life.
Share this article on
Want to have a happier, healthier marriage?
If you feel disconnected or frustrated about the state of your marriage but want to avoid separation and/or divorce, the marriage.com course meant for married couples is an excellent resource to help you overcome the most challenging aspects of being married.
More On This Topic
You May Also Like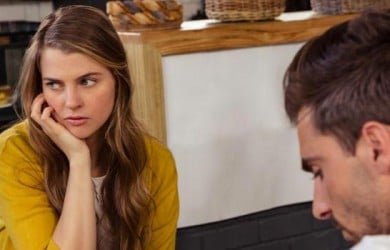 Popular Topics On Married Life