12 Ways to Forget Your Twin Flame and Move on With Your Life
You may have heard a lot about a twin flame and how it is a type of soulmate. However, you might not know how to get over your twin flame once the relationship may have run its course. Here's a look at twin flames and how to forget yours if you need to.
What is a twin flame?
A twin flame is a type of soulmate you may encounter in your life. In some cases, a person may have a relationship with their twin flame, but it doesn't always last. This may be because a twin flame is thought to be the other portion of your soul. In other words, they may be a lot like you, but with mirrored traits.
In many relationships, twin flames will have a great bond, which will sour over time. This is what is known as twin flame separation. However, it is possible to find out more about getting over your twin flame. There are multiple ways to accomplish this task.
If you are curious how to know if someone is your twin flame, check out this video:
Why would you want to forget about your twin flame?
You might want to forget about your twin flame once you have decided that ending a twin flame relationship is the right call. Since these types of relationships are thought to involve two people with the same soul, this can be challenging if you aren't on the same page concerning what you want out of t0he pairing.
If it becomes clear that they are not ready to have a long-lasting relationship with you, it may be necessary to find out how to break a twin flame connection. There are many sources online to consider if you want to find more information. Use these to find out more about how to get over your twin flame.
Can you forget about your twin flame?
Chances are, you can never entirely forget about your twin flame. However, you may be able to work through any twin flame resentment that you have experienced. In some relationships, the similarities in the parties may be the exact reason why the couple must separate.
Essentially, if one party is insecure, this may mean the other one is as well. Your issues could become magnified since there are two of you experiencing similar issues. Furthermore, this might lead to twin soul separation pain since you have likely considered that your relationship isn't built to last.
12 Ways to forget your twin flame
When you are doing your best to let go of your twin flame, these ways to forget them may come in handy. Consider them the best advice when you need to make a change and work on yourself.
1. Experience the pain
After breaking up with a twin flame, it is necessary for you to feel some of the pain. It will take time and energy to feel like yourself again, as with any relationship. This is not a process that can be rushed. You will need to cry when you need to and feel down when this is necessary.
Remember that you won't always feel upset about the end of this relationship. Once enough time passes, you may feel better about what you learned while dating your twin flame and might have learned some things about yourself.
Continue to do your best when it comes to how to move on from a twin flame, and you may be able to think about what you want out of your next relationship.
Related Reading: 

Healing From the Emotional Pain of a Breakup
2. Learn to love yourself
As you work through your twin flame separation healing, you may wish to learn how to love yourself better. The interactions you had with your twin flame might have caused you to be in your head and overthink many of your decisions.
Instead, you should focus on loving yourself and understanding that you aren't perfect. Of course, no one expects you to be either. This is important to note as well.
Related Reading: 

30 Ways to Practice Self-Love and Be Good to Yourself
3. Pay attention to your actions
When getting over a twin flame, you may start to think about all the events in your relationship. You might also begin to consider all your decisions and how you acted. While this is okay, your time may be better spent working on your actions in the present and future.
You cannot change the past, but you can handle situations differently moving forward. Keep this in mind as you figure out how to get over your twin flame.
4. Change your behaviors
In addition to changing how you handle situations, you may want to change your behaviors as well. This could be how you interact with others, but it could also mean your routine.
After you have experienced twin flame cord-cutting, you might wish to change everything you have been doing. You can begin with eating things you like, going to places you want to go, and engaging in activities that you enjoy.
If you don't know what you like, this is a great time for you to figure it out.
5. Stay busy
If you want to know some of the best advice on how to stop thinking about a twin flame, the answer is to stay busy. While you may need some time to yourself right after a breakup, once you start to feel a bit better, this allows you to get busy.
Consider taking a class, learning a skill, or even taking up a hobby. If there is something you have always wanted to try, it will likely take your mind off of your ex.
On the other hand, you may also want to stay busy with more work or projects. It is up to you to decide what will be beneficial for your healing.
6. Lean on your support system
It can be challenging to understand how to get over your twin flame, and you might not need to figure this out alone. Go ahead and lean on your support system to help you get through the end of your relationship.
Multiple studies have concluded that isolating yourself can lead to physical and mental health problems. It's is a good reason to stay social when you can. If you want your good friend's opinion on the breakup or you need a loved one's advice, reach out to them.
You can choose how you want to interact with them. Perhaps you want to speak by phone first. Once you feel better and have healed, hanging out with your friends may feel more natural. Take your time since they will likely understand.
7. Limit social media use
It can be helpful to limit your social media use after you have experienced a twin flame disconnect. Not only can this come in handy if you could see their content on your social media sites, but also because looking at social media pages can cause you additional anxiety.
It could be because people generally post content that indicates they are happy, with pictures of their loving families and partners. In other words, the content on social media may be precisely the type of stuff you want to stay away from when you are trying to heal after the end of a relationship.
8. Learn from your relationship
When you think about how your relationship concluded, this may provide insight into twin flame separation ending signs. Concentrating on this aspect of your breakup might help you in the future.
Although you are unlikely to have another twin flame relationship, it can tell you when a relationship is right for you and when it may not work out. Moreover, you may be better equipped to understand the warning signs if some popup.
Related Reading: 

18 Relationship Lessons From Happy and Loving Couples
9. Take it one day at a time
Again, there are no shortcuts when it comes to how to get over your twin flame. This means it may take a while to feel better or be ready to date again. You don't have to rush yourself.
Just take it a day at a time, and you may end up feeling better tomorrow. Be sure to do something for yourself each day, even if it is something as simple as eating your favorite cereal or sleeping in a few hours on the weekends.
10. Seek therapy
If you are unsure of how to release your twin flame, it may be necessary to seek therapy. A therapist will be able to offer you advice on getting over a breakup, but they can also help you understand the feelings that you are experiencing.
Additionally, a counselor should be able to help you change your behaviors or way of thinking in certain situations. This is a type of therapy known as cognitive behavioral therapy. It could allow you to stop thinking negative things about yourself if this is an issue you are experiencing. You may also be able to learn how to make better decisions for yourself in the future.
Overall, a therapist might help you with any problem you are facing that you would like to overcome.
Related Reading: 

What Is Relationship Therapy – Types, Benefits & How It Works
11. Keep growing
As you begin to heal and find out more about how to get over your twin flame, you should keep growing as a person. If you decide you want to work with a therapist, this is one place you may start.
You might also consider your whole life when trying to better yourself or your situation. If there are goals you would like to meet, think about working towards them. A beneficial way to do this is to break down your goals into smaller, achievable steps to be easier to reach.
12. Work on your health
Another way you may choose to work on yourself is by addressing your health. You can start exercising, watch what you eat, and get the proper amount of sleep each night. You may need to work on at least one of these aspects of your life, and this is okay.
If you don't see a doctor regularly, this may be something else to consider. When you do, you will be able to make sure that you are staying healthy and addressing any concerns right away if you are sick or need medical care. This can also allow you to work through how to get over your twin flame.
Moving on from twin flame separation
Once you have separated from your twin flame, it is time to leave the relationship. The separation process is a period that lets you know that your partnership may not last.
Instead of getting hurt, you need to determine what you want. If you want to stop dating your twin flame, you must let them know. Don't delay the inevitable. There's a chance that you may become romantically involved again when you are both ready.
What happens when you leave your twin flame?
When you leave your twin flame, you must begin the process of getting over a breakup. This may feel similar to other relationships you have had, but it may be more decisive.
After all, if you were dating your twin flame, your feelings for them may be more potent than with other partners. This is why you need to take the time to understand better how to get over your twin flame, considering it may be a lengthy and painful journey.
Conclusion
This article offers tips on how to get over your twin flame. However, this may be easier said than done, or it could take longer. Remember that there are plenty of ways to get over this type of breakup, though.
Perhaps one of the best ways is to seek therapy. A therapist will be able to talk to you about how you are feeling. They might be able to help you change how you are thinking about your twin flame, especially if you are beating yourself up about the separation or blaming yourself for issues.
Take your time and work on yourself in the meantime. While you may never be able to forget your twin flame entirely, this doesn't mean that you can't get over your relationship with them.
Share this article on
Want to have a happier, healthier marriage?
If you feel disconnected or frustrated about the state of your marriage but want to avoid separation and/or divorce, the marriage.com course meant for married couples is an excellent resource to help you overcome the most challenging aspects of being married.
Learn More On This Topic
You May Also Like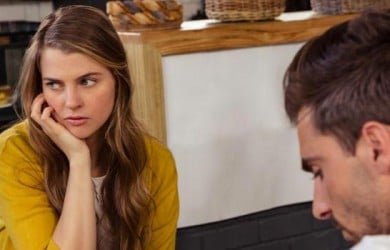 Popular Topics On Married Life