What Is Emotional Incest, How to Spot It, and How to Heal
The term' emotional incest' may shock anyone who reads it, or you may already have an idea about it.
Emotional incest is a term that carries substantial weight in the realm of psychology, yet it remains relatively obscure in public discourse.
We may not talk about it, but it exists. In fact, it's more common than you think.
It signifies a complex and sensitive issue that can significantly impact individuals and their relationships.
Let's shed light on emotional incest by learning its definition, signs, effects, development, types, and the importance of discussing it openly.
What is emotional incest?
Emotional incest, also referred to as covert incest or psychic incest, involves an unhealthy, passionate relationship between a parent or caregiver and a child that inappropriately crosses the boundaries of a typical parent-child dynamic.
This relationship encompasses emotional and psychological enmeshment where the child becomes a surrogate partner for the adult, fulfilling their emotional needs.
5 signs and symptoms of emotional incest
After discussing the emotional incest meaning, it's time to tackle the signs and symptoms of emotional incest.
1. Excessive emotional sharing
Parents or caregivers may start oversharing their personal or intimate problems with their children, treating them as confidantes rather than maintaining appropriate boundaries.
They may divulge intimate problems, concerns, and fantasies, expecting their children to understand them.
2. Emotional dependency
The parent relies heavily on the child for emotional support and uses them as a primary source of comfort and companionship.
They may cry and expect their child to give them comfort. Soon, this may become a habit, causing them to start an emotional incest relationship.
3. Lack of privacy
Emotional incest also occurs when the parent or primary caregiver starts invading the child's privacy, often by reading their diaries, listening to phone conversations, or entering their personal space without consent.
They may also become jealous and demand access to their children's privacy.
4. Inappropriate touch or closeness
Engaging in physical closeness or touch beyond what is age-appropriate causes discomfort and confusion for the child.
Kisses, touches, cuddling, and other intimate touches can become uncomfortable for the child and may add to their confusion.
5. Parenting the child
Reversing roles, where the child is burdened with adult responsibilities and expected to care for the parent's emotional needs.
There may also be times when the parent expects their child to pamper, spoil, and give them extra time and care.
What are the effects of emotional incest on survivors?
As the emotional incest definition and signs become more evident, we want to know more about the effects that this has on its survivors.
1. Psychological impact
The survivor of emotional incest may grapple with anxiety, depression, low self-esteem, trust issues, and difficulty forming healthy relationships due to the distorted model of intimacy they experienced in childhood.
2. Boundary issues
Emotional incest syndrome can lead to challenges in setting and respecting personal boundaries, causing difficulties in discerning appropriate emotional involvement in relationships.
3. Impact on future relationships
Survivors of emotional incest may struggle with intimacy, either becoming overly enmeshed or avoiding emotional closeness, hindering the development of satisfying and balanced relationships.
There's trauma. We all know this type of experience will play a huge role in their future relationships.
4. Cycle of dysfunction
The survivor may inadvertently perpetuate emotional incest patterns in their family, continuing the harmful cycle from generation to generation.
Without professional help, they may unintentionally continue the pattern of emotional incest with their children.
What are the myths about emotional incest?
There are various myths that surround emotional incest that can cause further confusion and doubts. Here are some such myths:
1. Misconception of innocence
Some believe that because there is no physical abuse involved, emotional incest is harmless. However, emotional and psychological damage can be equally, if not more devastating.
2. Parental right to share
It's a fallacy to assume that parents have an unrestricted right to share their emotional burdens with their children. Such sharing should be age-appropriate and considerate of the child's emotional well-being.
3. Confusing love and attachment
Often, emotional incest is misconstrued as an expression of deep love and attachment between a parent and child, blurring the boundaries between appropriate and inappropriate emotional bonding.
Emotional incest is not an innocent act of a parent's love for their child. We need to share further the knowledge of what is healthy and what is not in the role of a parent and a child.
How does emotional incest develop?
Emotional incest typically evolves due to various factors:
1. Parental emotional neglect
When parents lack emotional support or validation from their partners, they may turn to their children to fulfill their unmet needs, inadvertently engaging in emotional incest.
2. Parental divorce or losing a partner
The absence of one parent due to divorce, death, or separation can intensify emotional reliance on the child, leading to emotionally incestuous relationships.
3. Unresolved trauma
Parents who have experienced trauma may struggle with healthy emotional relationships, unwittingly engaging in emotional incest as a coping mechanism.
What are the different types of emotional incest?
There are different types of emotional incest that we may witness or experience. Boroadly speaking, we can categorize emotional incest into three categories:
1. Overly emotional parent
One parent may rely on the child to manage their emotional struggles, creating an inappropriate emotional bond that impacts their development.
2. Narcissistic parent
A narcissistic parent may use the child to fulfill their emotional needs, seeking constant validation and admiration, often at the expense of the child's emotional well-being.
3. Absentee parent's emotional reliance
In cases where one parent is emotionally absent, the other may excessively rely on the child, creating an emotionally incestuous dynamic.
What is the importance of talking about emotional incest?
It's understandable why some survivors are afraid to talk about their emotional incest stories, but here are three reasons why you should reconsider.
1. Awareness and education
Open discussions raise awareness about emotional incest, ensuring individuals can recognize the signs and seek appropriate support.
2. Prevention and intervention
Understanding emotional incest helps prevent its occurrence and facilitates timely intervention to protect children from the adverse effects of such relationships.
3. Breaking the silence
By openly discussing emotional incest, we break the silence surrounding this issue, encouraging survivors to seek help and heal from their past traumas.
Commonly asked questions
As we navigate the world of emotional incest, we still have other questions that need answers. Here are some of them:
Is it possible for emotional incest to happen with both parents?
Unfortunately, the answer here is yes. Emotional incest can involve either one or both parents.
For some parents, they do this unknowingly, but soon, it could progress to something more profound, leading to emotional incest.
Both parents may unknowingly engage in emotionally inappropriate behavior, such as actions and words that impact the child's emotional development and well-being. This is much more common than you think.
Can emotional incest happen even to adopted children?
Yes, emotional incest is not limited to biological relationships. It can happen to both biological and adoptive children.
Some caregivers will still see their child as a proxy, even without a biological connection.
Any caregiver or authority figure can engage in emotionally incestuous behavior towards a child, regardless of their biological or adoptive status.
Sadly, signs may not be visible to the victim until too late.
Is it possible for emotional incest to happen to children of single parents?
Yes, emotional incest can occur in single-parent families where the sole caregiver may overly rely on the child for emotional support, crossing appropriate boundaries.
The trauma or longing that a single parent may feel can be one of the causes of emotional incest.
The absence or loss of a partner can cause the remaining parent to give their child a different form of attention.
Can emotional incest happen to children in same-sex parent families?
Yes, emotional incest can manifest in families with same-sex parents if emotional boundaries are violated.
It's important to remember that emotional incest can occur within any family structure and is not limited to a specific one.
The inappropriate emotional relationship with the child transcends family structure, highlighting the importance of recognizing and addressing this issue regardless of the parents' gender orientations.
Can emotional incest happen to children in abusive families?
Indeed, emotional incest can transpire within abusive family settings.
The presence of abuse can heighten the severity of emotional incest, amplifying the child's emotional distress.
The abusive environment perpetuates inappropriate emotional relationships and violates boundaries, deepening psychological wounds.
Addressing emotional incest is vital in mitigating its lasting impact on children amidst abusive family dynamics.
What is client comfort? How does protective language work when treating phobias and PTSD? Mark Tyrell, an experienced speaker, trainer, and speaker, shares this insightful video that can help you or someone you know.
Final thoughts
If this is the first time that you've heard about emotional incest, then it's understandable if all information may overwhelm you.
It's sad to know that this reality exists, but understanding and addressing emotional incest is crucial for the well-being of individuals and society.
By acknowledging its existence, dispelling myths, and encouraging open dialogue, we can work towards preventing and healing the emotional wounds caused by these harmful relationships.
It's imperative to prioritize the emotional well-being of children and strive to create a society where healthy emotional boundaries are respected and nurtured.
Share this article on
Want to have a happier, healthier marriage?
If you feel disconnected or frustrated about the state of your marriage but want to avoid separation and/or divorce, the marriage.com course meant for married couples is an excellent resource to help you overcome the most challenging aspects of being married.
You May Also Like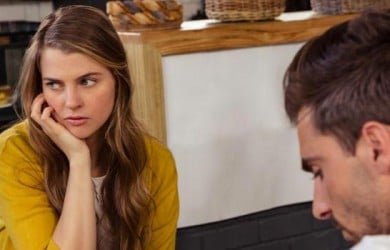 Popular Topics On Married Life