5 Ways to Spot a Shady Future Mother-In-Law
If you've seen 2005's
Monster-In-Law
, then you must know that a soon-to-be bride's biggest fear is dealing with a future mother-in-law who hates you. Whether her displeasure is overt or not, monster-in-laws can come in a variety of different forms. Either way, a bad relationship with this very important woman can be incredibly damaging to your relationship with your partner.
Here's how you can spot a future mother-in-law who has been throwing some low-key shade:
1. She has an opinion about everything
How to spot it:
Whenever you do anything, she has to correct the way you do things.

She chastises you in public.
What does it mean:
Not only is this disrespectful, but it shows that your mother-in-law doesn't trust your judgment, which is a huge red flag. When she starts to excoriate you, try to keep a level head about which of those criticisms is actually valid and which are due to projection or other reasons unrelated to you. If she reprimands you in public, this form of shade becomes an outright show of power that is intended to knock you down a few pegs and humiliate you.
What to do:
This is a huge sign of disrespect, and if things are already at this point, it's a good idea to have your partner step in and defend you. Don't underestimate the power of your partner telling his or her mother that what she's doing is inappropriate and highly disrespectful. If she values her son or daughter's input, she will take a step back and reconsider her actions.
2. She doesn't try to connect
How to spot it:
Your mother-in-law avoids spending time with you.

She doesn't want to make the effort to get to know you.
What does it mean:
While it could be nice to have a hands-off mother-in-law, this distancing could be a refusal to acknowledge how serious you and your partner are about each other. Keeping herself walled off may be her way to stave off any attachment that may develop between the two of you, which is definitely something to be on the lookout for.
What to do:
Even if it may feel awkward, try to be proactive about reaching out to your mother-in-law. If you put forth an effort to get to know her, she may reciprocate eventually. Ask your partner for information, such as your mother-in-law's hobbies, and see if you can organize a bonding activity where she may feel more comfortable opening up to you. Maybe you can even include her in your wedding planning as a show of reconciliation.
3. She tries to take control
How to spot it:
Your mother-in-law doesn't acknowledge boundaries.

She tries to manipulate aspects of your relationship.
What does it mean:
Your mother-in-law may be acting this way because she perceives that her place as the most important woman in her son or daughter's life has now been replaced by you. Because of this, she might try to exert her influence through your partner or try to set up situations where you end up looking like the bad guy in an effort to drive you two apart.
What to do:
First, you and your partner have to recognize how she is running your lives and pinpoint where it's inappropriate. Only after both of you have figured this part out can you and your partner start working out a game plan for how to tell your mother-in-law to back down a little. Presenting a united front when interacting with her will also work wonders.
4. She feels entitled to things
How to spot it:
Your mother-in-law gets easily offended if you didn't include her in something.

She throws tantrums if she doesn't feel adequately respected.
What does it mean:
As your partner's mother, she may feel that her position in the family is quite high. After all, if not for her, your partner wouldn't even be in existence! Because of this, she may feel that her wishes should always be respected, especially since she's had way more life experience and feels that she knows her child better than anyone.
What to do:
This kind of mother-in-law can be quite daunting to deal with. However, you have to keep in mind that a missing piece in all of this is your position in the family. Ultimately, you are the one your partner chose to spend possibly the rest of his or her life with ̶ and that's super important! So when you are interacting with your mother-in-law, try to let her know that you are grateful for her, but also stand up for yourself if needed. Your partner should have your back if your mother-in-law gets too out of hand.
5. She's not willing to love you
How to spot it:
Your mother-in-law still hasn't made an attempt to change her mind about you, even after your partner has made it clear that he or she loves you and that you're going to stay.
What does it mean:
First impressions are notoriously difficult to modify. However, ideally, she should trust her son or daughter's judgment and accept you into the family. So, if she chooses to stay bitter, it proves that your mother-in-law is selfishly prioritizing her feelings about your relationship over her own son's or daughter's happiness.
What to do:
Part of the responsibility of showing how much you mean to him or her lies with your partner. Nonetheless, if your partner has done all he or she can to try to convince his or her mother, then there's not much more you can ask for. Hopefully, your mother-in-law can figure out for herself how her actions are detrimental to her son or daughter, someone who she professes to love.
Don't lose hope
Your relationship with your future mother-in-law may look bleak now, but don't lose hope. Most of the time, your mother-in-law's worries boil down to whether or not she feels respected. So, if you can convince her that her place in her son or daughter's heart isn't in danger, it should help a lot. Even though it's difficult, if you honestly feel like your partner is the one, it may be worth it to try your best for a bit longer so that you have the blessings of the other important woman in your partner's life.
Share this article on
Want to have a happier, healthier marriage?
If you feel disconnected or frustrated about the state of your marriage but want to avoid separation and/or divorce, the marriage.com course meant for married couples is an excellent resource to help you overcome the most challenging aspects of being married.
More On This Topic
You May Also Like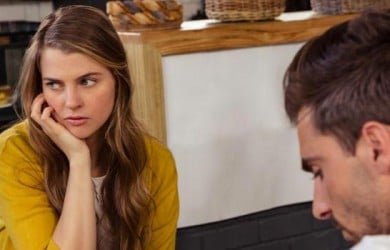 Popular Topics On Married Life