10 Ways on How Do Gender Roles Impact Marriage?
One of the keys to a successful and healthy marriage is smooth cooperation and partnership between both parties. Sometimes, the strength of a marriage can be tested by how partners carry out their roles to make the union work.
Over time, there have been different perspectives on how some traditional gender roles in marriage are specific to either males or females. But recently, some studies have opined that these marriage roles can be handled by anyone, irrespective of their gender. In this article, you will learn more about gender roles in marriage and how it impacts the union.
Definition of gender roles in marriage
When it comes to gender roles in marriage, it refers to the expectations of men and women regarding their responsibilities and duties. This also means that some roles in marriage might be performed by one partner due to some factors.
For instance, concerning the traditional gender roles in marriage, which have existed for a long time, men were seen as the home providers while women were required to stay at home and care for the kids.
Historical perspective of gender roles in marriage
Regarding gender roles in marriage, it is important to mention that in most cases, men have been viewed as assertive, self-motivated, and primary providers in the home. In comparison, women are mostly considered the homemaker and the one who spends more time with the children.
Some schools of thought believed that since the man was perceived to be the head of the family, he held more power to make crucial decisions than the woman. However, recent studies have shown that men are more open to making decisions alongside their partners.
Additionally, more individuals now expect their male partners to contribute to household duties and childcare while working.
10 ways on how do gender roles impact marriage?
It is crucial to mention that issues associated with gender roles can affect every aspect of the family and marital life. However, learning the impact of gender roles in family life would be quintessential to restoring unity, love, and security in the marriage.
1. Regular conflicts and tension
When it comes to gender roles in marriage, one way it impacts marriages is the conflicts and tension associated with executing some of these responsibilities.
One party might feel that times have changed and should not be held liable for carrying out some of these duties. This may lead to regular conflict in the home, especially when neither party is willing to compromise for the other. It could also cause tension between partners where they begin to feel irritated and resentful about each other and the marriage in general.
Related Reading: 

7 Causes for Conflict in Marriage and How to Resolve Them
2. Comparison in marriages
Another impact of gender roles in marriage is comparison. Partners might begin to compare their spouses in other marriages who are doing things absent in their union. When comparison enters a marriage, it can kill the joy and love between partners.
It is expedient to state that each marriage is different and can function best depending on what both partners are willing to bring to the table. This means that traditional marriage roles might work well in one marriage and may not give the same result in another marriage.
Watch this video on the dangers of comparing spouses:
3. Negligence of duties
Gender roles in marriage can also affect the union by causing negligence of duties from both partners. In addition, since there might be disagreements regarding who is responsible for carrying out some duties in the marriage, these roles might be left unattended.
If there are children in the marriage, they might be affected by the negligence of duties because of gender role differences. In addition, some unsuccessful marriages are often associated with negligence of duties because they are unwilling to agree on how responsibilities should be handled.
4. Differences in parenting style
There might also be differences in parenting style due to the gender roles in marriage. For example, one party might have a different view on how to raise children, and their partner might not be comfortable with it.
However, one of the mistakes that couples make in marriages is allowing their differences in parenting style to ruin the union. It would help to listen to each other and find common ground on what is important, even if you have different views on parenting.
5. Lack of teamwork
If you see a successful marriage, there are good chances of good teamwork between partners. This means that both parties are willing to work together to achieve their short-term and long-term goals in the marriage.
They are likely to put aside the roles that are stereotypically assigned to their genders and work on providing a balance to make things run smoothly. However, partners keen on executing their gender roles in marriages might not get mutual respect, love, and admiration from their partners.
6. Physical and emotional unavailability
It is interesting to mention that gender roles in marriage can cause physical and emotional unavailability. When partners begin to disagree on different issues because of gender roles, they might begin to distance themselves from each other.
They might also not respond to their emotional needs, which can make them less committed to the marriage. If this happens, their marriage can be restored if they agree to put their differences aside and work together.
7. Lack of unity
Unity is one of the key anchors that hold a marriage, and the absence of this feature means that the marriage may not be successful in the long run. Gender responsibilities and, sometimes, traditional marriage roles can affect unity in a home.
Both partners may not see the need to work together and have a unified front on different issues and decisions. In addition, they might not have the same mind and purpose in marriage because of the view differences in gender roles.
Related Reading: 

20 Important Things to Consider Before Getting Married
8. It causes contempt and resentment
Another way on how traditional husband and wife roles affect marriages is they might breed contempt and resentment among both parties. Partners in the marriage might have negative thoughts about each other due to their inability to perform some of their supposed gender roles in the union.
When there's contempt and resentment in the marriage, there will be more conflicts among them that might be difficult to resolve.
9. Lack of empathy
Gender roles in marriage can also play a pivotal role in how partners empathize with each other. A lack of empathy could set in if no balance dictates how these roles should be handled. Some signs of lack of empathy in relationships include constant criticism, refusal to apologize, narcissism, insecurity, ability to tolerate opinions that don't match their own, etc.
10. Divorce
In the long run, if care isn't taken, gender roles in marriage can result in a divorce. When it gets to this point, it means that both partners may have irreconcilable differences, and they have figured out that they might not be able to continue as partners.
The decision to part ways might have also been because none of the partners were willing to compromise regarding how their gender roles affected their marriage.
To learn more about how gender roles affect marriages, check out this fact sheet by the National Healthy Marriage Resource center. This study highlights how gender roles and expectations play a pivotal role in couple interaction, decision-making, and marital satisfaction.
Related Reading: 

10 Most Common Reasons for Divorce
5 examples of gender roles in marriage
When it comes to gender roles in marriage, they might be different when it comes to personality, behavior, etc. Here are some common examples of how gender roles play out in marriage
1. Men work for money
Regarding the conventional husband role in marriage, it is widely believed that the man should be the one to work for money because he probably has more physical strength. This widespread idea was gotten from the agricultural ages, where men were the ones who worked on farms and vineyards because of their masculine build.
However, with the changes in time and the influence of technology, many jobs require more mental than physical strength.
Related Reading: 

6 Quotes on Money and Marriage and Why You Should Listen to Them
2. Women stay at home
One of the common traditional wife roles was that women were supposed to do all the household duties like cooking, washing, shopping, and caring for the children.
However, today, women's role in marriage has changed as some collaborate with their partners to handle some of the home duties because they have to work.
One of the reasons why these gender roles exist is because it is believed that women are more detailed or thorough when it comes to household matters. The interesting part is there are some industries where men dominate, like the chef industry.
3. Men are protectors
Another common example of gender roles in marriage is that men are protectors because they might be physically and mentally stronger than women. This is one of the reasons why people may rarely expect men to regularly experience a mental breakdown because they are perceived as mentally resilient.
When it comes to the demonstration of protection, it stems from the public show of strength during ancient times. Men were required to undergo some sports, like sparring, wrestling, etc., to show their skills and strengths. Therefore, men were historically regarded as having more physical strength than women.
Related Reading: 

20 Signs a Guy Is Protective of You
4. Men may be more disciplinarians
Concerning the gender hierarchy of marriage in the traditional setting, men were regarded as more disciplinarians when caring for children. This is primarily because men are generally viewed as less emotional, which might make it easier for them to handle difficult children.
5. Women might focus less on careers and more on marriage and children
There is a likely chance that more women may prefer to spend time building their marriage and raising their children while their husband works to bring money into the home. This is one of the common gender roles that many homes have adopted. While it might not work for everyone, some couples have come to accept the conventional idea of making their marriage work.
To understand more about the examples of gender roles in marriages, check out this study by Tsoaledi Daniel Thobejane and Janet Khoza. This research study is titled Gender Role Expectations within the institution of Marriage, and it aims to observe the gender roles in marriage and how they are distributed among husbands and wives.
Effect of mental and physical health of gender roles in marriage
Gender roles in marriage can affect the physical and mental health of partners in different ways. Some possible mental health problems include anxiety disorders, schizophrenia, anxiety, depression, etc.
When it comes to the likely physical health issues associated with gender role problems in marriages, some are mostly linked to stress levels in unhappy couples. These physical health problems include increased blood pressure and cholesterol level, obesity, increased risk of heart disease, etc.
FAQ
Let's look at the most asked question related to gender roles in marriage.
What are the common factors that affect marriage?
When a marriage begins, several factors might determine whether the union will succeed. Some of these factors might be under both partners' control, while some are not.
These factors are gender roles, childcare issues, financial problems, busy work schedules, poor communication, infidelity, sexual differences, beliefs and values, traumatic events, technology, anger, etc.
Takeaway
Reading through this article on gender roles in marriage, you now understand their meaning and how they affect marriage differently. However, it is important to note that gender roles might not work in all marriages depending on the partners' agreement.
Therefore, having an open and honest conversation with your partner about what might work for your marriage is important. If you need more tips on how to manage gender roles in your marriage so that it does not affect you and your spouse, you can consider going for couples counseling.
In Jean Atkinson's study titled Gender Roles in Marriage and the Family, you will have a broader perspective on how Gender roles permeate different aspects of family and marital life. You will also understand how men and boys differ from women and girls and how they are likely to approach relationships in general.
Share this article on
Want to have a happier, healthier marriage?
If you feel disconnected or frustrated about the state of your marriage but want to avoid separation and/or divorce, the marriage.com course meant for married couples is an excellent resource to help you overcome the most challenging aspects of being married.
More On This Topic
Recent Articles
You May Also Like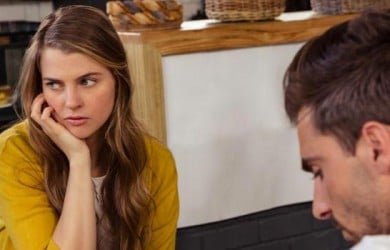 Popular Topics On Married Life