How Guys Text When They Like You: Signs & Tips to Understand
Texting has become an integral part of modern dating, allowing individuals to communicate and connect more conveniently than ever before. For someone, trying to decipher how guys text when they like you can often be a challenging task.
While some men may be direct and upfront, others might be more subtle in expressing their feelings.
Here, we will explore the ways guys hint they like you through texts and provide valuable tips to help you decode their messages. So, let's delve into these signs and tips and see if the guy is actually interested in you.
How do guys text when they like you?
When a guy likes you, his texting style may exhibit signs of genuine interest and enthusiasm. He is likely to respond promptly, initiate conversations, and invest effort into engaging with you. His messages may be filled with emojis or emoticons to express emotions playfully.
He may ask personal questions to get to know you better and share compliments to make you feel appreciated. Additionally, he may suggest plans to spend time together, demonstrating a desire to deepen your connection beyond texting.
Overall, his texts will reflect a warm and friendly tone, showing that he enjoys talking to you and values your presence in his life.
Does texting affect the initial foundation of a relationship?
Before we dive into the signs he likes you over text, let's address the impact of texting on the initial foundation of a relationship. Texting can be an effective tool for maintaining communication and fostering a connection, especially in the early stages of dating.
However, excessive reliance on texting and a lack of in-person interactions can hinder the development of a deeper emotional connection. Studies have shown that face-to-face communication plays a crucial role in understanding each other's emotions, building trust, and creating a stronger bond within a relationship.
Therefore, while texting can be a great way to stay in touch and convey your thoughts, it's essential to strike a balance and complement it with face-to-face interactions to establish a solid foundation.
11 signs in texts that show the guy likes you
Navigating the world of texting can be both exciting and nerve-wracking, especially when you're trying to figure out how guys text their crush. Fortunately, telltale signs are hidden within those messages that can reveal his true feelings.
From the words he uses in his replies to the use of adorable pet names, here are some signs that can help you decipher how guys text when they like you or whether he's into you or not.
1. The words he uses
What do guys say when they like you? To answer this question, you need to study the words he uses. The words guys use when they like you vary.
Still, there are common expressions, including "interested in you," "wish to be your friend," "love to know you," "let's go out sometime," etc. All these expressions can help you find meaning in text from a guy.
2. Engaging texts
How do guys text when they like you? If a guy likes you, his texts will go beyond simple one-word answers. He will initiate thoughtful and engaging conversations, showing genuine interest in your life, dreams, and passions. You'll notice that he remembers important details and actively listens to your words.
So, if the guy continues the engaging texting, you may ask, "Does he like me?" If this continues for a long time, he is likely into you.
3. Emoji usage
The use of emojis can convey emotions that words alone might not express. Research shows that emojis contain personal messages that can strengthen bonds between people.
A guy who likes you may sprinkle his texts with emojis like hearts, winks, or smiles to show affection and playfulness, adding an extra layer of charm to the conversation.
4. Long messages
Lengthy texts typically indicate that a guy is genuinely interested in you. He'll take the time to share detailed stories, thoughts, or experiences to keep the conversation going and deepen your connection. How guys text when they like you usually involves longer, more heartfelt messages.
5. Good morning/Goodnight texts
Sending morning and night messages suggests that you're on his mind at the beginning and end of his day, which is a clear sign of genuine interest. These thoughtful texts convey that he cares about you and wants to ensure you have a great day and a restful night.
Regular morning and night messages are usually a clear indication of how guys text when they like you.
6. Compliments and flirting
Guys who like you will not hesitate to compliment you sincerely. They might also engage in playful teasing or light flirting through texts to create a deeper emotional connection and make you smile.
In such cases, if you ask, "Does he like me through text?" There are good chances he wants to establish a deeper connection, more than a friendship.
7. Initiates contact
If he often initiates conversations or reaches out first, it can be a clear sign that he enjoys talking to you and values your connection.
Initiating contact is a way for him to show that he's interested in keeping the communication alive and wants to be a part of your life. How guys text when they like you usually consists of scenarios where the guy will try to initiate conversation whenever possible.
8. Asks personal questions
When a guy likes you, he will show genuine interest in getting to know you better. He'll ask personal questions about your hobbies, interests, and aspirations, trying to understand what makes you unique and special.
If he is interested in your personal life, he will likely not settle for anything less than a relationship.
9. Recalls past conversations
An attentive guy who likes you will remember details from previous conversations and bring them up in later texts. This shows that he's not only present in the moment but also genuinely interested in what you have to say and what makes you tick.
10. Consistent communication
Consistent texting is a positive sign, showing that he wants to maintain regular contact with you. He'll make an effort to keep the communication flowing, even during busy or hectic times.
So, how do guys text when they like you? He is most likely into you if he is consistent with his texting.
11. Use of pet names
Endearing pet names, such as "babe" or "sweetheart," might signify his affectionate feelings toward you. Using these terms can indicate that he sees you as more than just a friend and is comfortable expressing his emotions.
Remember, interpreting text messages can sometimes be challenging, as everyone has their unique texting style. However, if you observe these signs in your conversations, there's a good chance he's interested in you and trying to build a meaningful connection.
Trust your intuition and take the time to get to know each other better to see where this potential romantic journey may lead.
13 tips to understand how guys text when they like you
In the dating world, it can get confusing to understand what a guy's texts mean. If you spend a lot of time understanding the intention behind a guy's texts to you and learning how to text guys, this section can help you.
Go through the following tips to get an idea of how guys text when they like you.
1. He texts first
When confirming whether the guy likes you, confirming who texts first is vital. A guy who genuinely likes you won't wait for your text before the conversation begins.
If he has feelings for you, he will most likely not worry about whether you will text first or not. Instead, he will not hesitate to text you first to get into a conversation with you.
2. He responds quickly to text
If a guy texts you back quickly, there is a high chance that he is interested in you and won't like to keep you waiting. His responding speed can tell you he doesn't want to give you a chance to doubt him.
Therefore, he may ensure he replies to you as soon as possible. Besides, it's the early stage of a yet to be formed relationship, so he would want to give you a good impression.
3. He will find reasons to text you
It's normal to hold back from texting too much when a guy is getting to know you. However, a man with eyes for you will look for any reason to text you. They may not be shy or afraid to find reasons to text you.
He will always look for reasons to get the conversation rolling. For example, you may notice a text randomly from them in the afternoon after talking with them in the morning. This spontaneous form of communication is a sign he wants to date you.
4. He asks lots of questions
During the foundation of a relationship, some guys are usually focused on themselves. They want you to know their background, career, likes, and dislikes. This can go to such an extent that they forget to ask the other person any questions.
Nonetheless, a guy interested in you will ask many questions about you. That is the best way he can get to know you. He may occasionally compare your interests with his, but you will often be the focus of the conversation.
5. He talks about himself
Although it may sound selfish, some guys when they like you, focus on themselves a little. He intends to make you like him; hence, he won't stop telling you about his exciting and fun background, thriving career, and lovely family.
Meanwhile, paying attention to guys' words when they like you is essential. It may be a red flag if he's boasting about his looks.
6. He ensures the conversation stays alive
When a guy likes you, he will go above and beyond to keep the conversation flowing. You'll notice he doesn't let the conversation fizzle out or become one-sided. Instead, he actively participates and contributes to the discussion, ensuring that there are no awkward silences.
One clear sign of his effort to keep the conversation alive is his use of open-ended questions. He won't settle for simple yes-or-no answers; instead, he'll ask questions encouraging more in-depth responses, allowing the conversation to delve into various topics.
7. He double-texts
You were probably busy when the first message entered your phone, so you didn't notice it before moving to other topics in the conversation.
Typically, this may make someone feel bad or ignored. However, this isn't usually the case with a guy that likes you. If you are trying to learn how guys text when they like you, you can analyze how he reacts when you don't reply to their texts immediately.
A guy who likes you will send multiple messages to you to get your attention. He won't keep count but focus on communicating with you.
8. He lets you know when he's busy
When a guy is an active type, you might ask yourself, "Why does he seem interested but doesn't text?" But you can tell if a guy likes you through text when he tells you he's busy.
He won't want you to think he isn't serious. Therefore, he will inform you ahead of his plan, especially his packed schedule.
9. He passes random compliments
A man who likes you will make you feel beautiful. It's another way how guys text when they like you. He may give positive comments about your dress, voice, and perception. Of course, this comes after observing you closely – a good sign you have him under your wrap.
Research shows that compliments are an essential way of forming bonds between people. They increase relationship satisfaction. If the guy is giving you constant compliments, you can assume that he likes you.
10. He texts you when he's with his friends
Boys' night is a ritual many men are devoted to and don't jeopardize with external distractions. However, if he likes you, he will text you anywhere, including the time when he is with his friends.
He should be enjoying the moment with his friends, but he values you enough to create time for a discussion. That means he thinks about you even when he is having fun which is a good sign.
Adam Lodolce, a world-renowned relationship expert and the founder of Love Strategies, Inc, shares his insights on how to know if a guy likes you more than a friend in this video:

11. He makes you laugh
How guys text when they like you shows a lot in his jokes. If he's interested in you, you can bet he will always say one joke or two in every conversation. He doesn't want to bore you and wants to make you eager to talk to him anytime.
12. He hints at spending time together or going on a date
After endless conversations about the two of you, you will notice him giving a hint about spending some time together or seeing you face-to-face. This is one of the ways guys hint they like you without stating so explicitly.
Once you reach this stage, know that you have won him over.
13. He uses your name in texts
When a guy likes you, he may consciously or subconsciously use your name in texts as a way to create a more personal and intimate connection. For example, instead of simply saying, "How was your day?" he might say, "Hey [Your Name], how was your day?"
A small addition of your name to texts can significantly affect how you perceive his messages and the connection you share. If you notice that he frequently uses your name in texts, it's likely a clear indication that he likes you and wants to make you feel special.
Commonly asked questions
Communication in modern dating often involves texting, and understanding how guys approach texting can be helpful for navigating relationships. Here are concise answers to common questions about guys and texting:
What texts do guys like to receive?
Guys appreciate texts that show genuine interest, humor, and support. Compliments, flirty messages, and engaging conversation starters are well-received. Sharing interesting news or asking for their opinion on a topic can also pique their interest.
What if a guy doesn't text me first?
Don't panic. Some guys may be shy or unsure about making the first move. If you're interested, take the initiative and start a conversation. It can show confidence and might encourage him to reciprocate.
Will a guy text you if he's not interested?
In some cases, guys might not text if they lack interest. However, it's not a definitive rule. Some may be busy or prefer in-person interactions. Observe their actions for a clearer signal.
How often will a guy text you if he is interested?
The frequency of texts varies, but an interested guy will initiate conversations regularly. However, everyone has different communication styles, so don't overanalyze response times.
Is it okay to text your crush every day?
Texting every day can be okay, but consider their responses and engagement. Avoid being too overwhelming and allow space for them to initiate conversations too. Balance is key.
Takeaway
Understanding how guys text when they like you involves paying attention to various aspects of their texting behavior. From the frequency and promptness of their replies to the thoughtful engagement and use of endearing terms, each element of their texts offers valuable insights into their feelings and level of interest.
By being observant and receptive to these signs, you can better understand a guy's emotions and intentions, helping you navigate the complexities of modern dating with more clarity and confidence. Happy texting!
Share this article on
Want to have a happier, healthier marriage?
If you feel disconnected or frustrated about the state of your marriage but want to avoid separation and/or divorce, the marriage.com course meant for married couples is an excellent resource to help you overcome the most challenging aspects of being married.
You May Also Like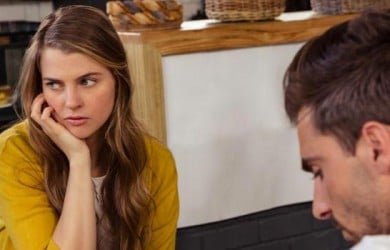 Popular Topics On Married Life