Jealous of Your Boyfriend's Female Friends? Consider These Suggestions
According to Harry from When Harry Met Sally, men and women can never be friends because the sex part always gets in the way.
80s rom-coms colored our believes – men and women can never be friends
This seems to be the conclusion to almost every 80s rom com as well, where the main character realizes that the love of his life is not the busty blonde chick that he keeps ogling at in gym class, but instead his faithful sporty BFF who is surprisingly a babe when she takes her glasses off and lets her hair down.
If such is the case, and men and women can never truly be friends because they'll always end up attracted to each other, what are we supposed to do when our significant other has friends of the opposite sex?
Are we forced to portray that green-eyed monster who never lets her boyfriend have the freedom to hang out with his female friends?
Popular believes need not be true
First, it is important to take a step back and realize that life is not an 80s rom-com, as fun as that might be. Just because there is a widespread belief that men and women can never be "just friends", doesn't mean that this is automatically true.
Are there pairs of friends on this earth who are secretly crazy about each other? Of course. Yet are there friends on this planet who would rather slice their own eyeballs out than jump into bed with one another?
Indeed, there are! There are all sorts of friendships that exist, some that possess more attraction than others.
The fact is, we live in a society of diverse individuals with complex relationships that are not all even close to the same. To assume that every pairing of friends might secretly be in love with each other is to assume that we are living on a FanFiction.Net forum.
If your significant other might have friends of the sex that he or she is attracted to, it is unfair to assume that there is something poetic and magical bubbling between the two of them.
Sure, there is a possibility that your boyfriend might even be attracted to some of his female friends, in the same sense that you might have the smallest crush on some of your male friends. This doesn't mean that they are in love with these people, it is just human attraction that we all maintain for others, even if they aren't our romantic partners.
It is just a part of life that we have to accept.
Relationships have no room for doubts
Despite this, your significant other chose to be with you for a reason, and if they wanted to be with that friend that you're worried about, they would be with them already. This is where trust comes in to play, and you have to ask yourself, are you willing to trust your partner with the fact that they only want to be with you?
If the answer is no, and you feel as though you cannot trust your partner with their BFF, it might be time to consider breaking off the relationship. There is no point in a romantic bond if you feel as though you cannot trust your partner. Of course this is easier said than done.
Relationships are no place for paranoia and suspicion.
If the distrust you have for your partner is stronger than the security you feel with them, it might be time to consider a change in order for you to gain the love and soundness that you deserve.
Yet, if your partner is simply holding onto platonic friendships with people of the opposite sex and you see this as a crime, you might want to consider why you are feeling this way.
To suggest that your boyfriend wants to get into bed with every woman, he ever comes into contact with is to suggest that all men are the same sex-crazed barbarians that we as women tend to stereotype them all to be.
You would be surprised how many guys there are out there who crave commitment and security rather than the freedom of sleeping around with whoever they think has nice smelling hair or a pretty smile.
If your boyfriend has no desire to be in a relationship with you, he would've broken up with you already. Simple as that!
Trust your instincts rather than live on tenderhooks
Attraction outside of a relationship is evident.
It is whether or not your partner chooses to act upon this interest in which you should be concerned. Live your life, concentrate on your own relationships and your own happiness before placing all of your concerns on his.
Trust yourself to know when it is just a simple friendship, or if it's time to say goodbye.
Share this article on
Want to have a happier, healthier marriage?
If you feel disconnected or frustrated about the state of your marriage but want to avoid separation and/or divorce, the marriage.com course meant for married couples is an excellent resource to help you overcome the most challenging aspects of being married.
Learn More On This Topic
You May Also Like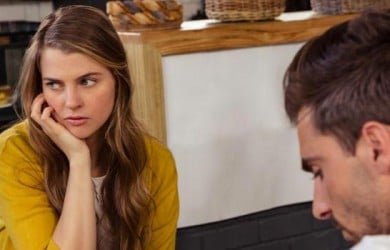 Popular Topics On Married Life