10 Signs That You Are Dating a Controlling Boyfriend
Control is part of our nature; it is what makes us human. However, some people go overboard with their controlling nature in their relationship. They barely allow their partner to have their identity in the relationship because they solely make all the decisions.
Are you in a relationship where your boyfriend loves you so much, but you want to know if you are being controlled? Here is a guide that shows you the signs of a controlling boyfriend, allowing you to see beyond the care and affection they show you.
What is the cause of controlling behavior?
One of the major causes of controlling behavior is anxiety. For some individuals, being in control helps them manage their anxiety. For instance, someone with a compulsive disorder needs to be in charge of their environment to prevent some fears from overpowering them.
Also, someone with a personality disorder like Narcissistic personality disorder (NPD) is likely to have controlling behavior. The NPD is a mental health issue
where the individual continually seeks validation, superiority, and affection.
In addition, someone with controlling behavior must have learned it is growing up. They might have experienced different forms of abuse where power and control were exerted. Therefore, they grew up thinking it was the right thing to do.
How to spot a controlling boyfriend
The result distinguishes a controlling boyfriend from someone who does not exert their authority and influence. The actions of a controlling boyfriend lead to physical and emotional abuse- sometimes, the both of them.
It is normal to crave control of your life, relationship, and environment. However, if it becomes a constant need, which often causes abuse, then you have a chronic case of control on your hands.
In this study by ScienceDaily, you will learn how some controlling behaviors in partners can cause different forms of relationship violence.
10 apparent signs your boyfriend is controlling you
You need to assess your relationship, as you spend more time with your boyfriend. Chances are, you have been controlled and manipulated for a long time without your knowledge.
If your boyfriend is a great guy, he will make amends. However, if he is unwilling to change, it is a red flag that suggests you seek help or probably leave the relationship. Here are some controlling boyfriend signs that you need to know.
1. He always objects to spending time with your friends
A controlling boyfriend is not always comfortable with their partner spending time with friends, acquaintances, and other people. Sometimes, he will infer that some of them have a crush on you, and you have to be careful.
With time, he begins to recommend friends that you should spend time with. He will prefer to recommend some of his friends because he trusts them more than yours.
2. He wants to know everything going on with you
One controlling boyfriend behavior is their interest in knowing everything happening to you. He wants access to your social media accounts, bank accounts, and other personal details.
The twist is, he might not mind giving you access to his personal information because he wants you to reciprocate. But, if you leave out some information and find out later, he gets pained and refuses to understand.
3. It is hard to do anything important without him in the picture
A controlling boyfriend would not be happy when their partner achieves something huge without their help. They always like to be in the center of every feat.
Their plan is to be mentioned as the source of inspiration when people ask their partners for their success stories. This is why they will want to be involved in everything you do so that they can get all the credits.
They also want their partners to rely on them for advice instead of consulting other people solely.
4. He always put you down
Usually, a controlling boyfriend is not happy when you don't depend on him. Therefore, he will want to make you feel less of yourself and rely on him for help. Also, he will point out errors in your deeds and proffer to help you correct them.
You will think that his actions are targeted to make you a better person. However, it is a sign of control and disrespect because he wants you to lose confidence and depend on his validation before doing anything. With time, you will notice that you have low self-esteem.
5. He is insecure
One of the primary signs of a controlling boyfriend is insecurity. He always tries to know what is going on by asking tricky questions.
More so, he is always pessimistic about every outcome that involves you. He constantly doubts your intentions, making you feel like you are not doing well in the relationship.
6. He closely monitors you
Controlling boyfriends don't understand that their partners sometimes deserve their freedom and privacy. If he constantly breathes down your neck, and always tries to know what is going on with you, then it is one of the signs of a controlling boyfriend.
All he wants is for you to tell him about every single thing you are doing. Also, he calls or texts at regular intervals to be updated with your present actions.
Here's a video that teaches you how to set boundaries in your relationship:

7. He manipulates you
A controlling boyfriend is always manipulative because they want you to do their bidding. Of course, some things should come naturally in a relationship, but one of the signs of controlling behavior is using different tactics and strategies.
One of the reasons he constantly manipulates is that he does not find it easy being at your mercy, and he does not want to feel vulnerable around you.
8. He tries to isolate you
One of the signs of a controlling boyfriend that you should look out for is isolating you. When they notice you are beginning to get close with someone, they give you a million reasons to cut the relationship short.
They know that it would be easy to control you when you are in isolation. It even gets worse when they try to keep you distant from your family and good friends. He fails to realize that you are entitled to keep some relationships of your choosing.
9. He guilt-trips you
Controlling boyfriends are masters at guilt-tripping. They use guilt to make their partners obey their wishes. For instance, if you didn't do something for them, they will give you several instances where your inactions have negatively affected them.
They will make you feel bad and miserable. So, the next time something similar is about to happen, they will remind you of what happened previously. This will make you act against your wish.
Related Reading:

 Guilt Tripping in Relationships: Signs, Causes, and How to Deal With It
10
.
He makes you miserable if you disobey him intentionally
If you are looking for one of the signs of a controlling boyfriend, watch how he makes you feel when you stand your ground.
When he sees that he cannot control you on a particular issue, he will make you feel bad. Also, he would do certain things to signal that his actions were based on what you did.
What to do when you discover your boyfriend is controlling
After observing the signs of a controlling boyfriend and you realize that your man fits the picture, you need to discuss openly with them. Allow your boyfriend to see his errors and how it has affected you and the relationship.
Also, you can seek the help of a counselor or therapist to give you actionable steps that will help you manage this discovery. It can be overwhelming to realize that all your actions in your relationship have been from a place of control.
How to handle a controlling boyfriend
It can be challenging handling a controlling boyfriend. However, it can be a learning and growth curve for you. Since you know some of the signs of a controlling boyfriend, here are ways to manage the situation.
Understand the root cause of their control behavior
When you have observed the controlling bf signs, and you are sure that he is imposing his will on you, it is necessary to know how their behavior developed.
There is a chance that he has a personality type disorder, but you need to confirm this by seeing a therapist to know how to handle him properly.
Also, if he got his controlling behavior while growing up, you will have to use a different approach to handle him. With a therapist, you will understand more about their condition.
Be responsible for your life
One of the reasons you might have been controlled continuously is that you are not in charge of your life. Yet, you depend on them for crucial decisions in your life, and they have leveraged that to control and sometimes manipulate you.
When you realize you have been on their web for a long time, you need to start being responsible for yourself. Do not be afraid to take some giant steps without them. It is easier to control your life than your controlling boyfriend when you make some vital life decisions.
Learn how to be assertive
Since you have recognized the signs of a controlling boyfriend, you need to learn how to stand your ground. The next time they try to enforce their will, you have to withstand their suggestions without fearing what they might do.
Assertiveness is a skill that can be learned. And since you have been controlled a while, you need to be assertive when you feel controlled. You can seek help from a therapist on being assertive, as they are in the best position to teach you.
If there are no boundaries in the relationship, you will be easily controlled. The surprising part is, controlling boyfriends have boundaries that must not be crossed.
Therefore, you must set healthy boundaries stating your rules and values to keep excessive control and manipulation at bay. An excellent place to start is understanding who you are and what truly makes you happy.
In her book Controlling Men, Luna Parker, discusses how to deal with a controlling boyfriend and get your life back on track.
How to walk out of a controlling relationship
If you are thinking of leaving a controlling relationship, it means that you know who they are, and you can no longer put up with them. With these points below, you can detach yourself from a controlling relationship the right way.
Reconnect with your support system
Being with a controlling boyfriend can make it challenging to lose connection with people who matter to you. Hence, it would help if you got in touch with them one by one.
You can also apologize to them for being so distant and promise never to lose touch again. Finally, among those in your support system, discuss with some of them concerning what you are facing.
Have an open and honest communication
If you are thinking of leaving the relationship, it is important to have an honest discussion. Let them know the extent of their actions and how the relationship does not interest you anymore. If your boyfriend loves you, he will apologize sincerely and promise to make amends.
Related Reading: 

The Importance of Communication in Relationships
You don't have to be hard on yourself for not noticing the signs of a controlling boyfriend. At this point, you need to make your self-care a priority. This is the best time to focus on yourself squarely.
Start doing some good things that your partner would disapprove of. Revisit your old hobbies, spend time with family and friends, and keep developing yourself.
Don't rush your healing process
Be kind to yourself as you try to heal from your toxic relationship. Don't give yourself a deadline to heal. You must live through and feel all the emotions for a holistic recovery.
Usually, people who spend a long time with their controlling boyfriends are likely to take a longer time to heal.
Everyone has unique issues they need solutions for when it comes to relationship issues. The good part is, therapists and mental health counselors are experts at handling various issues.
If you feel like exploding from the hurt caused by the excessive control, and you don't know the next step to take, you need professional help to find your footing again. So, reach out to a therapist or mental health counselor to help you heal properly.
You can also learn how to transform your relationship when you have a controlling man by reading Luna Parker's book Controlling men.
Conclusion
After reading the signs of a controlling boyfriend, it is correct to state that such relationships are unhealthy.
There are two possible solutions in relationships where the boyfriend is controlling and manipulative.
Either you discuss with him to change, or you leave the relationship. At the same time, you figure out the best step to take, see a therapist or relationship counselor for proper guidance.
Share this article on
Want to have a happier, healthier marriage?
If you feel disconnected or frustrated about the state of your marriage but want to avoid separation and/or divorce, the marriage.com course meant for married couples is an excellent resource to help you overcome the most challenging aspects of being married.
More On This Topic
You May Also Like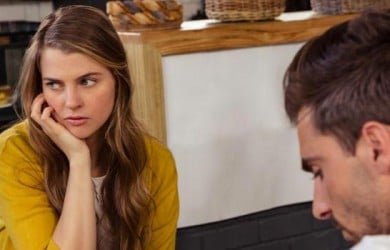 Popular Topics On Married Life