How to Bring Spontaneity and Laughter Back Into Your Relationship
Have you become that "old married couple"?
You know, the one who has such a fixed routine that there are zero surprises left to discover? You work, you come home, you fix dinner and eat together, then retire to your separate evening activities, only to go to sleep, get up and do it over and over again?
Don't let boredom and repetitiveness impact your marriage.
Think back to your dating years. There was always something new to try, a new restaurant or club to discover. Your spouse had the funniest jokes and was the life of the party. You laughed easily and often together.
Want to get some of that spontaneity and laughter back? Read on!
To start, recognize that this is normal
All long-term relationships can fall into a rut.
It is entirely normal to have these periods where everything seems the same. It does not mean your marriage is over. Adding more spice and fun is not difficult, but it does require that both of you are on the same page. So talk about the situation.
Make sure both of you are invested in upping the level of joy and excitement to your relationship.
If only one of you is willing to do the work, that person is going to feel resentful. This defeats the purpose of the exercise, so talk it out and reassure yourselves that you are both eager to make the necessary improvements to get out of your daily grind.
Some easy things to try
Do you always go to the same restaurant, just because it is good and convenient?
Venture out a bit further. Talk with your social circle or read some online reviews to identify a restaurant that is out of your ordinary. Make a date night out of it, with effort going into your dress, hair and makeup (for the wife) and suit, cologne and nice shoes (for the husband).
Remember how carefully you dressed for your first date? Do the same now, even if this is your 200th date.
Another simple changeup is a spontaneous getaway weekend to a place neither of you has been before. It doesn't have to be anything that will break the bank. Scout out a cheap package deal and grab it. Even if that location wasn't on your bucket list, go there anyway.
It's all about discovering something unknown on a whim.
This will breathe some oxygen into your marriage.
Do chores together
If you are like most couples, you divvy up the chores thinking that it will make the work go faster. Why not tackle these as a team?
Because your manpower is doubled, the task will get done quicker, and doing this together will be a new experience. Add to the mix some funny anecdotes from work and you've spiced up a typically-mundane activity into comedy gold.
Put words to what you've been taking for granted
You have been together a long time and may feel that there is no need to express your deep love, admiration or gratitude for your partner. Of course, they know, right? Guess again.
It is a wonderfully satisfying feeling to hear your spouse tell you not only that he loves you, but why he loves you.
Remember those dating conversations, when you listed everything you loved about your partner, down to the way they push their glasses up on their nose when they are making an important point? Do it again.
Express your love specifically. The "I love you" may have lost a little of its punch, but when followed by "because you are so adorable in those bunny slippers" will bring some laughter into the room.
Increase the sparks in the bedroom
Long-term couples can experience a sense of routine between the sheets. After all, you know your partner well. You know what turns them on and what they like and how to get them to climax quickly. This can become a problem, however, because part of the pleasure of good sex is the unpredictability of it.
Rethink your lovemaking.
You typically follow a pattern, mix it up or throw it out the window. Include some new things, such as role-playing, toys, fantasy, and any sexual practice that is consensual and willingly embraced. You may end up seeing a whole different side to your partner, one that is new and thrilling.
The gift of space
A surefire way to help get out of a relationship grind is to provide each other with space. It is counterintuitive, but taking time away from each other can actually help increase your sense of intimacy.
So give each other a chance to miss each other by following a separate hobby or pastime. We aren't suggesting separate vacations each year, but maybe a separate weekend from time to time and some evenings where you both do your own thing.
When you come back together, be sure to share what you saw and discovered so your partner can be excited about your experience, too. This is an especially-satisfying exercise if you use your alone time to tackle something especially challenging, like training for a marathon or taking up an extreme sport.
Your partner will look at you with full admiration when he sees what you are accomplishing.
Share this article on
Want to have a happier, healthier marriage?
If you feel disconnected or frustrated about the state of your marriage but want to avoid separation and/or divorce, the marriage.com course meant for married couples is an excellent resource to help you overcome the most challenging aspects of being married.
You May Also Like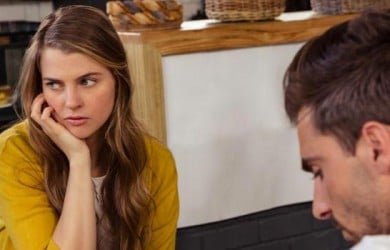 Popular Topics On Married Life