Parental Advice for New Parents: Mastering the 7 Essential Rules
New parents are often unprepared for the great changes that family life brings to their relationships. If you are new to parenting, the primary advice for new parents is that child-rearing is undeniably laborious, and the expense of energy may leave little time for mom and dad.
Tips for first-time parents
Remember that no child is born with an instruction manual.
One new parenting advice is that it will take you quite a lot of time to understand the needs of your child. At times, the new parents might just fluster and wave off white flags.
It is good advice for new parents to not get bogged down with piling responsibilities. It is perfectly normal for first-time parents to feel frustrated, irritated and exasperated.
They must really give up and take a breather whenever the time demands.
The best advice for new parents is not to consider themselves as descendants of some superman and superwoman!
Seek some new parent advice from certified professionals or your parents, friends, well-wishers and even your in-laws, after all, they have parented your spouse, with whom you have decided to spend your entire life!
Baby tips for new parents
Resort to daycares or baby sitters or any external help when you feel that you cant do it all by yourself.
You can never get a perfect manual that can sail you through parenting and define all the things that first-time parents need because every parent and child relationship is unique.
All parents falter
Every new parent experiences the pitfalls before they become expert at prophesying 'what do new parents need'.
Also, if you feel that you are super parents and can manage everything perfectly, to your dismay, you still can have times when your child won't acknowledge you and appreciate the heartfelt efforts that you are putting in.
Your child can even come up with a whim that they want new parents!
So another, essential baby parenting advice for new parents is to not let your entire world revolve around your babies.
Baby isn't your life, but a part of your life and undeniably a very important one!
It is recommended by the therapists and the professionals to give your undivided attention to your baby and never bring your office work back home. At the same time, it is important advice for first-time parents to not stop living their lives.
It is a very crucial piece of advice for new parents to live life like an hourglass.
Just like an hourglass allows fixed grains of sand to flow through the passage at a time, It is important for us to not get bugged up by the endless list to be done in a day.
Just deal with just one task at a time before you mark it off.
Advice for first-time mothers
Becoming a mother is indeed the most beautiful experience for any woman.
At the same time, it can be very intimidating for the new mothers to browse through millions of 'tips for new moms with newborn' on the internet.
Despite seeking a million pieces of parenting tips, new moms and new dads should trust their instincts. No book or manual can guide a new parent to handle their babies better than their own selves.
Now, that we are done with parenting advice for new parents, you might be wanting to know, 'what is parental advice in marriage'.
Check out this advice for a new parents video to understand how can you make time for yourself as a mom:
Parental advice for new parents: Mastering the 7 essential rules
Embarking on the journey of parenthood? There are ways for couples to keep their love alive and avoid parenting pitfalls. Abiding by the following rules for new parents can literally make the difference between romantic bliss or fail.
Use this parental advice for new parents and tips to help your marriage.
Rule 1. Always make time for your relationship
This parental advice for new parents could seem obvious, right?
But the reality is, kids can bring a whole new dynamic to your relationship that demands all of your time and energy. Gradually, parents can grow apart during this process.
Even if you have to write it on the calendar or to-do list, ensure you set aside some time each day that is meant just for your partner, even if it only lasts 5 minutes.
Rule 2. Plan your time together
Not only will you make sure quality time is scheduled, but what you will do with that time is just as important.
Be sure and plan various activities, such as cooking and baking or gardening.
You can also plan to go on a date to relive your romantic memories, watch a movie or indulge in some sport together to get some respite.
Rule 3. Plan your time apart
Just as you will need time for each other, you will need time for yourselves. Give your partner the gift of self-love.
Take the baby or kids outside, so that your spouse can hang out with their friends, have quiet time in the office or get a massage. They will be overwhelmed with your gesture and return to the routine feeling rejuvenated.
Rule 4. Develop emotional intimacy and communication
Regular communication has proven to be a significant factor in successful, happy marriages among those with children. You can never communicate too much, and the more you do, the better off you'll be.
Parents may communicate about schools, money, transportation, and schedules. But they can also communicate about non-parenting related matters.
Taking the time to share thoughts and feelings with one another strengthens and maintains marital bonding when continued over time.
Rule 5. Have sex
New parents often forfeit their sex lives once children come along. This is due to fatigue, stress, and family changes such as the "Family Bed Syndrome."
It is highly recommended that new parents don't habituate their kids to sleeping with them, as it becomes a difficult habit to break.
Married couples need intimate time together and may have emotionally charged sexual experiences that reduce stress and keep the spark alive.
Rule 6: Trust your instincts and be present
One of the most valuable things you can do as a new parent is to trust your instincts. Remember that you know your child better than anyone else. There will be a plethora of advice and opinions coming your way, but ultimately, you are the expert when it comes to your own child.
Listen to your intuition and follow your gut feeling when making decisions about your child's well-being. Additionally, be present and engaged in your child's life. Time flies, and every moment with your little one is precious.
Put away distractions, be fully present during those special moments, and create lasting memories.
Rule 7: Take care of yourself
As a new parent, it's easy to put all your focus and energy into taking care of your child, but it's equally important to prioritize self-care.
Remember that you cannot pour from an empty cup. Taking care of yourself physically, mentally, and emotionally will allow you to be a better parent.
Get enough sleep, eat well, and find ways to relax and recharge. Reach out for support from your partner, family, or friends when needed. Taking care of yourself will not only benefit you but also create a positive and nurturing environment for your child.
FAQs
Check out these answers to understand the rules for new parents further:
1. What are some words of wisdom for new parents?
Cherish every moment, as time flies by quickly.

Trust your instincts and don't compare yourself to others.

Take care of yourself, as your well-being impacts your child's.

Accept help and don't be afraid to ask for support.

Be patient and adaptable, as parenting is a learning process.

Prioritize communication and

quality time with your partner

.

Remember that mistakes happen, and it's an opportunity for growth.

Enjoy the journey and celebrate the small victories.

Embrace the chaos and find joy in the little things.

Love unconditionally and create a nurturing environment for your child.
2. What is the hardest time for new parents?
The initial months after bringing a baby home can be particularly challenging for new parents. They may experience sleep deprivation, as newborns require frequent feeding and care throughout the night.
Adjusting to a new routine and balancing household responsibilities with the demands of parenting can be overwhelming. New parents often struggle with self-doubt and worry about whether they are doing everything right.
The lack of personal time and the constant responsibility for a tiny human can also take a toll on their emotional well-being. However, with time, support, and adaptation, these challenges become more manageable.
3. What are some important teachings that should be done with new parents?
Teaching new parents is a crucial aspect of supporting them in their parenting journey. It is important to emphasize the significance of fostering a secure attachment with their child through consistent love, care, and responsiveness.
Encouraging open communication and active listening helps parents understand their child's needs and feelings.
Teaching empathy and kindness instills values of respect for others. Creating a safe and stimulating environment that supports a child's development is essential. Teaching resilience and perseverance helps children embrace challenges and learn from failures.
Modeling positive behaviors and values sets a strong example. Nurturing a love for learning and exploration fosters curiosity and creativity. Teaching the importance of boundaries and discipline with empathy and consistency helps children develop self-control.
Finally, supporting and nurturing a child's individuality allows them to discover their own passions and talents.
Takeaway
As new parents, it's important to remember that you are embarking on a remarkable journey filled with love, joy, and challenges. Trust your instincts, embrace the learning process, and don't compare yourself to others.
Prioritize self-care and seek support when needed. Cherish every moment, even amidst the chaos. Create a nurturing environment, communicate openly, and lead by example. Teach empathy, resilience, and the importance of boundaries.
Celebrate the small victories and don't be too hard on yourself. Above all, love your child unconditionally and enjoy the precious moments as they grow up too quickly.
Share this article on
Want to have a happier, healthier marriage?
If you feel disconnected or frustrated about the state of your marriage but want to avoid separation and/or divorce, the marriage.com course meant for married couples is an excellent resource to help you overcome the most challenging aspects of being married.
Learn More On This Topic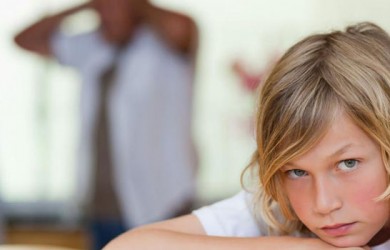 You May Also Like