9 Essential Money Management Tips for New Parents
Struggling with finances as a new parent? Follow these 9 tips to save money!
Babies can add joy and laughter to the boring lives of parents, but they also add a whole new list of costs to the family budget.
From clothing and accessories to nursery items to baby gears, the list seems to be endless. And during this buying spree, saving money seems to be an impossible dream.
Well, it can be really hard for you to manage your expenses while deciding what is necessary to buy and what is not.
If you are a new parent who is fretting over how to save money and eagerly looking for money management tips, and tips for new parents, look no further.
Let this article help you to ease your financial strain with essential new parent advice, and money-saving tips.
1. Choose convertible gear
One of the key tips on money management is to choose convertible gear. Thanks to advanced technology, you can easily find the gear that will grow with your baby.
From strollers that convert as your newborn becomes a toddler to cribs for infants that convert into toddler beds, there are various options out there. Such convertible gears help reduce the number of items you need to buy, helping you cut the costs.
For instance, when your baby will grow into a toddler, you won't have to buy a new bed or a new stroller if the existing ones can be converted to fit the needs of your growing child.
Additionally, items like bouncy seats and high chairs also come with replacement parts, making it easier to fix them, if broken.
2. Skip the nursing wardrobe
Planning to breastfeed your baby? A great choice for both your baby and your money management endeavor!
However, spending that saved money on an entire set of nursing clothing would not be a wise decision to make.
Zip up hoodies, button-down shirts, and even tank tops and t-shirts can do the job just as good as nursing tops.
Additionally, a big scarf would be as good as a nursing cover if you choose to cover up during the nursing time.
So, don't spend too much on your nursing clothing. They might tempt you, especially if you are first-time mom-to-be, but don't let yourself fall for them.
3. Wait for the flash sales
Tempting to buy cute little baby clothing? I know, those tiny shoes are so cute! And those sleep-suits look simply adorable. But, don't let them trap the mommy or daddy side of you with their cuteness.
Those shoes or sleep-suits can wait in that store. Even if they get sold out, you could always find some cuter ones. So, don't rush. As a part of effective money management, buy them when there is a sale.
Make a list of things you need to buy and purchase them during flash sales. Since babies grow really quickly, spending a hefty amount on their clothes and shoes would only make your financial struggles more complicated.
So, act smartly, purchase wisely, and save money.
4. Buy clothes with room to grow
As mentioned earlier, babies grow really fast, so it is better to purchase clothes that are one size up. It will help your baby grow into the clothing without outgrowing it too quickly.
Additionally, the pants or leggings can turn into capris or dresses can turn into shirts as your baby grows. After all, money management is about how you utilize things.
Packaged baby food can be pretty pricey. So, why not mash those fruits or veggies yourself?
In fact, once your baby has been introduced to solid foods, sharing your meal with them is also a good idea. Making them eat table food is most likely to develop good eating habits.
They will be less picky about their food when they grow up. And, what's better than a home-made healthy meal?
So, start sharing for efficient money management and to ease that financial strain.
Watch this video for tips to make baby food at home:

6. Ditch the diaper bag
Charmed by those flamboyant baby bags?
Trust me, that tote or backpack you already have can do the job as good as those pricey diaper bags.
Moreover, if you choose to exclusively breastfeed your baby, you wouldn't have much to carry in your bag. But, even if you choose to give formula, a bottle and a container won't take much room in your bag.
If you still think you need a baby bag, go for the less expensive one. These can be as useful as the expensive ones.
7. Create a personal budget
Creating a budget is a must for money management.
Money management can be really helpful in managing your finances. It helps you know where exactly your money is going and how to make cuts.
Once you start tracking your spending, it helps you identify the areas where you can save money.
Having a monthly budget allows you to become more aware of how to spend wisely. It helps you adjust your spending habits.
8. Trim down unnecessary expenses
Once you are done creating a budget, try reducing monthly expenses. Remember, every dollar you save means another dollar towards your baby expenses.
Here are a few self money management tips to help you cut down your unnecessary expenses:
Cutting back reliance on air conditioning in the summer

Reducing the temperature in the house by a couple of degrees in the winter

Taking shorter showers

Unplugging appliances or lights that are seldom used, to reduce their impact on your electric bill

Watching Netflix, inviting friends over for a potluck instead of going out for a costly dinner or a movie

Holding off on upgrading to a new phone or TV
9. Ditch the credit cards
Want to stick to your money management plans?
Well, it's time to ditch your credit cards. Simply, throw them out of your life, if you want to have a strong financial plan!
Credit cards can be really draining your bank account. Hence, to control extra expenses and spend more on the baby essentials, it is important to consider these small changes in your life.
Here's a video of a new dad sharing what he learned about money and children – the hard way.
Final words
From budgeting to reducing unnecessary expenses, there are quite a lot of changes that you can incorporate in your daily life to see big results. Small changes in spending can lead to a big amount of saved money.
When life can be enjoyed in less, why spend more and create a financial strain? It's all about perspective and how you manage things. So, spend smartly and save greatly!
After all, it takes a lot of time and energy to earn the money that you can spend in just 5 minutes. Saving money would ensure your little one enters the world and grows in a financially-stable environment.
Share this article on
Want to have a happier, healthier marriage?
If you feel disconnected or frustrated about the state of your marriage but want to avoid separation and/or divorce, the marriage.com course meant for married couples is an excellent resource to help you overcome the most challenging aspects of being married.
Learn More On This Topic
You May Also Like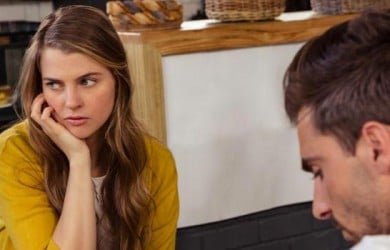 Popular Topics On Married Life