10 Wise Steps to Deal With Stepchildren
Maybe you've found the perfect mate, and they already have children. This may sometimes make things a little complicated. You may even be wondering if this marriage can work with children in the mix.
How to deal with stepchildren? Will the kids like you? What will your daily lives look like with these kids? Will you like them? There are a lot of what-ifs in this situation.
Be proactive and work hard to develop a relationship with your spouse's children now and in the future. Here are some tips for dealing with stepchildren.
How do you deal with disrespectful stepchildren?
Stepchildren may have a hard time settling with a step-parent. They may feel that their parent's new spouse is trying to replace their other parent. All these feelings can make the stepchildren act disrespectfully towards the new stepparent.
To understand more, watch this video on the dos and don'ts of stepparenting.
So, how to deal with stepchildren who are disrespectful? Here are some points to keep in mind.
1. Everyone should know their roles
As a parent, even when you are new in their lives, you must know that your role in their life is that of a disciplinarian, a mentor, and a friend. When the kids become confrontational or disrespectful, they should know that the way they are reacting is unfair.
Meanwhile, the children should know that you are their parent's partner, and you deserve to be respected and welcomed into the family. This is one of the effective ways on how to deal with stepchildren who are disrespectful.
2. Ensure your position in the household is established
Make sure your partner has established your place in the new home and family. When your kids know this is serious business, they are likely to behave that way, too. This may be one of the foremost ways on how to deal with stepchildren who are disrespectful.
3. Follow the stepchild's lead
You may feel anxious to develop a relationship with your stepchild quickly, but they may feel overly cautious. Raising a stepchild can be challenging. Realize that you can't force them to open up to you; pushing the issue may make them retreat further. Respect their space and also their pace.
They probably will want to take things very slowly with you. Remember, the child's parents are no longer together, which has rocked their world. You are the new person who is a symbol of what didn't work out.
They may feel you are trying to replace their other parent. Give them time to figure out that you are a different person who also loves them and that they can trust you.
Related Reading: 

7 Effective Step Parenting Tips
Why are stepchildren so difficult?
You may wonder how to deal with stepchildren when they are difficult.
Dealing with stepchildren can be pretty challenging. It is harder than parenting because it can involve children of different ages. Since the stepkids can be a mix of ages, it is difficult for the stepparent to establish a relationship with them.
While younger children may still be more accessible, teenagers can be even more distant since they are figuring out their life themselves.
How do you discipline a stepchild?
Are you not sure how to deal with stepchildren, especially when they need to be disciplined? Here are some ways you can try.
1. Discipline effectively
If you are the stepparent, you might fear disciplining your new stepchild. Try not to be. The best thing you can do to foster trust and start building a rapport with them is through discipline.
They won't like it at first—taking away privileges or other punishments from you may seem unfair to them—but over time, they will grow to respect you. Continually discuss with your spouse how you will both discipline the children.
Always be on the same page. Then follow through every time. Children need that consistency, especially in this new blended family dynamic.
Related Reading: 

A Parents Advice on How to Discipline Your Child
2. Start slow
How to handle stepchildren in marriage? The key is to start slow.
Trying to fit into your step kids' lives, or fit them into yours, all at once will lead to stress on both sides and also cause indiscipline. Instead, start your new relationship off slowly with a short, informal meeting.
Don't put too much pressure on yourself or your stepkids-to-be. Just take things slow and keep your initial meetings accessible and low pressure. Keep them on the short side (think an hour rather than an afternoon) and hold them in a relaxed environment, preferably one that your stepkids are familiar with.
3. Set aside family time
How to make a marriage work with stepchildren? Make family time a regular part of every week. This lets your kids and stepkids know that you're a family now and that time together is important. Perhaps every Friday will be movie night, or every Sunday will be swimming followed by hot dogs. Try to decide on something that you know your stepkids genuinely enjoy so they don't feel pressured into it.
You might meet with a bit of resistance at first, but establishing family time as a non-negotiable part of your weekly routine will give you vital bonding time and reinforce the idea that you want to spend time with your stepkids.
Related Reading: 

5 Benefits of Spending Time With Family
10 ways to deal with stepchildren
Now that you know how difficult stepchildren can be and how it is so important to discipline them, here are ten ways to deal with stepchildren.
1. Help them feel "normal"
Remember that their world is very different from what they are used to. Before you married their parent, they may have had more attention and time with that parent; they may have done other activities that you aren't necessarily interested it.
Help them to feel "normal" in this new life. Encourage one-on-one time between the child and parent without you.
This will help them feel connected to that parent, and eventually, they will realize what a gift you are giving by allowing that relationship to flourish outside of you being there.
2. Love them despite their lack of acceptance
How to deal with stepchildren? Especially in the beginning, your stepchild will most likely not accept you. It will be hard not to take it personally, but that is vital to the success of your family. Keep your eye on the long-term.
Remember that children take a while to grow and mature; that includes figuring out how to love someone other than their blood relatives. Decide now that no matter what, you will love them anyway.
Accept them for who they are, even if it's unfamiliar to you. Give them love, and eventually, they will accept you for who you are.
3. Show love in different ways
Children view love in different ways. Some crave being told "I love you," and others feel squeamish when told that. Others love being hugged and cuddled, but others would rather not be touched, especially by a stepparent.
Try to figure out your stepchild's love language, and then show your love in the ways that they recognize the most. Giving your time and attention is most definitely at the top of the list, but solidify it by telling them how great you think they are.
Also, having an attitude of love and acceptance will go a long way.
This research talks about affinity seeking and maintaining between stepparents and stepchildren.
4. Find ways to connect
When living with stepchildren, find ways to connect with them.
You and your stepchild may not have much in common, which can make it impossible that you will ever be able to connect. What will you talk about? What could you do together? Think outside the box on this one. This is an important way of how to deal with stepchildren.
Maybe even go outside your comfort zone and show an interest in something your stepchild loves. Are they really into a band? Make sure to go to all their concerts. Do they love to hike?
Buy them a hiking book and bookmark one you could go on together. It may take a few tries to find something that helps link you, but the effort will be well worth it.
Related Reading: 

Ways to Build Relationships with Your Stepchildren
5. Give them time
One of the common stepchild problems includes the inability to accept the situation. Your stepkids need time to grieve and adjust to the changes in their lives when their parents split up.
It is difficult for children to accept that their parents aren't going to get back together and that they have a stepparent in their lives. They might well see you as the evil stepparent to start with – that's only natural.
Don't try to rush or push your relationship with them. Stay fair and consistent, and let them know you're there for them. Be clear with them that you're not trying to replace their parent. This is a crucial point of how to deal with stepchildren.
6. Treat them like part of the family
You might be tempted to give your stepkids special treatment to show that you want them to be happy – but resist! Special treatment will draw more attention to your new living situation and make them feel raw and awkward.
Instead of giving them special treatment, include them in your family routines. Ask them to help set the table or assign them some chores. Offer help with homework or the chance to earn an allowance by helping out around the house. Apply the same ground rules as you would with your own family.
This research talks about the quality of life and how the mental health of stepchildren is affected during a remarriage or when they live with stepparents.
Related Reading: 

Key Tips to Help Stepparents Bond With Their Stepchildren
7. Give them a chance to be heard
Dealing with a spoiled stepchild is challenging, but you can always make it work. If your stepkids don't feel like they have the chance to be heard, they're more likely to resent you.
Watching their parents separate and knowing they have no power to change is hard for any kid. Work on giving them a voice and a chance to share their opinions.
Encourage their birth parent to be their first port of call so they can discuss their concerns with them in a gentle and non-threatening way. Then, you can all share in the discussion. Let your stepkids know that you take their worries seriously.
8. Work on building trust
Trust doesn't arrive overnight. Take the time to work on building trust with your stepkids so you can have a strong relationship in the future.
In dealing with a difficult stepchild, start by listening to them carefully when they talk to you. Any moment they talk to you or ask for your help with something is a small demonstration that they're open to trusting you. Honor that by listening to and validating them. Help them learn to trust you by respecting their feelings and their privacy.
9. Watch your words
Becoming a stepparent is fraught with anxiety, and emotions can run high on both sides. Your stepkids are working through some tough things, and they will inevitably push your buttons from time to time as they work things out.
You'll sometimes hear a lot of bitterness and resentment in how they talk to you, and they will try to push some boundaries. You must stay calm and watch your words no matter what you hear. If you snap at your stepchildren or speak to them with anger or bitterness, they'll grow to resent you, and your chances of a good relationship will dramatically reduce.
Related Reading: 

4 Step Parenting Books That Will Make the Difference
10. Treat all your kids the same
How to deal with stepchildren? Exactly how you deal with children of your own. Accepting stepchildren as your own is very crucial.
If you have kids of your own, you'll find yourself becoming a blended family – that's not easy! But you must treat all your kids the same, and when your stepkids are in your home, they are all your kids.
Talk to your partner and set up some ground rules for behavior, and then work as a team to apply those rules to all your children. Never give your biological children special privileges. It's a surefire way to build resentment with your stepkids and damage your relationship.
The takeaway
Becoming a stepparent is challenging. Understanding how to deal with stepchildren issues is even more difficult.
The road to a good relationship with your stepkids can seem like a long one, and there are plenty of bumps along the way. But if you keep your patience and commitment strong, you can build a nurturing relationship that will grow stronger as you get to know each other.
Share this article on
Want to have a happier, healthier marriage?
If you feel disconnected or frustrated about the state of your marriage but want to avoid separation and/or divorce, the marriage.com course meant for married couples is an excellent resource to help you overcome the most challenging aspects of being married.
Learn More On This Topic
You May Also Like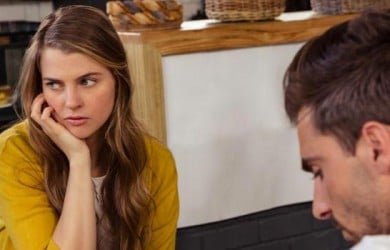 Popular Topics On Married Life