Co-Parenting Children Through Divorce
A friend of mine recently told me that her divorced parents have entered into an amicable friendship after many years filled with a contentious custody battle, verbal mudslinging, and later a complex constellation of alliances and resentment that marred the safety and comfort a family can provide.
She seemed ambivalent about this new development—had this newfound peace come sooner, it could have stabilized her childhood and made adult relationships less confusing.
How children develop a model for how to treat others
What stood out most was the anger in her voice. Anger for being placed in the middle, for being asked or bribed to choose sides, for hearing stories about the worthlessness of the other, for never feeling settled, or safe, or put first as her parents engaged in mental and emotional battles. She felt lost in the mix.
In hearing this and countless similar stories from adult children of divorce, I have received one consistent message.
Your children have a front-seat view to how you treat each other.
With each argument, they develop a model for how to treat others and for how they think they should be treated.
What most impacts children isn't the divorce event itself, but rather the ways—subtle or not—that the parents work their way through it. So what can you do?
One of the most impactful changes you can make today is to start working on how you communicate with your co-parent.
Give space to your own feelings
The first step to communicating effectively is approaching conversations from a place of calm and clarity.
When you find yourself in an argument with your co-parent, the first thing to do is to get a sense of what you are feeling. Just taking a few minutes to check in with yourself can help prevent name-calling, venting to your children about your frustrations, or playing the blame-game.
Knowing what is going on with you can also help inform what you need to ask for and give you the chance to frame it in a way that will be better heard by your co-parent. This could go something like, "What you are saying is really important to me. I'm feeling overwhelmed right now. Can I call you back after I get the kids to bed so you have my full attention?"
Catch the critical
Have you ever started a conversation with a purpose and then become frustrated when you don't feel heard, or validated, or understood?
Generally, this uneasy feeling makes it seem like your partner is never there for you (and certainly not willing to be now!), and in response, most couples tend to subtly shift into criticism—an easy and familiar pattern that erodes actual communication and undermines forward progress. Psychologists often describe criticism as an expression of unmet needs and disappointments.
Every criticism is a wish launched in anger.
So when you say, "you never listen to me" the unexpressed desire is, "I wish you would listen to me, because I feel so unheard." When we approach others from a place of anger, they are much less likely to hear the request.
The first step is noticing how we are communicating our needs. Do you remember the first time you received an essay or project and it was decked out in red lettering? You know that immediate feeling – the one of embarrassment, or disappointment, or of not feeling like you measured up?
Even if the teacher left an encouraging note at the end, you were left with a glaring visual reminder that you didn't get it quite right – and you probably weren't exactly excited to run home and fix your errors.
In the same way, criticism between co-parents is unlikely to create an environment that sparks the desire for self-improvement.
Criticism can often serve as a glaring reminder of your inadequacies
In my work with couples, I have found that some of the biggest red-letter marks we can wield include the words always and never— like "you are always so selfish" or "you are never around when the kids need you." Can you remember the last time you were labelled with an always or a never?
If you're like most of us, you likely responded with a defensive or equally loaded retort. So the next time you catch yourself picking up the red pen, see if you can replace it by stating that wish.
Changing the well-worn script from "you never do…" to "what I really need…" is not an easy one and will require intentional practice. A key part of this practice is in identifying your own needs, and asking yourself, "What do I need right now that I'm not getting?"
What you need is an extra hand for balancing a stressful week. See if you can be genuine in asking for what you need without blaming or bringing up past faults or disappointments. If you're wondering how you can do that, practice asking questions that start off with, "I would really appreciate it if…" or "I wish you would," or "It would mean a lot to me… if you could pick the kids up from school on Thursday and Friday and take them to soccer practice. I have a big project at work, and need some extra support this week."
Focus on the good
As divorce is often a painful event for the family, it is easy for parents to slip into a blame-game around their children.
Without intending to harm, phrases like "I wanted to but dad says we can't," "Your mom is never fair," and "Your dad is always late picking you up," which emerge from places of pain, can hurt your child. These things may be absolutely true, but they are not likely to be your children's observations—they're yours, and yours alone.
Effective parenting through divorce requires teamwork
While it may be difficult to think of your ex as part of your team, it can be helpful to view them as an extension of your parenting. If you want your child to know they are safe and loved, then build up the best parts of your ex.
You don't have to love them or even like them. Just pick something about their parenting that you can respect, and make efforts to praise that around your children. Try out something like, "Mom is always so great about helping you with homework. Why don't you show her that problem you got stuck on?" or "Dad says he's making your favorite dish for dinner! That was so thoughtful of him."
You may be thinking, but what if dad is late to pick them up – and he actually does this every single time? The first thing is to allow yourself to feel whatever you are feeling.
You don't need to pretend to be happy or okay with this turn of events. This can be helpful in modeling and providing validation for your children's frustration or disappointment. You may choose to say something like, "I know it hurts when dad is late to pick you up" – allowing them to feel seen and heard by you at a time when they may otherwise be feeling unimportant or forgotten.
This then creates a space to humanize parenting mistakes, while building up your co-parent's strengths. This can go something like, "We're both learning how to make this work and we're going to make some mistakes along the way. Your dad isn't so great about being on time. I haven't been great about looking over your reports lately. We both love you so much, and we're going to keep working together to give you what you need."
Set ground rules
One way to communicate effectively when co-parenting is to establish ground rules.
A simple guideline is to keep it "Adult-only." One common complaint from adult children of divorce is that their parents used them as the messengers when they were children.
Remember, if you have a question or comment, no matter how big or small, communicate that directly with your co-parent. In the same way, while we all need support and a listening ear, it's important that venting about your divorce or your ex should be kept to an adult-only audience.
When children are put in the role of friend or confidant, it can create a strain on their ability to enjoy spending time with your co-parent. Research also tells us this that down the line, this pattern can negatively affect the quality of relationship they have with you – even in adulthood.
So if you want to work on building stronger bonds with your children for now and the future, remind yourself to give them space where they are not responsible for handling your emotions, taking sides, or playing the go-between for you and your co-parent.
Ask for help, seek divorce therapy
In reading the above, I'm guessing a common internal response is something along the lines of "this would work fine for other people, but this is so difficult with my co-parent for so many reasons." You're absolutely right—though the messages above are simple in theory, they are often overwhelmingly and surprisingly hard in practice.
You do not have to approach this alone, and many find it helpful to have a coach or a guide along the way—generally through divorce-therapy.
Within a marriage, couples therapy can help strengthen the relationship when both parties are committed to staying together and need assistance removing the roadblocks to doing so.
For those contemplating the end of a marriage—with children or without—pre-divorce therapy can provide a space to determine whether divorce is the right solution to ongoing marital stressors, to civilly discuss division of property, make arrangements for shared custody, and identify healthy ways to share the news with the family and reduce the potential distress this news might bring up.
It can also help you and your partner to discuss and practice the best way to continue providing an open and safe space for children—throughout the divorce itself and well into the future.
Much like marriage, there is no guidebook for how to be an effective co-parent and it is unlikely that the communication hang-ups from your marriage will disappear following your divorce.
By reaching out for divorce support you can learn how to live a fulfilling life post-divorce and minimize its impact on your family—and remove some of the lost feeling that so many experience during this exceptionally difficult time.
Share this article on
Want to have a happier, healthier marriage?
If you feel disconnected or frustrated about the state of your marriage but want to avoid separation and/or divorce, the marriage.com course meant for married couples is an excellent resource to help you overcome the most challenging aspects of being married.
More On This Topic
You May Also Like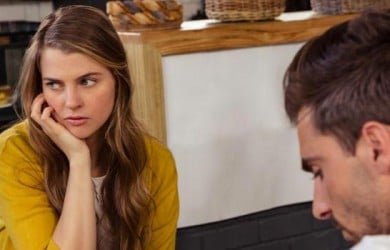 Popular Topics On Married Life